Controller
Introduces the robot controller with advanced functions. Select the ideal controller from various command input formats.
YAMAHA robots controller
This command tower for operating YAMAHA robots is a compact, high cost performance controller that focuses on safety and the environment.
A variety of control methods, including I/O point trace, remote commands, pulse train, and online commands can be selected to match your applications.
TRANSERVO
Robonity
[ABAS/ABAR/AGXS]
FLIP-X
PHASER
Stepping motor
General-purpose servo
T4L/T5L Small servo
(24V•30W)
General-purpose servo
(30 to 600W)
Linear motor
1 axis
I/O point trace
Remote command
Online command
TS-S2

TS-SH

EP-01

TS-X

TS-P

Pulse train
TS-SD

ERCD

RDV-X

RDV-P

Program
(YAMAHA SRC language)
I/O point trace
Remote command
Online instructions
SR1-X

SR1-P

2 axes
Program
(YAMAHA BASIC language)
I/O command
Remote command
Online instructions
RCX320

3, 4 axes
Program
(YAMAHA BASIC language)
I/O command
Remote command
Online instructions
RCX340
1 axis
Operating method
I/O point trace
Remote command
Online command
Operating method
Operating method
Program
(YAMAHA SRC language)
I/O point trace
Remote command
Online instructions
2 axes
Operating method
Program
(YAMAHA BASIC language)
I/O command
Remote command
Online instructions
3, 4 axes
Operating method
Program
(YAMAHA BASIC language)
I/O command
Remote command
Online instructions
Controller
Related contents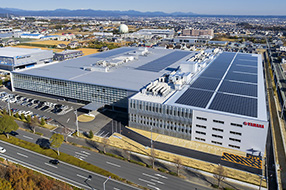 Robotics Operations
Sales & Marketing Section
FA Sales & Marketing Division
127 Toyooka, Kita-ku, Hamamatsu, Shizuoka 433-8103, Japan
Telephone +81-53-525-8350 /
Facsimile +81-53-525-8378