Design aid data
CAD data, User's Manual (manual) data, catalog data, software, EDS file of DeviceNet or EtherNet/IP, and GDS file of PROFIBUS can be downloaded.
Support Software / Programingbox
YHX Controller
YHX Studio
YHX Studio / YHX Project / Device file for each model
Latest version by language (V1.14) [Operation compatibility RCX340 : V1.46,R0299~]
The latest version of screen data for the RCX340 controller programming box "PBX" can be downloaded.
* To change the language, download the data from below.
* Check your RCX340 controller version before using.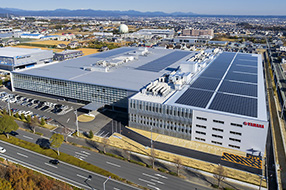 Robotics Operations
FA Section
Sales & Marketing Division
127 Toyooka, Kita-ku, Hamamatsu, Shizuoka 433-8103, Japan
Telephone 81-53-525-8350 /
Facsimile 81-53-525-8378