Software End-User License Agreement
Carefully read through the following software end-user license agreement before use and then click the "Agree" button at the bottom of this page if you agree to the conditions.
Confirmation of end-user license agreement for all software including support software, firmware and drivers
Carefully read through the following software end-user license agreement before use and then click the "Agree" button at the bottom of this page if you agree to the conditions.
Click the "Decline" button if you do not agree.
Software End-User License Agreement
[ IMPORTANT ]
This End User License Agreement (subsequently referred to as "this Agreement") is an agreement between the customer (subsequently referred to as "Customer") and Yamaha Motor Corporation (subsequently referred to as "Yamaha") regarding all software , including without limitation, support software, firmware or driver, that are provided by Yamaha on registered "Member site" on the Industrial Robot website.
CUSTOMER MAY DOWNLOAD AND USE THIS SOFTWARE ONLY IF CUSTOMER AGREES TO THIS AGREEMENT. THIS AGREEMENT TAKES EFFECT AND BECOMES BINDING ON CUSTOMER WHEN CUSTOMER AGREES TO THIS AGREEMENT. IF CUSTOMER DOES NOT AGREE TO THE TERMS OF THIS AGREEMENT, CUSTOMER MUST NOT DOWNLOAD OR USE THIS SOFTWARE.
Article 1

Grant of right to use
On the condition that Customer uses this Software in accordance with all terms and conditions of this Agreement, Yamaha grants Customer a non-exclusive and non-transferrable right, without the right to sublicense, to use this Software.
Customer may download and use this Software on a computer of Customer to the extent necessary for the purpose of use thereof by Customer.
Customer may be required to separately obtain a specific hardware key or software key to be provided by Yamaha (subsequently referred to as "the License key ", collectively ) for its access and use of all functions and features originally contained in this Software. In such cases, the functions and features of this Software made available to Customer without the License key is limited to a certain portion thereof, and the scope of right to use this Software granted under this Agreement is also limited to those necessary for use of such portion.
Customer, who uses the License key , acknowledges and agrees the followings:
(a)one (1) License key may be used simultaneously on one (1) computer;
(b)proprietorship of the License key provided to Customer shall remain and be reserved by Yamaha;
(c)provisions of this Agreement shall apply to any use or otherwise disposal of the License key by Customer; and
(d)Yamaha will not reissue the License key lost or broken by Customer for any reason, including theft or events of force majeure.
Article 2

Limitations on use
Customer shall not modify this Software, the License key or their related software and documents (subsequently referred to as "the Software Products", collectively) in whole or in part.
Customer shall not reverse-engineer the Software Products in any way, including but not limited to reverse-assembly or reverse-compilation.
Customer shall use the Software Products only within the scope specified in this Agreement, and Customer shall not redistribute, relicense, sell, lend, transfer, disclose, or lease the Software Products to any third party for any purpose including commercial purposes.
Customer agree to comply with all applicable international and national laws that apply to this Software, including any trade or export regulations, as well as end-user, end-use, and destination restrictions issued by any competent authorities.
In addition to the above paragraphs 1 through 4, Customer may not conduct any other prohibited acts that Yamaha may determine and notify from time to time.
Article 3

Rights to the Software Products
All and all rights and interests including copyrights in relation to the Software Products shall be the property of Yamaha. Customer shall possess no rights to the Software Products other than those rights to use specifically granted by this Agreement.
Article 4

Limitation of Liability
The Software Products are provided "as is" basis. Yamaha makes no warranties, either express or implied, that the Software Products are free from defects such as errors or bugs, that the Software Products will work perfectly, that the Software Products will be suitable for particular purposes of Customer, or that the Software Products does not infringe the rights of a third party.
Subject to the terms and conditions specified in paragraph 1 of Article 6 and paragraph 7 of Article 6, Yamaha and/or any of Yamaha affiliates are not required to be liable to Customer for any special, incidental, indirect, or consequential damages whatsoever (including, but not limited to, damages for loss of profits or confidential or other information, for business interruption, for personal injury, for loss of privacy, for failure to meet any duty including of good faith or of reasonable care, for negligence, and for any other pecuniary or other loss whatsoever) and third parties' damages caused by Customer's actions, arising out of or related to the use of this Software or otherwise under or in connection with any provision of this Agreement, under any theory of tort, contract, or otherwise; except in the case of gross negligence or willful act.
In the event that Yamaha and/or any of Yamaha affiliates are liable to Customer, the subject of those liabilities shall be limited only to the actual and direct loss or damage incurred by Customer. in no event Yamaha and/or any of Yamaha affiliates shall be liable for any lost profits, diminution in value, exemplary, punitive, special, incidental, consequential or indirect damages or the like.
If any dispute should arise between Customer and a third party due to Customer's use of the Software Products, whether a dispute related to copyrights, patents, or any other violation of intellectual property, Customer shall resolve such dispute on its own cost and responsibility, and shall make no claims or demands to Yamaha.
Article 5

Termination of this Agreement
Yamaha shall have the right to immediately terminate this Agreement without incurring any obligation and responsibility if Customer violates any provision of this Agreement.
If Yamaha incurs losses or damages as a result of Customer's violation of a provision above, Yamaha shall have the right to demand compensation for such losses or damages from Customer.
If this Agreement is terminated due to clause 1 above, Customer must immediately stop using the Software Products, quickly destroy and uninstall the Software Products, return the License key, if any, to Yamaha at Customer's expense, and provide Yamaha with written certification that this has been done.
In case of termination of this Agreement due to clause 1 above, Customer shall not be entitled to receive any refund or other compensation from Yamaha for any reason.
Articles3, 4, 5 and 6 of this Agreement shall survive the termination of this Agreement due to clause 1 above.
Article 6

Others
If any provision of this Agreement is held invalid or unenforceable wholly or in part, the validity or enforceability of the other provisions shall not be affected thereby. The invalid or unenforceable provision shall be deemed replaced by such valid and enforceable provision which serves best the economic interest of the parties originally pursued by the invalid or unenforceable provision.
Customer shall strictly comply with any laws and regulations, national or international, on security trade/export control applicable to it in pursuing its activity in any way under this Agreement.
This Agreement shall be governed by the laws of Japan. Any dispute related to or arising from this Agreement shall be resolved by the Tokyo District Court as the primary court of exclusive jurisdiction.
This Agreement shall be executed in, and controlled in all respects by, the English and Japanese language. Any translation of this Agreement in other language than the English and Japanese language is provided for Customer's convenience only.
This Agreement (including any addendum or amendment to this Agreement) is the entire agreement between Customer and Yamaha relating to this Software, and integrates, supersedes, merges, and cancels all previous and contemporaneous agreements, proposals, representations, and commitments with respect to this Software and any other subject matter covered by this Agreement.
The failure of any party to enforce any provision of this Agreement shall not be construed as a waiver of such provision or of the right of such party thereafter to enforce such provision. The exercise of the rights contained herein shall be without prejudice to any other rights and remedies which the parties may have or acquire hereunder or under the applicable laws and regulations.
Nothing in this Agreement shall limit any non-waivable right to this Software that Customer may enjoy under mandatory law.
If Customer is minor, adult ward or person under curatorship or assistance, Customer shall receive the consent of Customer's legal representative, guardian, curator, or assistant before using this Agreement. When Customer uses this Software, Customer shall be deemed to have received the consent of them.
Yamaha reserves the right to amend or change any of the terms and conditions in this Agreement without prior consent of Customer when Yamaha deems it necessary. In the event of any such amendment or change, Yamaha shall inform the effective time and content thereof by posting on the website or other appropriate way.
Do you want to download the data for updating the new board PBX (model number with last 3 digits *40 or later)?
Select "Agree" to start the download.
Latest version by language (V1.20)
(PBX_NEW_Ver.1.20.zip 1.1MB)
Note: If used with an old board PBX, the PBX will not start.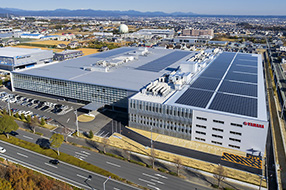 Robotics Operations
Sales & Marketing Section
FA Sales & Marketing Division
127 Toyooka, Kita-ku, Hamamatsu, Shizuoka 433-8103, Japan
Telephone +81-53-525-8350 /
Facsimile +81-53-525-8378