Orbit type SCARA robots YK-TW
Resolves the shortcomings of previous SCARA and parallel-link robots. Offers both superior positioning accuracy and high speed. YAMAHA'S Next-Generation SCARA Robot: The YK-TW Omnidirectional Type.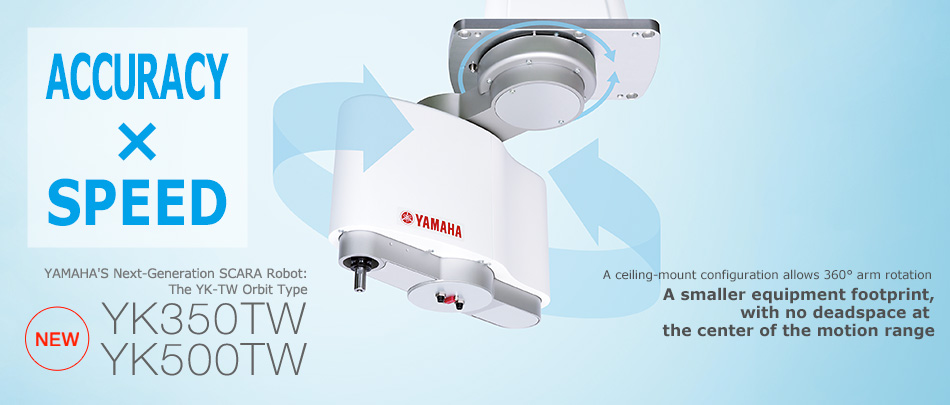 Orbit type YK350TW/YK500TW
Arm length :
350mm/500mm
Maximum payload :
4kg to 5kg
Feature
01User: We want a smaller equipment footprint.
Layout design freedom
The YK-TW can move anywhere through the full 1000 mm* downward range.
Featuring a ceiling-mount configuration with a wide arm rotation angle, the YK-TW can access any point within the full 1000 mm downward range. This eliminates all motion-related restrictions with regard to pallet and conveyor placement operations, while dramatically reducing the equipment footprint.
*

Applies to the YK500TW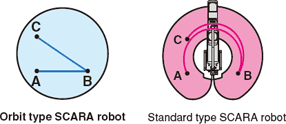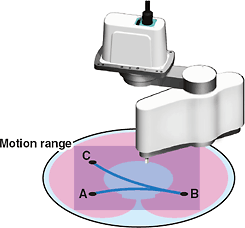 Underpass motion
Optimize use of the space right below the main unit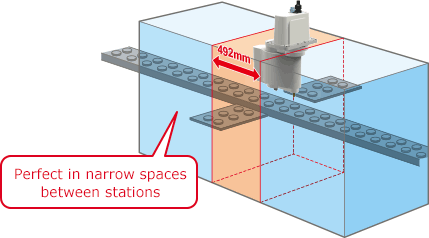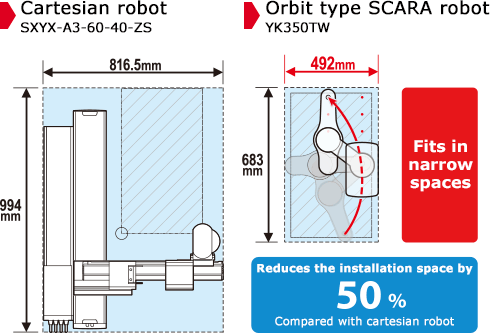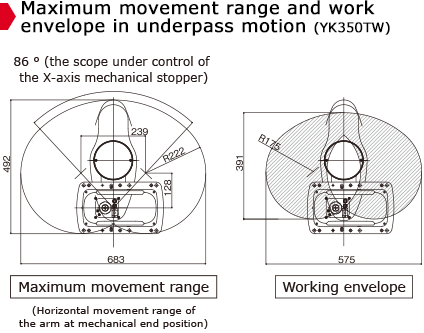 Improvement of productivity
The standard cycle time for moving 1-kg load horizontally 300 mm and up/down 25 mm is shortened by approximately 36 % compared to existing YAMAHA models.
*

Measurement may vary depending on conditions.

02User: We want a higher quality assembly system.
Higher quality
The YK-TW offers a repeated positioning accuracy of +/-0.01 mm* (XY axes).
This is a much higher repeated positioning accuracy than that offered by a parallel-link robot. This was accomplished by optimizing the robot's weight balance through an extensive re-design of its internal construction. The lightweight yet highly rigid arm has also been fitted with optimally tuned motors to enable high accuracy positioning.
*

Applies to the YK350TW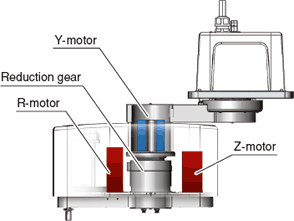 03User: We need to reduce our tact times.
Higher productivity
The YK-TW offers a standard cycle time of 0.29 secs.*※
The Y-axis (arm 2) passes beneath the X-axis (arm 1) and it has a horizontal articulated structure, allowing it to move along the optimal path between points. Moreover, the optimized weight balance of the internal components reduces the cycle time by 36 % as compared to previous models.
*

Applies to the YK500TW

The standard cycle time for moving a 1-kg load horizontally 300 mm and up/down 25 mm is shortened by approx. 36 % compared to previous YAMAHA models.
04User: We need to move heavy workpieces at high speeds.
Suitable for a wide range of applications
The YK-TW can handle workpieces weighing up to 5 kg.
Handles loads up to 5 kg. Also accommodates arm-end tools which tend to be heavy, making it highly adaptable to various applications.
05User: We want to reduce the height of our equipment.
Smaller equipment footprint
The YK-TW offers both a low height and a small footprint.
The YK-TW height is only 392 mm. This compact size enables more freedom in the equipment layout design.

06User: Parallel-link robots require large frames which complicate installation…
Easy installation
The YK-TW has a total height of only 392 mm, and weighs only 27 kg*.
Due to its low inertia, a sturdy frame is not required.
*

Applies to the YK500TW
An optional dedicated installation frame is available for the YK-TW. For details, contact a YAMAHA sales representative.
07Preparing an installation stand is too much bother… A dedicated stand is available
Setup can be simplified
As an option, we provide a dedicated installation stand for the YK-TW.*
There's no need to calculate strength, so setup can be simplified.
*

Contact Yamaha for details on dimensions and price.
08User: Operating our equipment in stringent environments is worrisome…
Environment resistant
The YK-TW features the same type of resolver as those used in hybrid automobiles and aircraft.
This resolver is a magnetic position sensor. It features a simple construction with no electronic or optical parts, making it far less susceptible to failure than conventional optical encoders. It is this superior environment resistance and low failure rate that makes it reliable enough for use in many fields such as hybrid automobiles and aircraft, etc., where reliability is essential.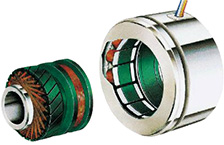 Orbit type SCARA robots YK-TW
Related contents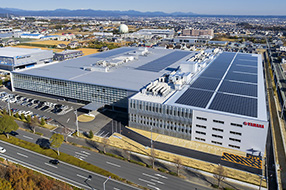 Robotics Operations
Sales & Marketing Section
FA Sales & Marketing Division
127 Toyooka, Kita-ku, Hamamatsu, Shizuoka 433-8103, Japan
Telephone +81-53-525-8350 /
Facsimile +81-53-525-8378