Single axis robot positioner EP-01
Hurdle to introduce industrial Ethernet is lowered. Robot positioner dedicated for less expensive and easy-to-use Robonity series "ABAS/AGXS/ABAR".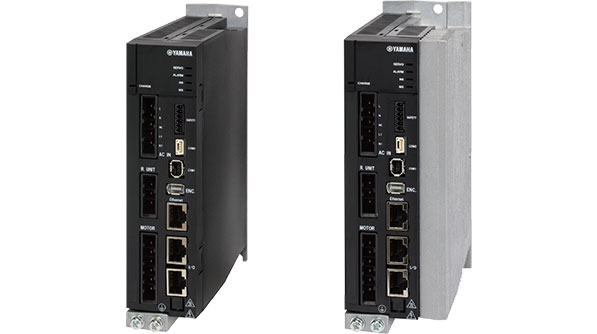 EP-01
No program is needed! Positioner type using only point trace.
Controllable robot :
Robonity series ABAS / AGXS / ABAR
CE marking :
○
Field networks :
EtherNet/IP, PROFINET, EtherCAT, CC-Link
Operating method :
Point trace, remote command, and online instruction
Number of points :
255 points
Input power :
Single phase AC200 to 230V +/-10%
Origin search method :
Absolute
Feature
01Easy operation and affordable system with Industrial Ethernet
Robot positioner "EP-01" is a newly designed positioner for a better Ethernet platform and the cost performance.  As a result the price of Ethernet is now offered at the same price level as parallel I/O (NPN).  While achieving a lower cost design, "EP-01" positioner has expanded features such as standard Ethernet, feedback pulse output, direct value control function, and real-time output. 
[Supported field networks]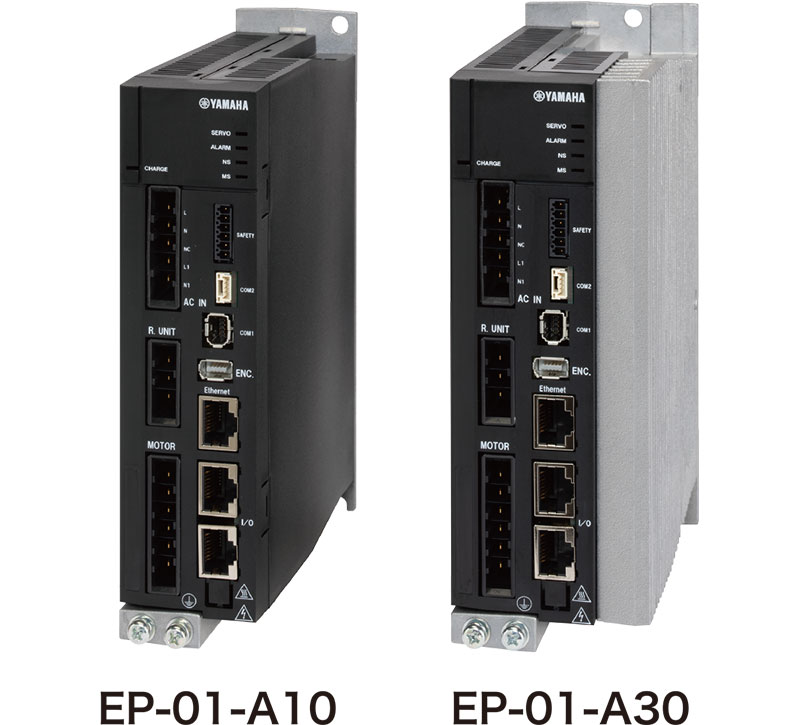 02Design concept is long service life and low cost.
All Yamaha products have gone through stringent internal evaluation process for a long service life.
03Space efficient compact design. Industry-leading compactness
Compact design for machine size reduction.
Basic model (ABAS)

Robot positioner EP-01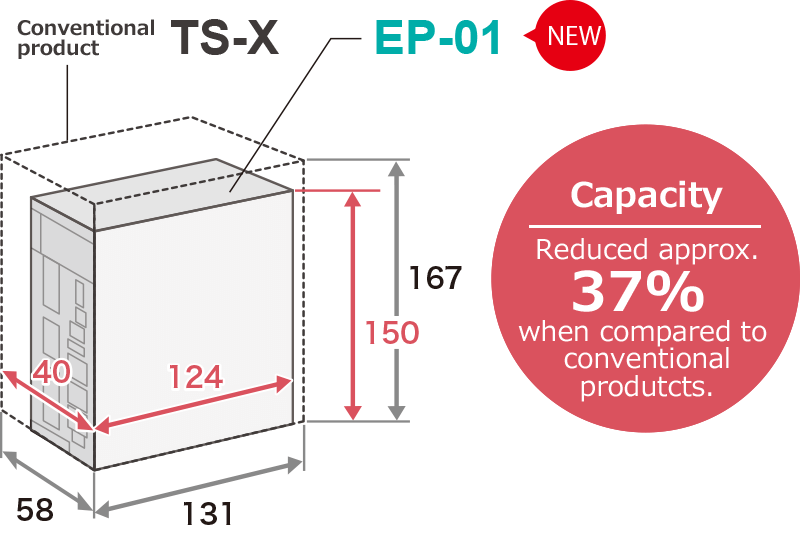 Installation space comparison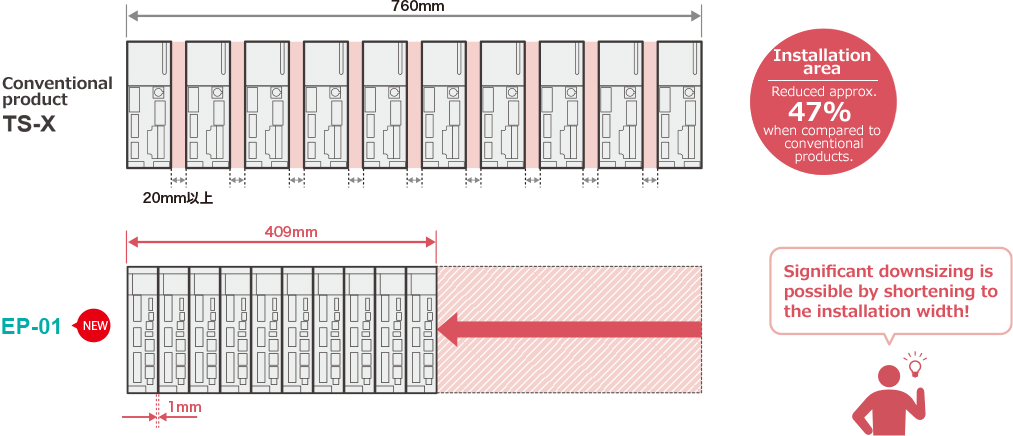 04User friendly setup 04The hassle of startup is reduced.
Ethernet port is standard on a controller and dedicated PC programming cable is no longer required. Startup procedure is reduced and simplified.

05Easy model selection Simple cycle time and service life calculation.
The service life and cycle time can be calculated at the same time by simply entering the required information at the website.
The result can be conveniently saved as PDF file.
Entry screen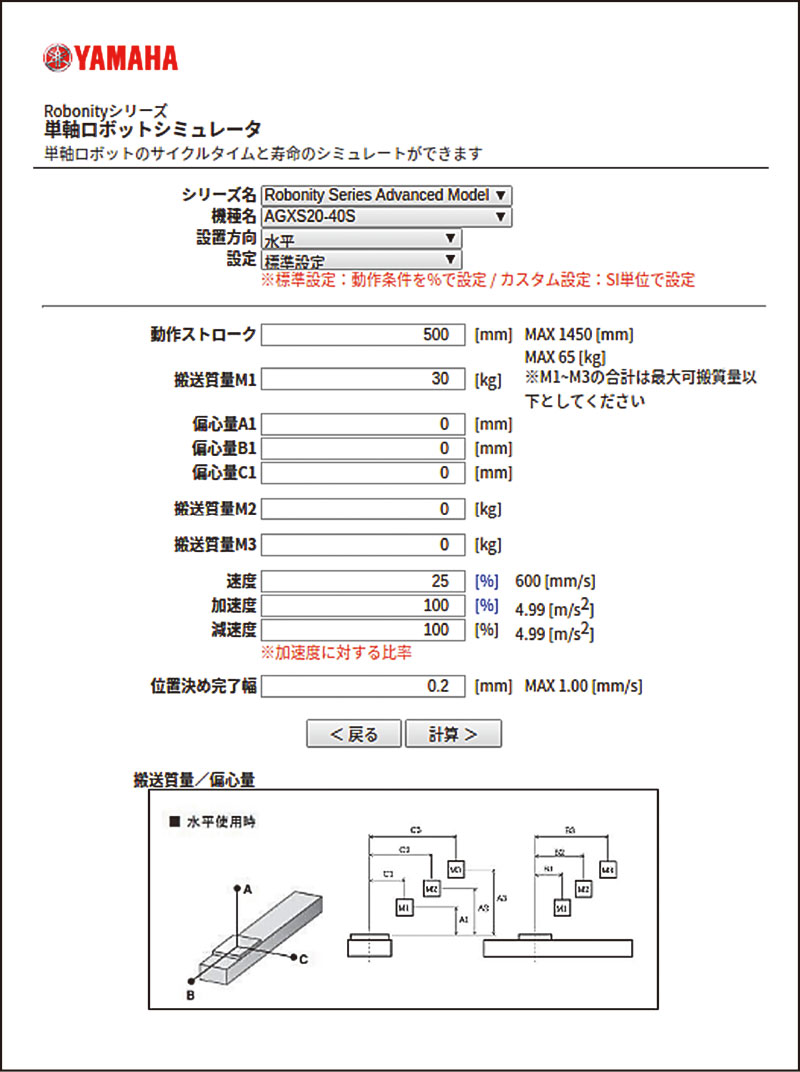 Results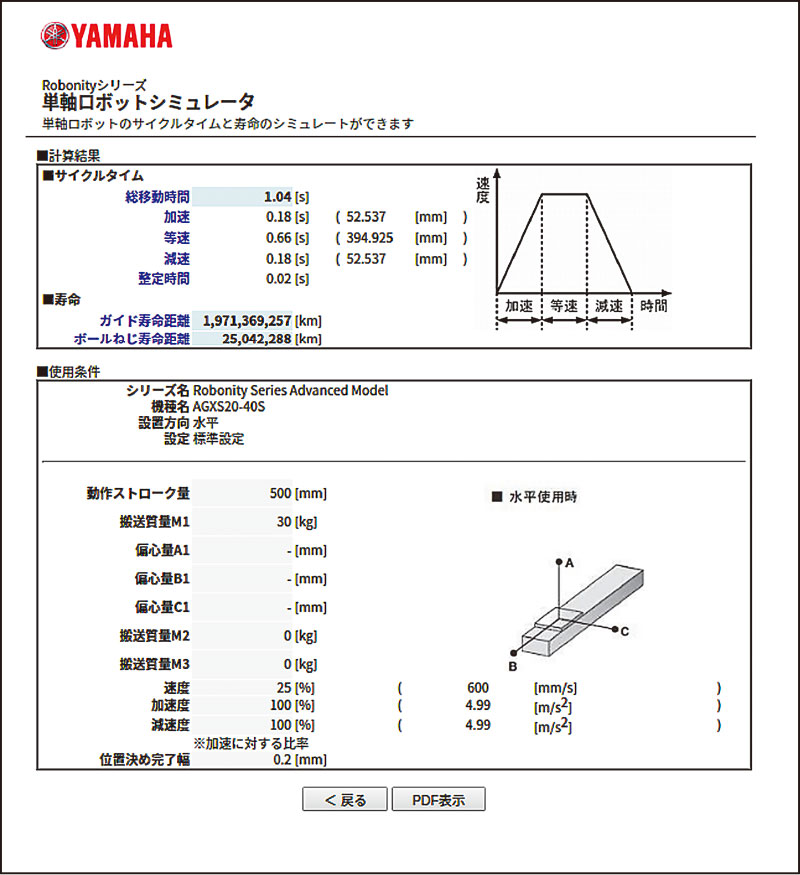 PDF Easy to save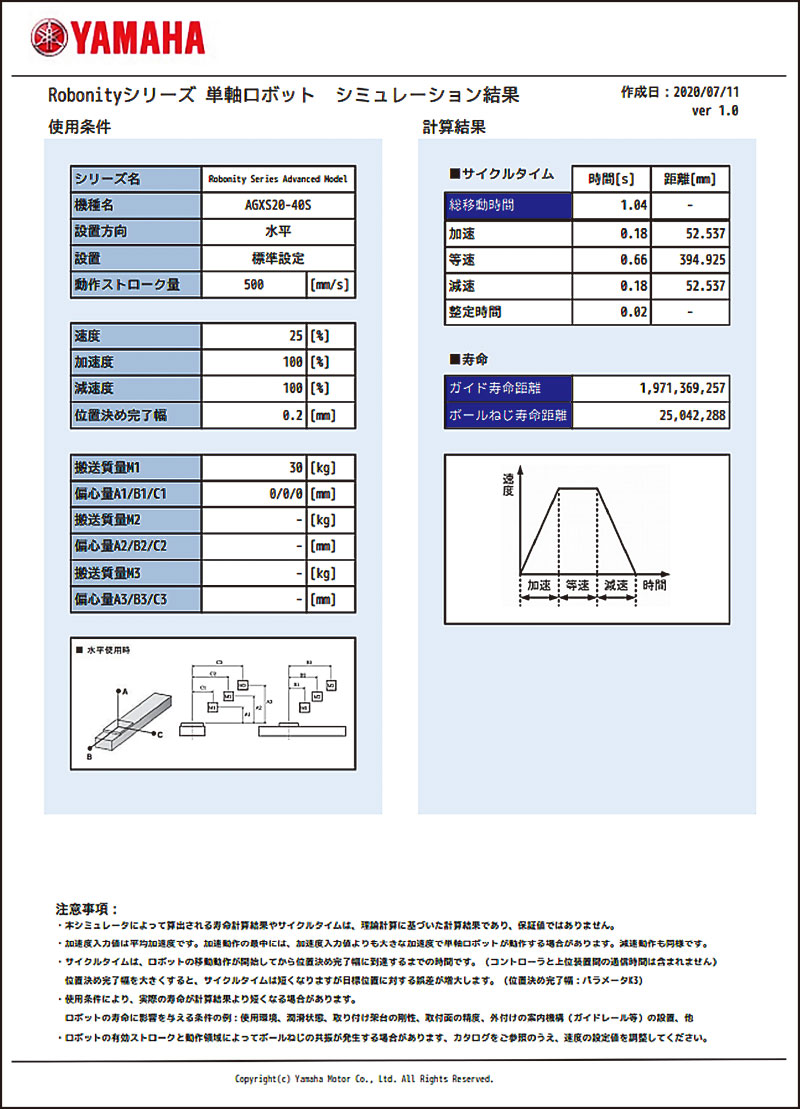 06For stable and constant operation Contribution to early recovery from line stop
Battery-less absolute method
Because the single-axis controller supports the battery-less absolute method, the battery replacement is not needed.
Calendar function
The controller has clock function internally and histories like alarm are recorded chronologically. Such information is retained for over one year without a power and no need for resetting at system startup after long holidays.
Absolute battery is installed on the cable section.
Position data will be retained even when replacing a absolute controller.

07Industrial Ethernet achieves higher-grade equipment. Robot status monitoring with real-time output function
It is useful to check the conditions of the robot and as a guide for maintenance timing.
Current position
Current speed
Motor current
Alarm code when an alarm occurs.
Overload integration ratio (Overload occurs at 100%.)
Movement distance (When the servo is ON.)
Movement time (When the servo is ON.)
Motor load factor



08To meet a wide range of needs Used for a wider range of applications with expanded functions and new functions.
Acceleration and deceleration designation type was added to the positioning operation command from the PLC.
| Direct value position designation | Position data | Speed | Acceleration | Deceleration |
| --- | --- | --- | --- | --- |
| Data designation type 1 | ○ |   |   |   |
| Data designation type 2 | ○ | ○ |   |   |
| Data designation type 3 | ○ | ○ | ○ | ○ |

---
Feedback pulse function has been added to enable use in conjunction with external devices.
Feedback pulse output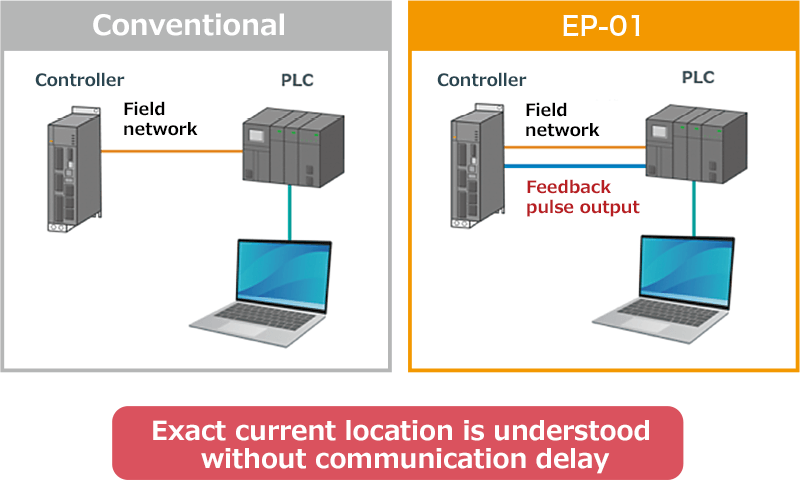 Usage example of feedback pulse output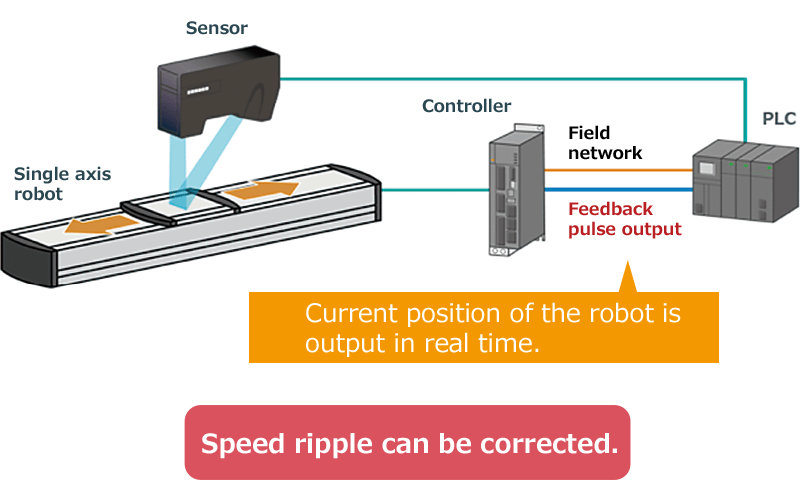 ---
New vibration suppression function has been added to achieve vibration suppression!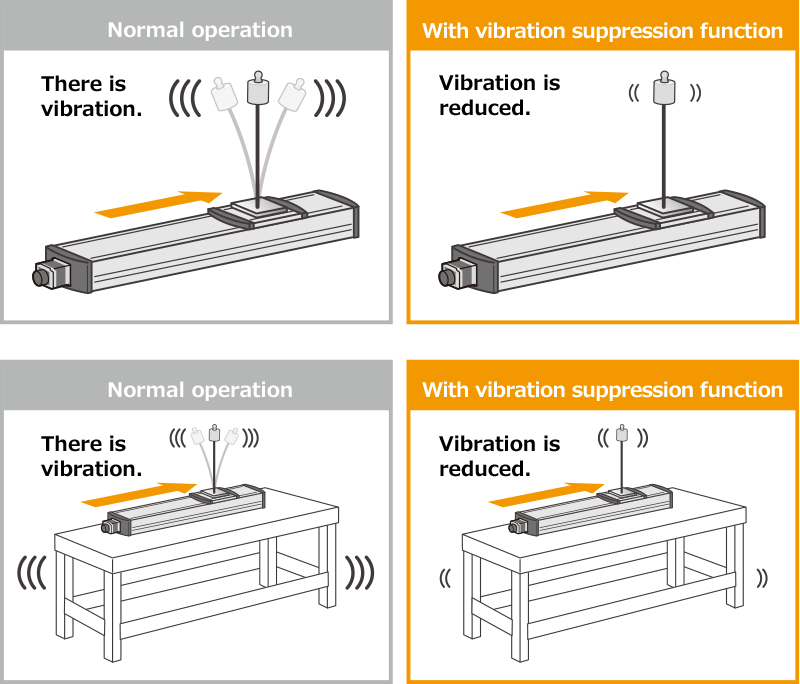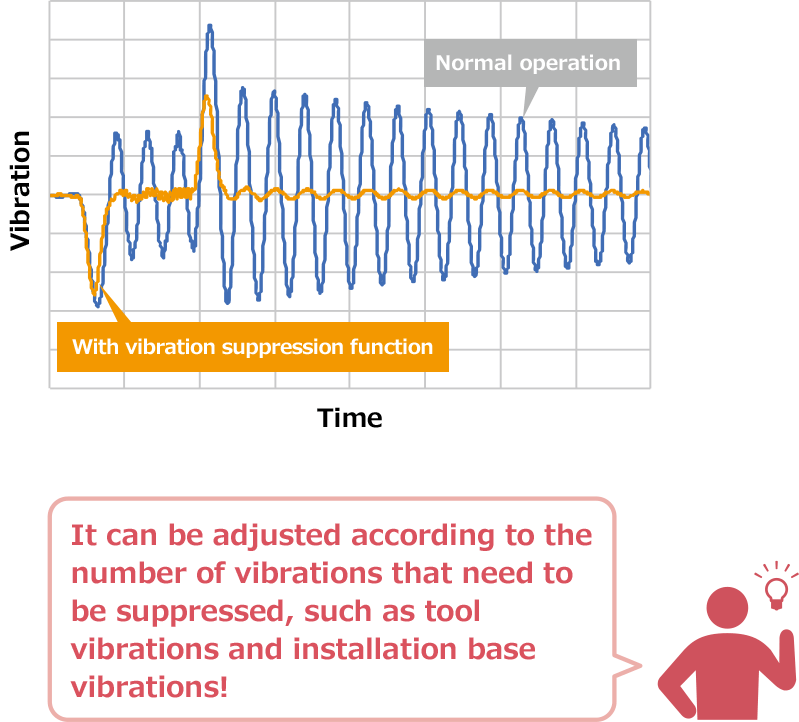 Single axis robot positioner EP-01
Related contents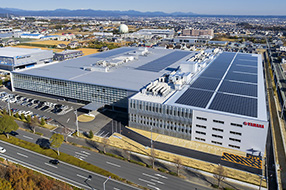 Robotics Operations
Sales & Marketing Section
FA Sales & Marketing Division
127 Toyooka, Kita-ku, Hamamatsu, Shizuoka 433-8103, Japan
Telephone +81-53-525-8350 /
Facsimile +81-53-525-8378