Corporate Philosophy
Creating kando with products and services that exceed your expectations
Yamaha Motor works to realize our corporate mission of creating Kando
For over 50 years, Yamaha Motor group has endeavored to create diverse value through products and services since its founding.
We have worked based on three ideas which constitute our "Corporate Philosophy". One is our "Corporate Mission", that is our core identity, values, purpose and visionary goals. The second is "Management Principles" - the guiding management principles for achieving our corporate mission. The third is "Action Guidelines", the guidelines each individual should follow to realize our corporate mission.
Being the "Kando* creating company" is our goal to "offer new excitement and a more fulfilling life for people all over the world". We strive to use our ingenuity and passion to realize peoples' dreams and always be the ones they look up to for "the next Kando*."
Corporate Philosophy

Kando Creating Company. Offering new excitement and a more fulfilling life for people all over the world
Yamaha Motor strives to realize peoples' dreams with ingenuity and passion, and to always be a company people look to for the next exciting product or concept that provides exceptional value and deep satisfaction.
Management Principles
Creating value that surpasses customer expectations To continue to produce value that moves people, we must remain keenly aware of the customer's evolving needs.
We must strive to find success by always surpassing customer expectations with safe, high-quality products and services.
Establishing a corporate environment that fosters self-esteem

We must build a corporate culture that encourages enterprise and enhances corporate vitality. The focus will be on nurturing the creativity and ability of our employees, with an equitable system of evaluation and rewards.

Fulfilling social responsibilities globally

As a good corporate citizen, we act from a worldwide perspective and in accordance with global standards. We must conduct our corporate activities with concern for the environment and communities and fulfill our social responsibility with honesty and sincerity.
Action Guidelines
Acting with Speed

Meeting change with swift and informed action

Spirit of Challenge

Courage to set higher goals without fear of failure

Persistence

Working with tenacity to achieve desired results, and then evaluating them
*Kando is a Japanese word for the simultaneous feelings of deep satisfaction and intense excitement that we experience when we encounter something of exceptional value.
Brand Slogan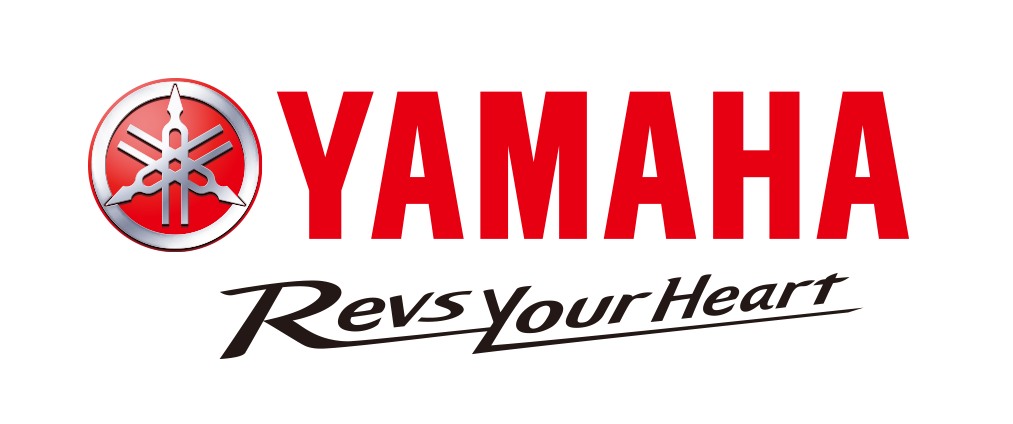 Introducing Yamaha Motor's brand slogan, "Revs your Heart".
Empowered by a passion for innovation,
we create exceptional value and experiences
that enrich the lives of our customers.
The Symbol Mark
The Symbol mark (company crest and trademark) of Yamaha Motor Co., Ltd. is the "tuning fork mark." It consists of three musical instrument tuning forks arranged in a configuration that suggests the wheel of a motorcycle, and it takes the basic form of the same tuning fork mark created as the symbol of Yamaha Motor's parent company Nippon Gakki Co., Ltd. (present Yamaha Corporation) founded in 1897. This mark has been used by Yamaha Motor Co., Ltd. since its founding, as well.
The original meaning ascribed to the three tuning forks was "Let us venture boldly onto the world stage with a strong union of Manufacturing, Marketing and Technology." Today, the three forks have also been assigned meanings of "The Customer," "The Society" and "The Individual," symbolic of Yamaha Motor's management principles of being a company that creates value that surpasses the expectations of the customers while also fulfilling its responsibilities to society as a corporate citizen and fostering a corporate culture where all our employees feel pride in themselves.