Multi-axis controller RCX340
Introduces the multi-axis controllers, RCX340.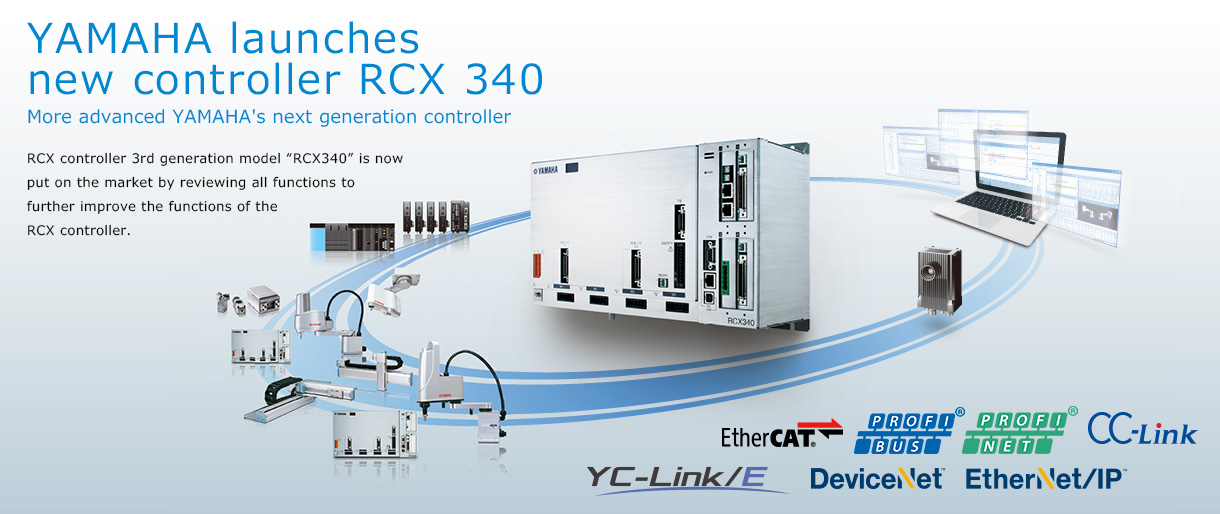 Multi-axis controller RCX340
Operating method:
Programming / Remote command / Operation using RS-232C communication
Points:
30000 points
Input power supply:
Single-phase 200 to 230V AC +/-10% maximum, 50/60Hz
Origin search method:
Absolute / Incremental / Semi-absolute
Feature
01

Advanced functionality allowing high-level equipment construction

Multiple robots can be operated simultaneously through the high-speed communication. Use of link among controllers makes it possible to store programs into only one controller. Newly developed algorithms achieve reduction of the positioning time and improvement of the tracking accuracy.
Multiple robots can be controlled only with one master controller.
The RCX340 controller allows high-speed communication among the controllers. As the master controller sends operation commands to each slave controller, programs and points can be controlled only with the host master controller.
Additionally, as the RCX340 controller flexibly supports multi tasks, the data exchanging using the PLC can be simplified. Simultaneous start and arrival of each robot can also be controlled freely.
Complicated and precise robot system using many axes can be constructed more simply at low costs.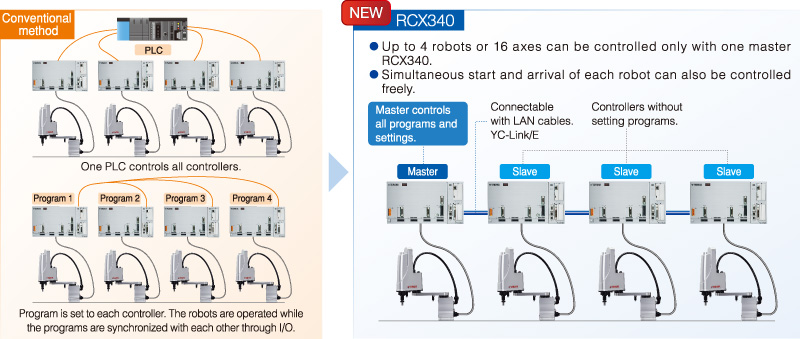 Smooth movement is achieved by greatly improving the motion functions.
As a new servo motion engine is incorporated into the controller, various operations can be linked. Newly developed algorithms achieve reduction of the positioning time and improvement of the tracking accuracy.
Expansion of CONT option functions
The speed is made faster by liking dif ferent operations, such as PTP, interpolation operation, and conveyor tracking.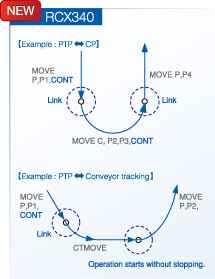 Improvement of operation speed
Use of linked PTP makes it possible to link all operations as much as possible. As operations with different acceleration/deceleration time are linked at the maximum level by giving priority to the operation time, the movement time can be greatly.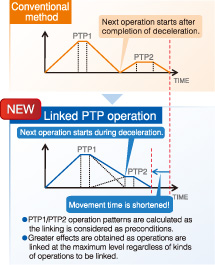 Proper use according to applications
When performing the continuous operation at a constant speed, such as sealing, the conventional PATH is used. When giving priority to the movement time, the liked PTP is used. An optimal operation suitable for the application can be selected.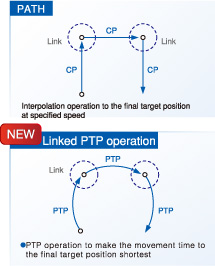 More intuitive arch motion designation is possible.
As the arch motion route designation method is changed, the designation method is simplified and more intuitive designation is possible.

Flexible axis configuration supports a wide variety of applications.
Example : Interpolation operation in dual lane
The interpolation operation in the dual lane is possible by setting the multi-coordinate axes and making the CP commands applicable to the axis designation. This greatly shortens the cycle time of the robot with multiple axes having the same coordinate attribute.
Example : 4-axis dispenser robot A1-X/A2-Z/A3-Y/A4-Y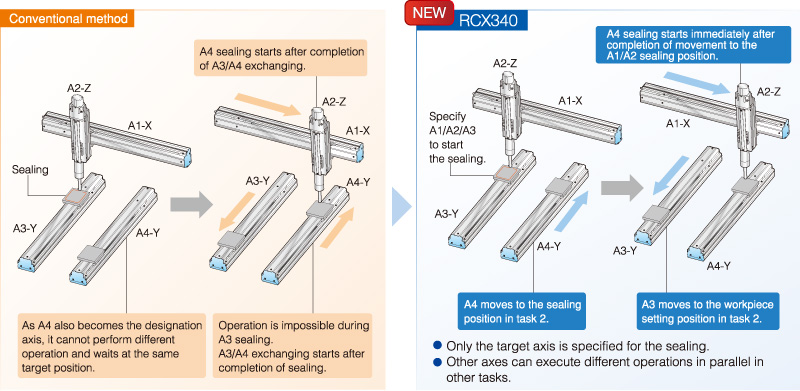 Tracking accuracy is improved.
Visualization using the servo analysis functions and high response using the functions increase the followingness. This improves the tracking accuracy when compared to conventional models.

02

Enhanced basic performance

Functions, such as robot languages, multi tasks, sequence functions, communications, and field buses are improved to make them easier to use.
Motion optimization
To bring out the robot performance at its maximum level, the motion optimization corresponding to the operation pattern is further strengthened. Robot operations with excellent quality, such as shortening of the operation time or suppression of vibrations at stop are achieved.
Optimal acceleration/deceleration motion
Acceleration/deceleration motion that operates at a high speed while suppressing the vibration is generated.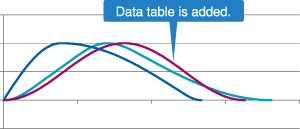 Compact design
The outside dimensions are approx. 355 mm (W) x 195 mm (H) x 130 mm (D). The volume ratio is reduced approx. 85% when compared to the conventional 4-axis controller to achieve the compact design and make the installation inside the control panel easy.
Improvement of cycle time
The speed is made faster with the YK-XG series.
Example : YK400XG
Standard cycle time operation 0.49 sec. 0.45 sec.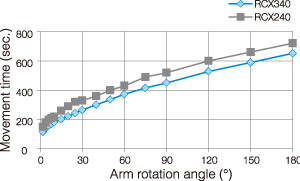 User memory capacity is increased.
The number of points is greatly increased.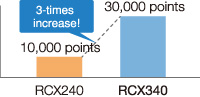 Total capacity of programs and points

New support software "RCX-Studio" with improved visibility and operability
The program debugging functions are enhanced to support multi tasks. The quick setup is possible with easy-to-use operability and program input support function.
Easier to use and quicker setup when compared to YAMAHA robots/Effective maintenance
Easy to use operation system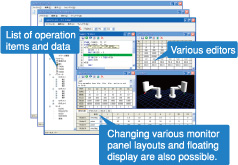 Program debugging functions are enhanced to support multi tasks.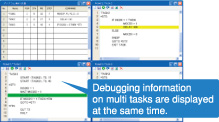 Program input support function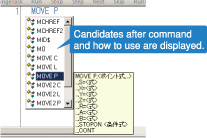 New programming box PBX
This programming box supports three languages,"Japanese", "English", and "Chinese". Use of color display greatly improves the visibility.
Function addition and edit operations become easy to allow even a novice operator with less programming skill to operate the programming box.
A function to save the controller data into a USB memory is also incorporated into this programming box.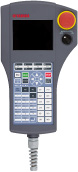 03

More fulfilled expandability

RS-232C and Ethernet ports are provided as standard equipment. A wide variety of high-speed and large capacity field networks, such as CC-Link, DeviceNet™, and EtherNet/IP™ are supported as options. Connections with generalpurpose servo amplifier or other company's VISION are easy. So, the RCX340 is called "connectable controller".

A wide variety of field buses are supported. /Up to four controllers are connected to perform the centralized control of multiple robots.
RS-232C and Ethernet ports are provided as standard equipment. Additionally, fulfilling field buses, such as CC-Link, EtherNet/IP™, DeviceNet™, PROFIBUS, PROFINET, and EtherCAT can be supported to connect and control a wide variety of devices. For 5 or more axes, use of YC-Link/E makes it possible to connect up to four RCX340 controllers so as to perform the centralized control of multiple robots. Additionally, when using YC-Link/E Note 1, multiple robots can be handled as if they are operated using one controller. This ensures very easy robot programming and management.
Therefore, this robot controller contributes to reduction of unseen costs, such as labor cost necessary for the setup work.
Note 1. When ordering YC-Link/E, please specify what robot is connected to what number controller.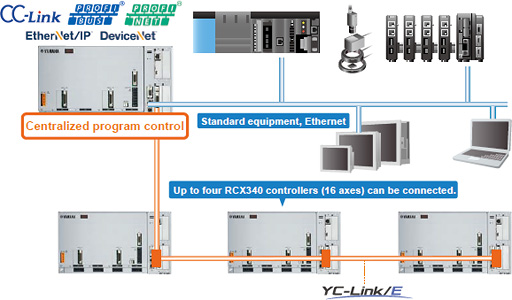 Multi-axis controller RCX340
Related contents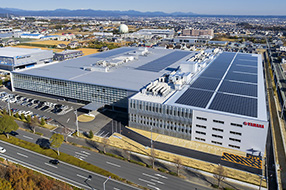 Robotics Operations
Sales & Marketing Section
FA Sales & Marketing Division
127 Toyooka, Kita-ku, Hamamatsu, Shizuoka 433-8103, Japan
Telephone +81-53-525-8350 /
Facsimile +81-53-525-8378