2-axis comprehensive controller RCX320
Then newest addition to RCX3 series.
RCX320
1 to 2 axis controller
Certification:
CE
Field networks:
Ethernet/IP, Ethernet, EtherCAT, CC-Link, DeviceNet, PROFINET, PROFIBUS
Operating method:
Programming / Remote command / Operation using RS-232C communication
Points:
30,000Points
Origin search method:
Absolute / Incremental / Semi-absolute
Feature
Real-Time output function for Preventive Maintenance.
01Industrial Ethernet option Real-Time output functionNote 1
When the industrial Ethernet option (Ethernet/IP, EtherCAT, or Profinet) is selected, the information necessary for the predictive maintenance such as error status, current position, current value, motor load factor, operation hours, and others can be output in real-time to contribute to achievement of the "non-stop production line".
Note 1: The 4-axis controller "RCX340" also supports this function.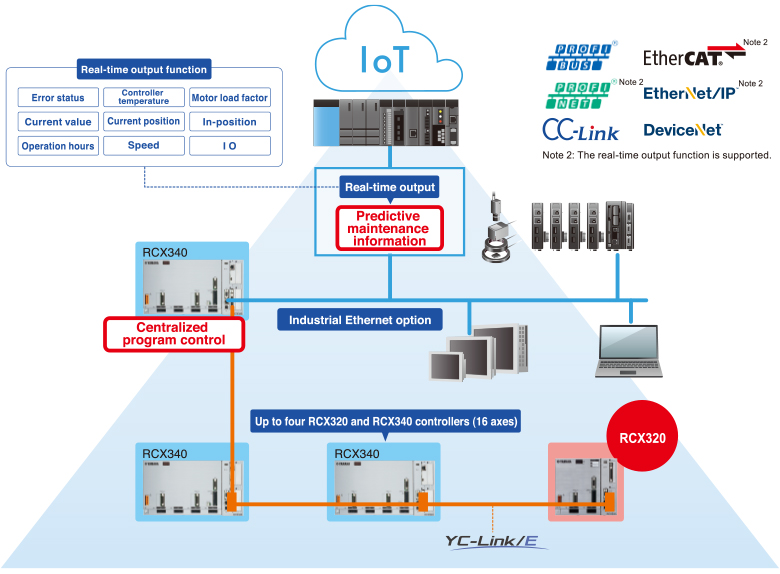 Easy and user-friendly operation system
02Economical solution for 6 axes robot setup.
By connecting RCX340 4-axis controller through YC Link/E, total of 6 robots can be operated.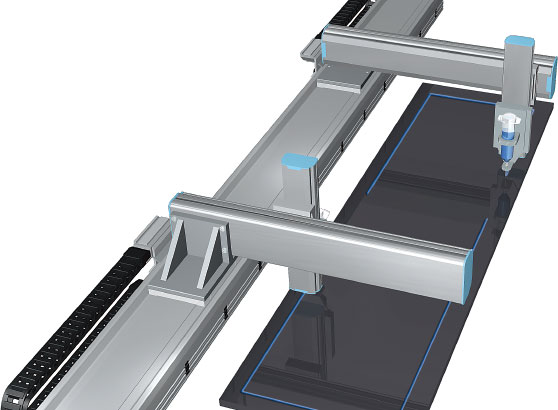 03PBX with USB port for backup.
Simple and easy operation for adding function or editing work. Storing backup data is a simple task.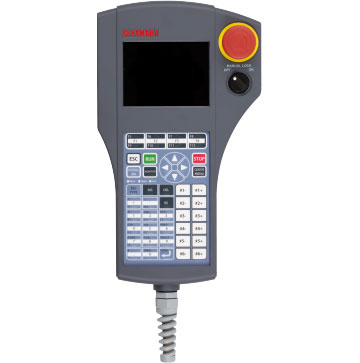 04The CPU processing capacity is increased approx. three times.
The CPU processing capacity is approximately three times faster than that of the conventional model RCX221/222. The control performance such as operation tracking or internal process time is improved greatly.
05Convenient LED Display for Error Status.
The operation status is displayed on the "7-segment LED display" located on the front panel of the controller. If an error occurs, the relevant error message is displayed. The error status can visibly recognized without connecting the programming box.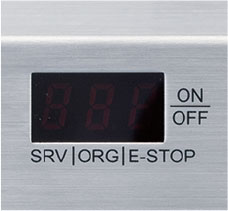 06RCX320 supports all 2-axis robots from small to large.
RCX320 is designed to operate Yamaha's all 2-axis robot systems with AC servo motor or linear motor. Controls two Flip/Phaser axes or all XY 2-axis systems.
07Ideal for dual synchronized robot systems.
The dual robot that performs the synchronous drive between two axes can be easily controlled by one RCX320 controller.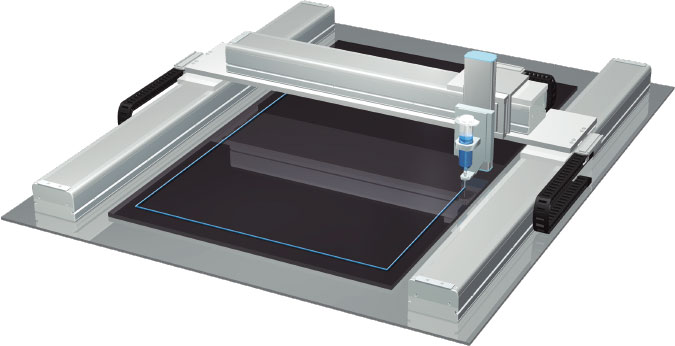 08Up to 320 kg can be controlled by one RCX320 controller.
If two sliders of Phaser dual system are connected and synchronized, its total payload capacity will become 320 kg (MF75D system).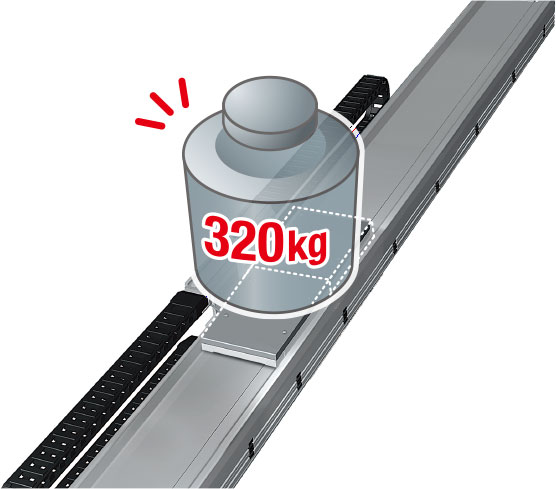 09PC Programming Software "RCX-Studio Pro"(Common to the RCX340)
Both RCX340 and RCX320 run with RCX-Studio Pro. With an emulator function, writing programs or debugging can be done without connecting a controller.
Cycle time calculator between two points simplified a selection of the most suitable robot system. After startup, real-time trace and multi-tasking debug information is displayed simultaneously for monitoring status.
Robot operations like initial setup and maintenance tasks are easier than ever.
Model Selection Stage
Reduces evaluation time before design stage.
●Emulator function > The software can be debugged in the offline mode.
●Cycle time calculator > Easy selection of the most suitable robot system.

Design Stage
Reduced design workload
●Easy-to-use operating controls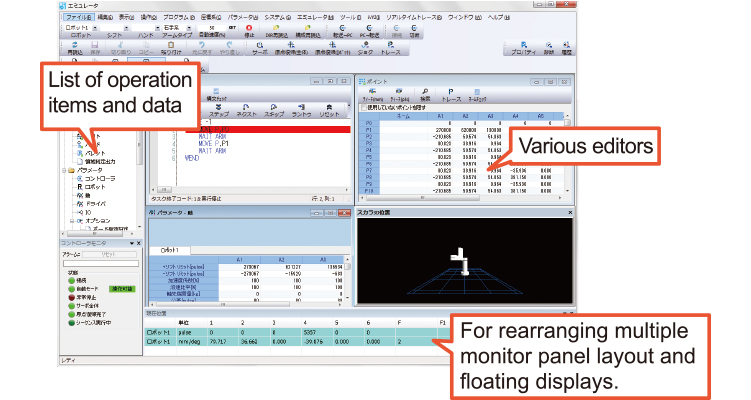 ●iVY2 editor provided
The component type can be registered without changing the software when the robot vision is used.
Startup and Operation Stage
Visualized information for easy monitoring.
●Realtime trace
The internal information of the controller is output continuously.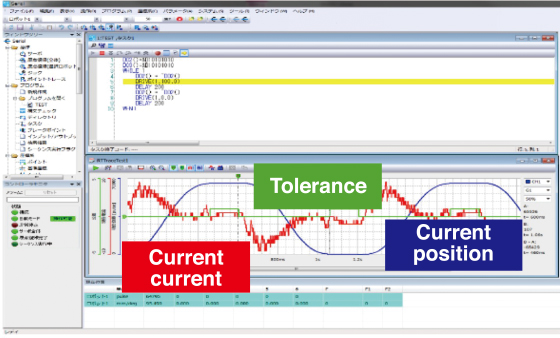 ●Application debugging function
The debugging statuses of multiple tasks can be displayed simultaneously.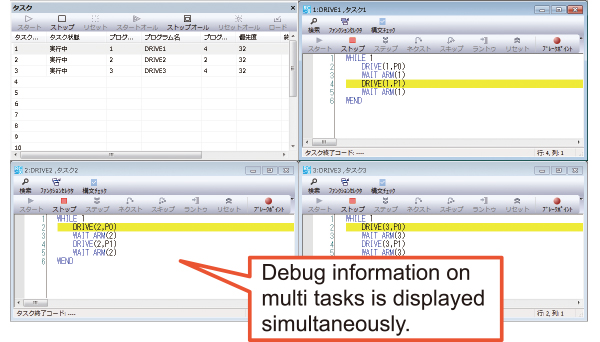 Maintenance
The maintenance and service time is reduced greatly.
●Data comparison tool
The specified two data is compared to visually display the difference. Comparison of all or by program ".all" files or comparison with online data can be selected.

More enhanced expandability
10Enhanced field network support and option function
Six types of internal field networks such as EtherNet/IP, EtherCAT, CC-Link, DeviceNet, PROFINET, and PROFIBUS are supported. The RS-232C and Ethernet ports are installed as the standard ports and the option functions such as the gripper and vision system are also supported, allowing you to construct a system suitable for the needs.

11Synchronized control of multi-axis robots
Use of the inter-controller communication "YC-Link/E" makes it possible to control multiple robots such as Cartesian robots and SCARA robots synchronously. The YC-Link/E can be executed by the program of only the master controller. This contributes to great reduction of the system startup time. The "RCX320" and "RCX340" controllers support both the master and slave specifications, allowing you to construct a system flexibly. Note. Up to four "RCX320" and "RCX340" controllers can be connected by the inter-controller communication "YC-Link/E".

Improvement of basic performance
The basic performance is greatly improved when compared to the conventional "RCX221/222" controllers.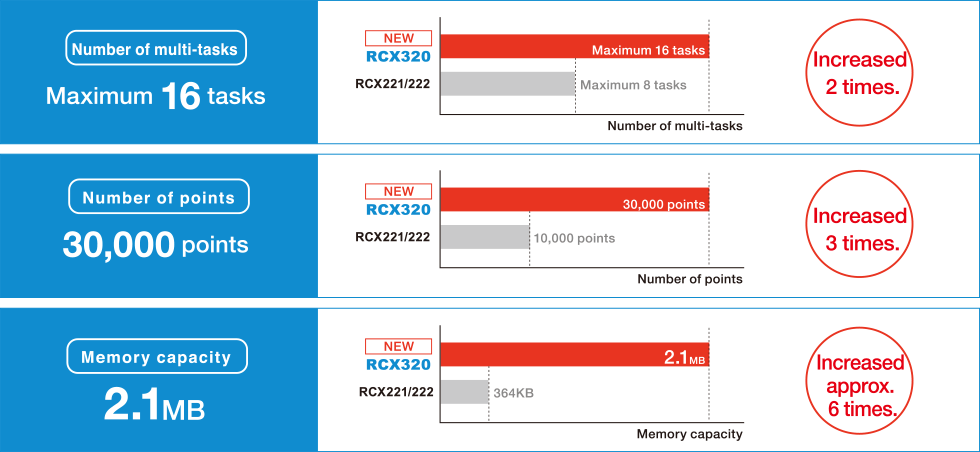 2-axis comprehensive controller RCX320
Related contents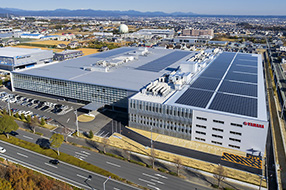 Robotics Operations
Sales & Marketing Section
FA Sales & Marketing Division
127 Toyooka, Kita-ku, Hamamatsu, Shizuoka 433-8103, Japan
Telephone +81-53-525-8350 /
Facsimile +81-53-525-8378