Pick & place robots
Pick & place robots, YP-X series, pursuing easy operation using servo control of all axes.
YP-X Series
Ideal for high-speed pick & place tasks using small parts!
Positioning is by servo control so no complex mechanical adjustments are needed!
A pick & place robot that allows high-speed palletizing of small components.
As the overall width is narrow and the interference with surroundings is small by the moving arm structure, this ensures the space saving of the production line.
Feature
01High speed
High speed pick & place operation contributes largely to higher productivity. YP220BX under operation conditions of 50mm in vertical direction, 150mm in longitudinal direction, 50 in arch volume and 1kg load can achieve a total cycle time or .45 seconds. Since it is possible to output a signal to turn ON/OFF any external equipment from any position while the axis is moving, the actual production cycle time is further reduced.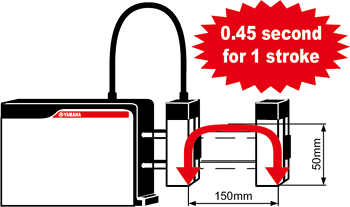 02Compact size
With a width of 109mm in width (YP220BX), it is possible to make the production line small and simple. The moving arm structure with less interference area in periphery contributes to saving space.
Reference example of comparison of robot layouts
Comparison of space occupied by the YP-X series to the small-sized Cartesian robot and SCARA robot allows you to realize the compactness of the YP-X series when they are installed on an assembly line.

03High precision
Both extremely high-speed performance and high precision of +/-0.02mm (YP320X, YP320XR, YP330X, YP340X) are assured.
04General use
Due to YAMAHA's unique servo system, stop point setting and operation pattern can be programmed easily. Compared with cam type robot , this compact size provides outstanding applicability to production of multiple number of items in a small area.
05Complete absolute position system
The complete absolute position system is standard, eliminating the need for origin return operation.
06Fully assorted line-up
Full line-up of 6 models in all from 2 axes type to 4 axes type selectable use purpose.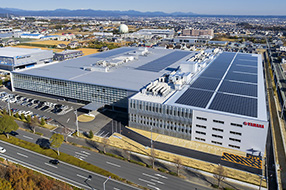 Robotics Operations
Sales & Marketing Section
FA Sales & Marketing Division
127 Toyooka, Kita-ku, Hamamatsu, Shizuoka 433-8103, Japan
Telephone 81-53-525-8350 /
Facsimile 81-53-525-8378