Warranty
Warranty of YAMAHA's industrial robots and products is introduced.
This warranty does not cover any failure caused by:
1.

Installation, wiring, connection to other control devices, operating methods, inspection or maintenance that does not comply with industry standards or instructions specified in the YAMAHA manual;
2.

Usage that exceeded the specifications or standard performance shown in the YAMAHA manual;
3.

Product usage other than intended by YAMAHA;
4.

Storage, operating conditions and utilities that are outside the range specified in the manual;
5.

Damage due to improper shipping or shipping methods;
6.

Accident or collision damage;
7.

Installation of other than genuine YAMAHA parts and/or accessories;
8.

Modification to original parts or modifications not conforming to standard specifications designated by YAMAHA, including customizing performed by YAMAHA in compliance with distributor or customer requests;
9.

Pollution, salt damage, condensation;
10.

Fires or natural disasters such as earthquakes, tsunamis, lightning strikes, wind and flood damage, etc;
11.

Breakdown due to causes other than the above that are not the fault or responsibility of YAMAHA;
The following cases are not covered under the warranty:
1.

Products whose serial number or production date (month & year) cannot be verified.
2.

Changes in software or internal data such as programs or points that were created or changed by the customer.
3.

Products whose trouble cannot be reproduced or identified by YAMAHA.
4.

Products utilized, for example, in radiological equipment, biological test equipment applications or for other purposes whose warranty repairs are judged as hazardous by YAMAHA.
THE WARRANTY STATED HEREIN PROVIDED BY YAMAHA ONLY COVERS DEFECTS IN PRODUCTS AND PARTS SOLD BY YAMAHA TO DISTRIBUTORS UNDER THIS AGREEMENT. ANY AND ALL OTHER WARRANTIES OR LIABILITIES, EXPRESS OR IMPLIED, INCLUDING BUT NOT LIMITED TO ANY IMPLIED WARRANTIES OF MERCHANTABILITY OR FITNESS FOR A PARTICULAR PURPOSE ARE HEREBY EXPRESSLY DISCLAIMED BY YAMAHA. MOREOVER, YAMAHA SHALL NOT BE HELD RESPONSIBLE FOR CONSEQUENT OR INDIRECT DAMAGES IN ANY MANNER RELATING TO THE PRODUCT.
Support & Service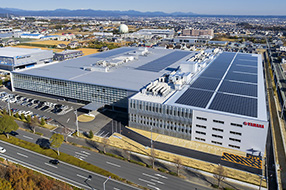 Robotics Operations
Sales & Marketing Section
FA Sales & Marketing Division
127 Toyooka, Kita-ku, Hamamatsu, Shizuoka 433-8103, Japan
Telephone +81-53-525-8350 /
Facsimile +81-53-525-8378