Motor-driven actuators YLE series
This series of actuators use stepping motors that realize high functionality at low costs. The series offer total 6 types with 180 variations.
Motor-driven actuators YLE series
The product line up meeting a variety of demands are here for you to choose from.
Slider type:
YLEF
Rod type:
YLEY
Slide table type:
YLES
Miniature type:
YLEP
Rotary type:
YLER
Motor-driven gripper type:
YLEH
Feature
01The extensive lineup of products enables a wide range of combinations.
The functionality equivalent to that of a servomotor is now available at low costs.
The product line up of total 6 types with 69 models and 180 variations are now newly available for YAMAHA to propose a variety of applications to you. They include the slider type, though compact, that can transport up to 65 kg, rod type with up to 500 mm of stroke, compact and highly rigid slide table type, compact rotary type used for rotational axes, gripper type with a wide selection of gripping power, and compact and lightweight miniature type.
Slider type YLEF
11 types
YLEFS
Ball screw drive
YLEFB
Belt drive
Rotary table type YLER
6 types
Rod type YLEY
16 types
YLEY
Rod type
YLEYG
Rod type with a guide
Miniature type YLEP
4 types
YLEPY
Miniature rod
YLEPS
Miniature slide table
Slide table type YLES
12 types
YLES
Low profile type
YLESH
High rigidity type
Electrical gripper type YLEH
20 types
YLEHZ
Two claws
YLEHZJ
Two claws dust cover
YLEHF
Two claws long stroke
YLEHS
3 claws
Motor-driven actuators YLE series
Related contents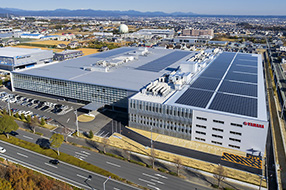 Robotics Operations
Sales & Marketing Section
FA Sales & Marketing Division
127 Toyooka, Kita-ku, Hamamatsu, Shizuoka 433-8103, Japan
Telephone +81-53-525-8350 /
Facsimile +81-53-525-8378