Flexible Parts Feeder Asycube plug-in software
A high-speed and flexible workpiece supply system by combining Asyril's parts feeder "Asycube", SCARA robot, and vision system.
After the parts feeder has distributed parts in bulk optimally, the vision system RCXiVY2+ recognizes a part and the SCARA robot YK400XE performs the pick & place operation.
Feature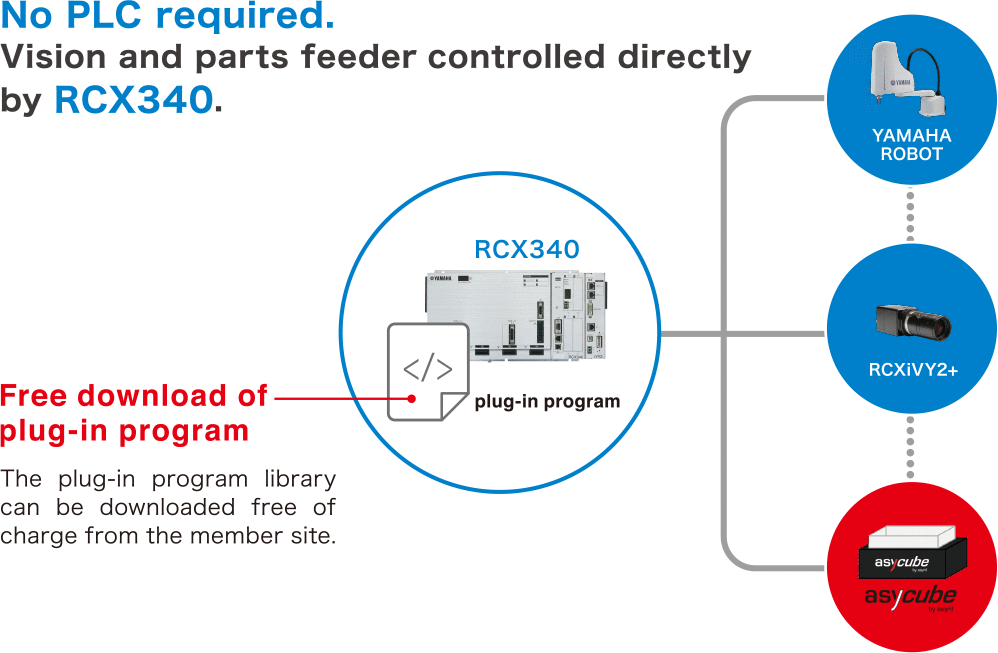 01Easy control with plug-in software
No complicated program descriptions are needed.
Asycube can be controlled easily from YAHAMA controller "RCX340" or "RCX320" by simply loading the program library.
02Easy connection with LAN cable
Connection is made easily by setting some parameters and simply connecting an Ethernet cable.
Multiple Asycube feeders can also be connected via the switching hub.
03High speed process with vision system RCXiVY2+
Images are processed at a high speed by the controller integrated vision system RCXiVY2+ to recognize the type and position of a part on the platform.
04Direct assembly with gripping deviation correction
The gripping deviation is corrected during pick & place operation by adding an upward camera to ensure highly precise mounting.
05Improvement of productivity with non-stop vision correction function
With the non-stop vision correction function of the controller, images are captured without stopping the robot above camera to correct parts positions.
The productivity can be improved up to 20% when compared to that when the camera is stopped above parts.
06Supporting all SCARA robots and Cartesian robots
All YAMAHA SCARA robots and YAMAHA Cartesian robots are supported. *


* The models that cannot be connected to the "RCX320" or "RCX340" controller are excluded.
Related contents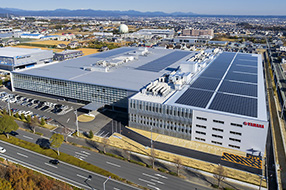 Robotics Operations
Sales & Marketing Section
FA Sales & Marketing Division
127 Toyooka, Kita-ku, Hamamatsu, Shizuoka 433-8103, Japan
Telephone +81-53-525-8350 /
Facsimile +81-53-525-8378