Cautions on Korean EMC (Korean KC) specifications
Cautions on Korean EMC (Korean KC) specifications
About Korean KC
KC is a system based on the radio regulations of Korea. Devices specified by this system must certify compliance or register compliance, and indicate compliance. Applicable devices are defined by public announcement from the Korean National Radio Research Agency (NRRA).
About Korean KC compliance
Some models of YAMAHA robot (robots and controllers) are registered with the Korean National Radio Research Agency (NRRA) by self-test compliance registration. YAMAHA robots that have already been registered display the KC mark.
If you are considering the purchase of robots to be used in Korea, please check the table below for compliance before ordering the applicable product.
YAMAHA robots are devices for inclusion in a system; therefore, if you, the customer, build a complete system that includes robots, and ship that system as a final product to Korea or use it within Korea, you yourself must verify EMC compliance.
For TS series and TS-SD units, check "Examples of EMC countermeasures" within the user's manual; for other controllers, check this section within the "Safety standards application guide reference manual".
List of KC compliant robots
*

Please consult with YAMAHA before purchase, since compliance might not be possible depending on your application, conditions of use, and environment.
*

In the case of 3-axis or greater Cartesian robots and SCARA robots, the robot must be compliant with both KC and KCs.
In conjunction with this table, refer also to the list of KCs compliant robots.
As of July 2020
Controller
| Model name | Registration No. |
| --- | --- |
| ERCD | MSIP-REM-Y3M-ERCD |
| TS-S2 | MSIP-REM-Y3M-TSS |
| TS-SD | MSIP-REM-Y3M-TSSD |
| TS-SH | MSIP-REM-Y3M-TSSH |
| TS-X | MSIP-REM-Y3M-TSX |
| TS-P | MSIP-REM-Y3M-TSP |
| RDV-X | MSIP-REM-Y3M-RDVX |
| RDV-P | MSIP-REM-Y3M-RDVP |
| SR1-X | MSIP-REM-Y3M-SR1X |
| SR1-P | MSIP-REM-Y3M-SR1P |
| RCX221 | MSIP-REM-Y3M-X221 |
| RCX222 | MSIP-REM-Y3M-X222 |
| RCX320 | R-R-GYM-RCX320 |
| RCX240/RCX240S | MSIP-REM-Y3M-X240 |
| RCX340 | MSIP-REM-Y3M-X340 |
| LCC140 | MSIP-REM-Y3M-C140 |
| YHX-HCU | R-R-GYM-YHXHCU |
| YHX-DPU | R-R-GYM-YHXDPU |
| YHX-A30 / YHX-A10 | R-R-GYM-YHXA30A10 |
Linear conveyor
| Model name | Registration No. |
| --- | --- |
| LCM100 | MSIP-REM-Y3M-M100 |
| LCMR200 | R-R-GYM-LCMR200 |
Single-axis robot
| Model name | Registration No. |
| --- | --- |
| TRANSERVO series | MSIP-REM-Y3M-TR |
| FLIP-X series | MSIP-REM-Y3M-FX |
| PHASER series | MSIP-REM-Y3M-PH |
| GX series | R-R-GYM-GX |
Cartesian robot
| Model name | Registration No. |
| --- | --- |
| XY-X series | MSIP-REM-Y3M-XY |
SCARA robot
| Model name | Registration No. |
| --- | --- |
| YK series | MSIP-REM-Y3M-YK |
About non-compliant models
The following robots are subject to the KC system; however, since self-test compliance registration has not been done at the present time, they cannot be used in Korea. Additionally, special-order robots are also not compliant with the KC system.
Even for the various series listed in the table, some new models might not have been registered.
(Contact YAMAHA for details.)
Pick and place robots: YP-X series
Support & Service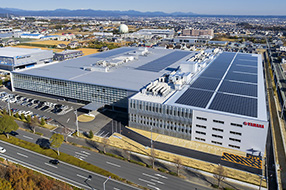 Robotics Operations
FA Section
Sales & Marketing Division
127 Toyooka, Kita-ku, Hamamatsu, Shizuoka 433-8103, Japan
Telephone 81-53-525-8350 /
Facsimile 81-53-525-8378