Feature 1: Universal Control System : Universal Controller YHX series
By configuring the manufacturing line itself as a robot system around YHX controller, total optimization of production facility becomes possible.
Universal Control System
"FA Universal Controller" that structure an automation production line Structure all robots and peripheral devices that support the Advanced Robotics Automation Platform with a common platform.
This enables to maximize the potential of production line.
Centralized and Integrated Control
The robot integration significantly reduces time-consuming work of automatization.
In addition to the robot control, various elements for automation such as communication among transport system control, peripheral I/O control, HMI and devices are integrated in one controller.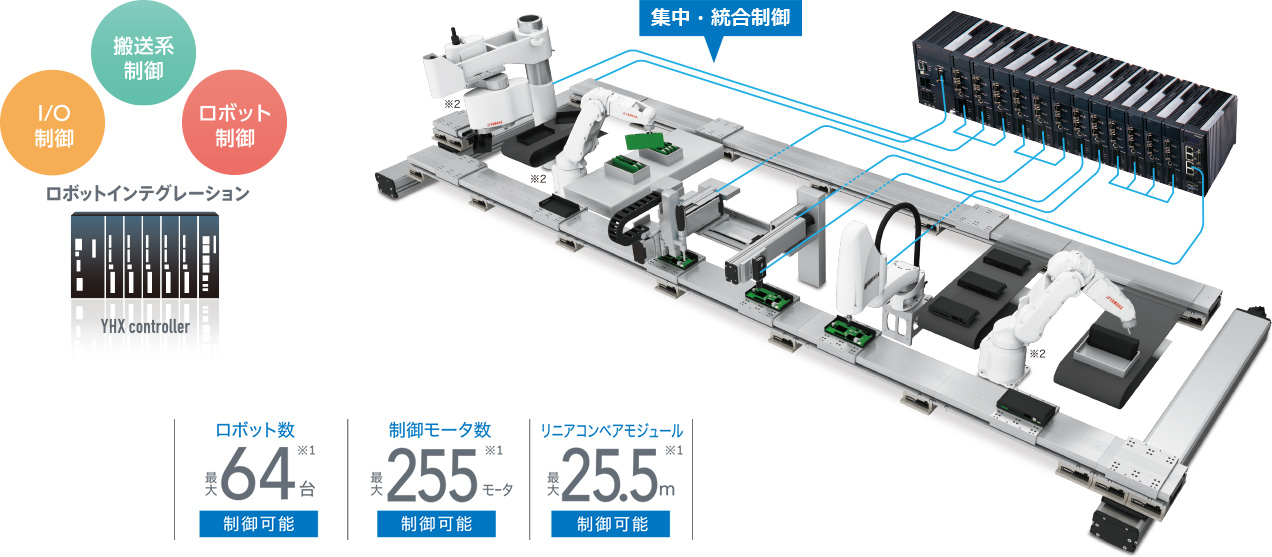 *1 It may be different depending on the system configuration.
*2 The orbit SCARA robots and vertical articulated robots are scheduled to be included into this system.
YQLink
The YQLink, which connects all YHX host controller, various motor drivers, power units, remote IO units and LCM-X modules, carries out high speed mutual data communication such as control commands and control status data among these units to enable high speed, high precision control over the robots and peripheral devices. This particular high speed network system between modules that YAMAHA has uniquely developed by its own has the high speed performance of 500 Mbps which is about 5 times as high as the conventional field networks. It enables synchronous operation of motors and units up to 255 axes without compromising their performances.
Integrating a high performance PLC function
Real time motion PLC
One single YHX controller enables universal control.

With the YHX controller of completely shared unit, the whole production line can be controlled with one software.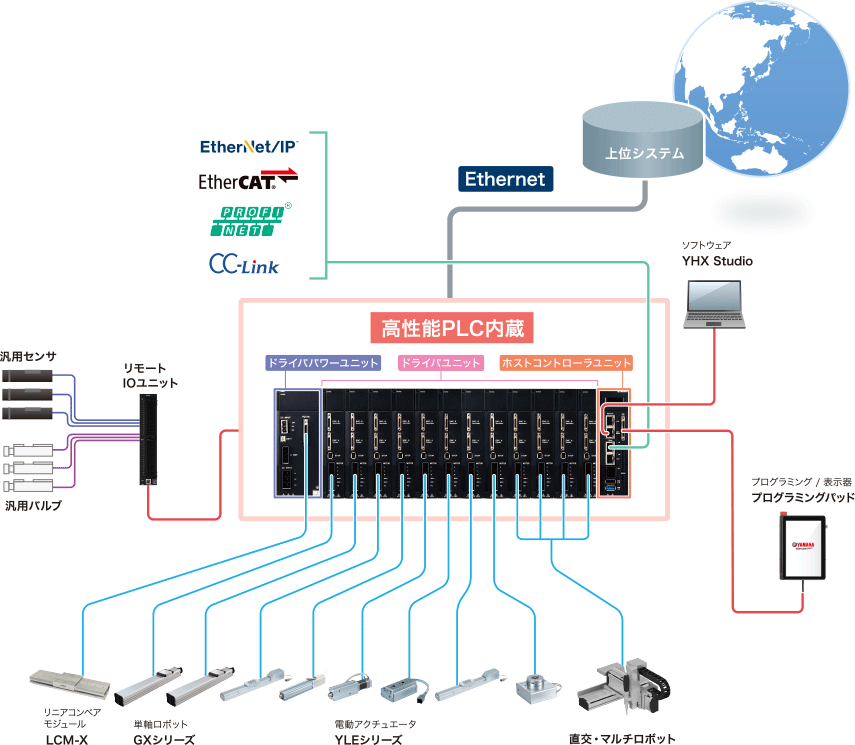 Universal Controller YHX series
Related contents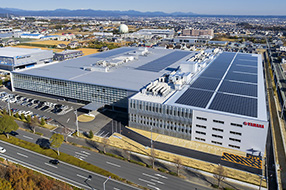 Robotics Operations
FA Section
Sales & Marketing Division
127 Toyooka, Kita-ku, Hamamatsu, Shizuoka 433-8103, Japan
Telephone 81-53-525-8350 /
Facsimile 81-53-525-8378