RCXiVY2+ PCVision Specifications
PC-based image processing system. Usability and robot affinity that are equivalent to the "RCXiVY2+ system" are achieved by the PC vision.
Basic specifications
Supported OS
Windows 10 64-bit / Windows11
Required PC specification
Compatible camera manufacturers
OMRON SENTECH HIKROBOT BASLER
Other manufacturers (Compliant with GenICam)
Number of camera pixels
Max. 5,600 x 4,800 (Equivalent to a 25-megapixel camera)
Number of cameras
Max. 8 cameras
Camera interface
GigE and USB
Camera type
Area scan camera, monochrome (color)
Image capture
Camera: S/W trigger only
Image file loading
Model setting capacity
Edge, geometry, blob, code type
Max. 254 each
Fiducial mark
2 pcs.
Search method
Edge, geometry, blob, code search
Camera installation position
Fixed camera (upward, downward)
Secured to the robot (Y/Z/R-axis).
Setting support function
Calibration, image save function, various component type registrations, camera channel automatic setting, history image, automatic image save, dummy camera function
Lighting
No lighting function
Tracking
Pre-verification is required. Please contact your distributor.
PC environment
Recommended environment
Minimum environment
Environment
OS
Windows 10 64-bit / Windows11
Execution environment
.NET Framework 4.5 or higher
CPU
Intel Core i5 2GHz or higher
Intel Celeron 2GHz or higher
Memory
8GB or more
4GB or more
Hard disk capacity
A free space of 500MB or more is needed at installation destination.
* In addition, a free space to save images or data is also needed.
Communication port
Ethernet port, USB port (3.0)
Applicable robot controller
RCX340 / RCX320
Ver2.06, R0411 or later
About license
To connect the RCX3 series controller to RCXiVY2+ PCVision and use it as a robot vision system, a license for RCXiVY2+ PCVision is needed.
A license agreement is issued to customers who have purchased the license.
The license agreement contains the serial number of the target RCX3 series controller. The license key corresponding to this RCX3 series controller is described.
Note
The license agreement is not reissued.
Store the license agreement with great care.
* An image of the license agreement
Ordering method

RCXiVY2+ PCVision
Related contents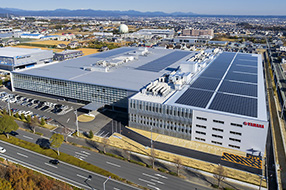 Robotics Operations
Sales & Marketing Section
FA Sales & Marketing Division
127 Toyooka, Kita-ku, Hamamatsu, Shizuoka 433-8103, Japan
Telephone +81-53-525-8350 /
Facsimile +81-53-525-8378