Small type SCARA robots YK-XG
Introduces the small size SCARA robots.
Clicking a desired model name allows you to see its detailed catalog.
Model
Arm length(mm)
Maximum payload(kg)
Standard cycle time(sec)
250
5.0(4.0)Note
0.43
350
0.44
400
0.45
Note.

When an option (tool flange option or hollow spline shaft option for user wiring/tubing) is installed, the maximum payload is 4kg.
Small type SCARA robots YK-XG
Related contents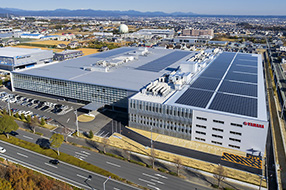 Robotics Operations
Sales & Marketing Section
FA Sales & Marketing Division
127 Toyooka, Kita-ku, Hamamatsu, Shizuoka 433-8103, Japan
Telephone +81-53-525-8350 /
Facsimile +81-53-525-8378