Options for TS series robot positioner
Single-axis robot positioner, options for TS-series, is introduced.
Accessories and part options

TS-Monitor (LCD monitor)
A liquid crystal display is integrated into this unit. It allows checking each operating state, current position, electrical current and voltage values, etc.
| | |
| --- | --- |
| for TS-X | KCA-M5119-00 |
| for TS-P | KCA-M5119-10 |
---

Handy terminal HT1 / HT1-D
Has graphic LCD display with backlight for easy viewing.
| | |
| --- | --- |
| Standard type | KCA-M5110-0E |
| Enable switch type | KCA-M5110-1E |
---

Regenerative unit:RGT
A regeneration unit may be required depending on the model and operation conditions of the connected robot.
---

Support software TS-Manager
Besides data writing, editing and backup functions, the TS-Manager also offers cycle time simulation and various types of monitor functions.
---

Data cables
Communication cable for TS-Manager. Select from USB cable or D-sub cable.
| | |
| --- | --- |
| D-Sub type (5m) | KCA-M538F-00 |
| USB type (5m) | KCA-M538F-A0 |
---

I/O cables (2m)
NPN or PNP I/O cables.
Color-coded flat cables.
Lattice type, 20 conductors × 2, total length 2 meters, one end unterminated.
(This cable is supplied with NPN and PNP units)
---

Absolute battery
Absolute battery basic specifications
Item
Absolute battery
Model
KCA-M53G0-10
Battery type
Lithium metallic battery
Battery capacity
3.6V / 1,650mAh
Data holding time
About 1 year
(in state with no power applied)
Dimensions
φ18 × L50mm
Weight
24g
Note.

The absolute battery is subject to wear and requires replacement. If trouble occurs with the memory then remaining battery life is low so replace the absolute battery. The battery replacement period depends on usage conditions. But generally you should replace the battery after about 1 year counting the total time after connecting to the controller and left without turning on the power.
---

Daisy chain coupler cable
Up to sixteen units can be connected in a daisy chain.
---
Related contents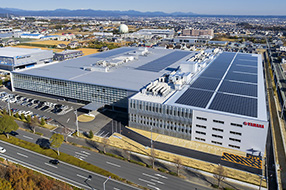 Robotics Operations
Sales & Marketing Section
FA Sales & Marketing Division
127 Toyooka, Kita-ku, Hamamatsu, Shizuoka 433-8103, Japan
Telephone +81-53-525-8350 /
Facsimile +81-53-525-8378