Days Gone By Stories from the Trailblazing Years of Yamaha Motor
Introducing the stories behind Yamaha Motor's technologies.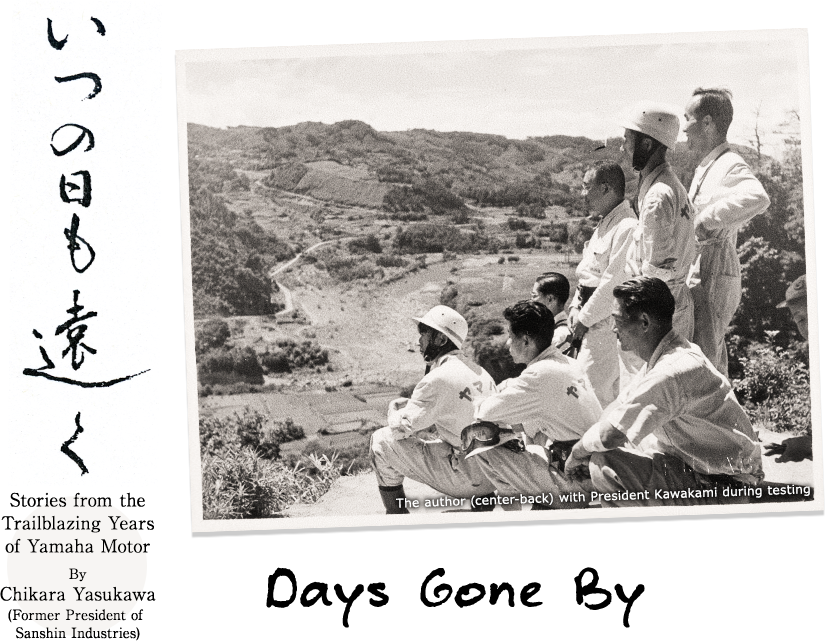 - These entries are an English translation of written and edited Japanese.
- The names of companies, groups, municipalities, facilities, historical events, technical terms, nicknames, etc., are as close as possible to how they were originally written and published.
- Yamaha company acronyms in the original text have been changed to more common wording.
- Entries use Western dating instead of the Japanese era name system, e.g., "Showa 30" is changed to "1955."
- The text layout has been altered for website viewing.
- Some photographs have been either replaced or removed.
Foreword
When I retired as president of Sanshin Industries Co., Ltd.—a manufacturing subsidiary of Yamaha Motor for outboard motors and marine engines—someone suggested that I write about what I had experienced over my many years as an employee in the company newsletter, something younger employees might find of interest.
However, when I sat down to do so I realized that, while I felt I gave everything I had in those days, I could only remember fragments. I never thought that the footsteps I had left behind would be so shallow in my mind and felt ashamed at how little I could dig up from my memory. Still, I thought that even fragmentary recollections of my experiences might be of some interest or a point of reference to others, so I decided to write down my fading memories—my literary skills be damned—lest they be lost in the mists of time.
The first pages of my life as a working member of society, i.e., a salaryman, began with my time at Mitsubishi Heavy Industries and then joining Yamaha. The following three writings cover my time at Yamaha: Motorcycles and Me, Days Spent with Cars and Together with Outboards. They were originally published in eight bi-monthly installments in the Sanshin Industries' company newsletter Sea Breeze beginning in November 1991. I've made a couple additions in this compilation of those articles.
Looking back on it now, I realize how short the life of a salaryman is. Along the way, it's sometimes filled with anger and resentment, but other times it's filled with emotion and burning passion.
May 1993