5
An Unconventional Pool Changes Everything
Endurance and durability testing is absolutely key to ensuring engine reliability. Back then we mainly ran our engines on dynamometers for testing, so not only could we not really run them long enough to perform a credible durability check, but the testing conditions were different from what our products were subjected to in the real world. Mounting the outboards on boats and driving them around for hours on end was also simply impractical. The best we could do was mount engines to a floating testbed at a dock at the Arai Factory and run tests there.
However, that location had various restrictions and we could only operate the engines for 3 or 4 hours daily, so I personally visited Managing Director Koike and told him that we badly needed a dedicated facility to perform outboard endurance testing. This was in September 1972.
Coincidently, it was right around then that Yamaha Motor was moving forward with talks to acquire Gamagori Development Co., Ltd., a shipbuilding company located on reclaimed land on Mikawa Bay. Part of the company's grounds extended to the coastline and we thought we could use it for endurance testing. Some raised concerns that it was too far from Hamamatsu to be practical for testing, but the need for a real solution was urgent so distance wasn't enough to change our minds. And that's how we somehow managed to find a dedicated location for endurance testing.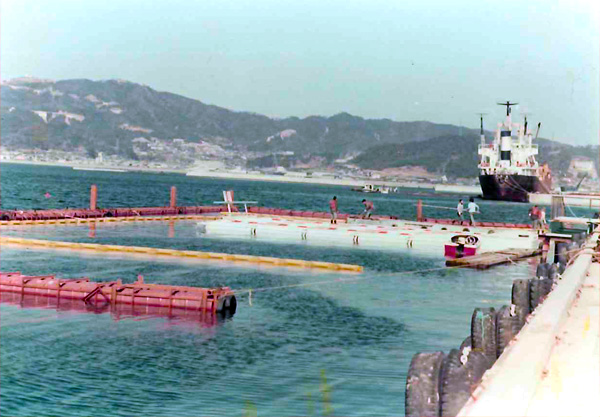 At first, we just floated a pontoon inside a torn-up shipyard dock near the shore, mounted the engines on that and ran them there. We also built a small shack near the pontoon for the testers to work in. These steps were the first ones we took to start up our endurance testing program.
In those days, it took two-and-a-half hours to drive from Hamamatsu to Gamagori for meetings or to deliver parts. Testing in the rain was also very difficult, especially when typhoons would approach. We had to drag the pontoon ashore, reinforce the shack and rush around to make other preparations before they hit. But as long as the sea wasn't too rough, we were able to better replicate actual use conditions, even running the engines all through the night.
Department Manager Kouno was the first person put in charge of the Gamagori test site. The engines were run continuously with the site's 15 or so personnel working around the clock in three shifts. Multiple engines were run continuously, so if one ever stopped for some reason, it was immediately checked, the problem was fixed and it was started up again.
We had the testers constantly monitoring the engines all through the night, and it's thanks to their hard work that we discovered problematic areas one after another that had previously gone unnoticed. This testing out on the water continued for two-and-a-half years.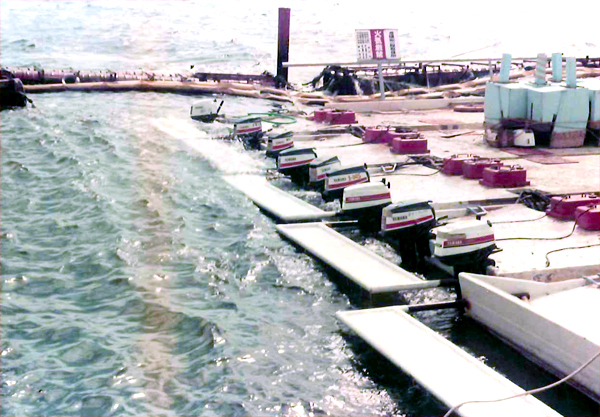 However, these tests were always affected by the weather, making them inherently inefficient, and all of the engine testers really wanted to switch to a land-based site over which they would have more control. At first, we got the idea to build a big pool, fill it with seawater, float a pontoon in it and run the engines on that.
But because the test site at Gamagori was built on reclaimed land, the ground was soft. The weight of a typical concrete pool would cause it to sink into the ground and the concrete to crack from deformation. Since that wouldn't do, we decided to make a pool using construction-grade rubber sheet since it would be better suited to the soft foundation. We would dig a 50 m × 30 m rectangular hole two meters deep, line it with the rubber sheet and fill it with seawater.
We quickly solicited Kanebo, a maker of rubber sheeting, for their input to see if it was doable. They said, "DuPont's Hypalon rubber sheet would probably be suitable, but we have no experience with making anything that big. On top of that, the sheeting only comes in standard lengths, so it would have to be glued together on site and that requires high temperatures. We honestly don't know if we can actually do this..."
Still, we begged them to reconsider and see if there was some way they could do it. After they took some time to think it over, Kanebo got back to us: "Let's give it a shot. It's a new and challenging job, and if we succeed it'll be good advertising for us."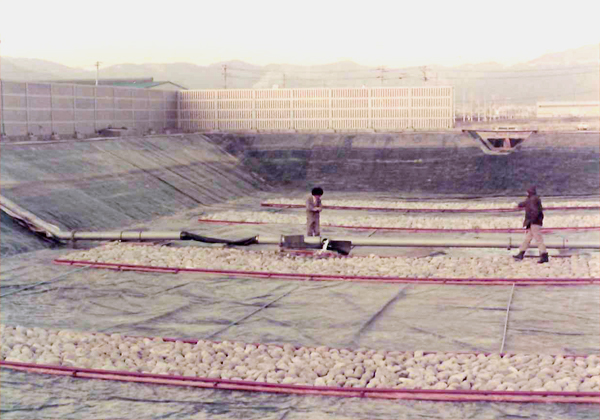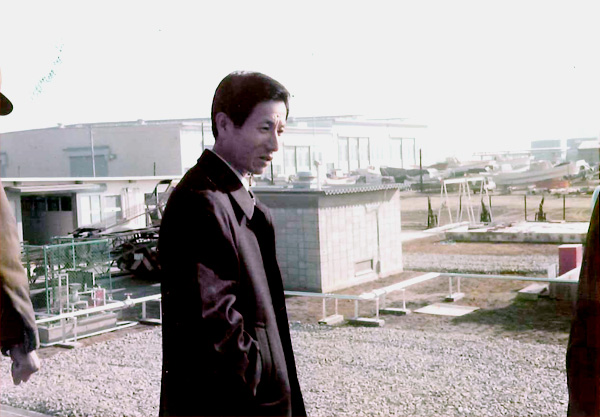 With that, Tobishima Corporation and Kanebo began a collaborative project to build this utterly unconventional pool. And in February 1975, we finally had a purpose-built facility for outboard testing: the Gamagori Endurance Test Site.
This was the world's first pool made of soft, flexible rubber sheeting. Kanebo said they couldn't offer a warranty longer than ten years, but we drain it once a year for inspections and small repairs, and it's already lasted for 17 years and is still going strong.
An office building and testing equipment were later constructed around the pool. In 1983, a computer-controlled automatic engine monitoring system was installed and Gamagori became the modern engine endurance testing site it is today. The department managers heading Gamagori's operations during those years like Kouno-san, Nishida-san, and Taimura-san poured their hearts and souls into their work alongside their testing staff. Looking back on it all, I think building a proper testing facility at Gamagori was a big part of what led to Yamaha outboards now boasting the world's highest levels of quality.