Days Gone By Stories from the Trailblazing Years of Yamaha Motor
Introducing the stories behind Yamaha Motor's technologies.

8
A Joint Venture with Mercury
Both companies reached an agreement of intent to form a joint venture in October 1972, about a year after Brunswick first approached Yamaha about forming a business partnership. Specifically, Sanshin Industries would be reestablished as a joint venture company run by Yamaha Motor and Brunswick. Although there were still many decisions to make and details to iron out for the contract to be finalized, the agreement was in place so we got to work.
In November, we visited Mercury and held our first technical meeting. This was to discuss product planning for after the joint venture was complete. The following six items were agreed upon:
1. Product Character
Yamaha and Mercury's jointly produced products will start with those currently produced by Yamaha, and will be of high quality and globally competitive in all respects.
2. Product Lineup
The initial product lineup for the U.S. market will be composed of models ranging from 2 hp to 75 hp. All will use Mercury's Jet-Prop thru-hub exhaust propeller and be equipped with a capacitor discharge ignition (CDI) system.
3. Product Development Structure
Mercury will be responsible for making design changes and/or improvements to the above models to suit the U.S. market.
4. Development Period for U.S. Market Products
Complete the lineup of models from 2 hp to 50 hp by 1974.
5. Large Outboard Model Development
The 75 hp model will be a 3-cylinder version of the 50 hp model.
6. Establish Sanshin Technical Division
Create a product development division at Sanshin Industries as soon as possible in line with available financial resources. This will be the point of contact with Mercury for technical communications.
In accordance with this agreement, Yamaha Motor's 3rd Engineering Division (outboard development division) would establish a branch office at Sanshin Industries after one year and begin operations. In the year after that, the 3rd Engineering Division would be moved from Yamaha Motor to Sanshin Industries and formally begin operations as the Sanshin Industries Engineering Division.
As you can see from the content of these meetings, Brunswick was making an across-the-board effort to fully cooperate with the project. The recreational outboard market was centered on the U.S., and Mercury was clearly out front when it came to product development and engineering for such models. The products produced by the joint venture would be based on their technology.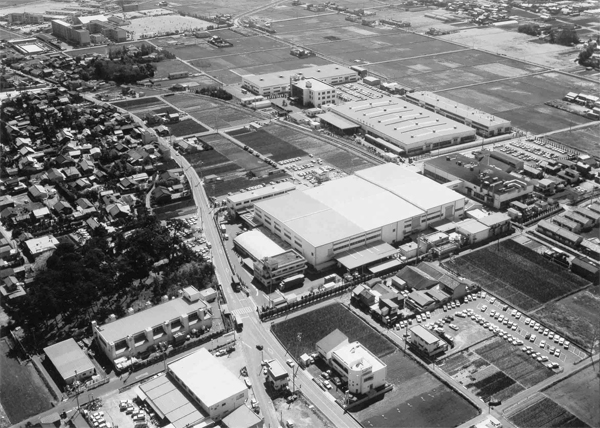 9
Same Bed, Different Dreams
At the start of the year, five engineers from Yamaha were stationed at Mercury and they began working on product development together with Mercury's engineers. Their first tasks were to design a 50 hp model and to modify the 25 hp model to use Jet-Props.
Meanwhile, lawyers from both companies were busy reviewing the wording, stipulations and details of the joint venture contract. After many twists and turns, the contract was made official in May 1973—about six months after having our first technical meeting—and the main contents were as follows:
1. Mercury will invest in Sanshin Industries by purchasing new shares equivalent in value to Yamaha's investment in the company. Accordingly, Sanshin Industries will be reestablished as a new joint venture company operated by Yamaha and Mercury.
2. The joint venture contract is valid for ten years.
3. Sanshin Industries' products will be marketed in Japan by Yamaha under the Yamaha brand name, and sales in North America and Australia will be marketed by Mercury under the Mariner brand name. In other regions, each company is free to market the products under their own brand.
However, two big problems arose.
One was because the contract was limited to ten years. The other was regarding marketing; Mercury had exclusive marketing rights for North America and Australia while Yamaha had exclusive rights for sales in Japan.
It's incredibly rare for a joint venture to have a time limit, but this point in particular demonstrated Yamaha's apprehension to being contractually bound forever. So the quid pro quo was to grant Mercury exclusive marketing rights for North America and Australia. Unlike most joint ventures, this time limit became the main reason neither company could fully disclose their technologies to each other. This meant that both companies had to constantly behave in their own best interests in anticipation of what would happen when the contract expired.
Mercury knew that Yamaha would become a powerful competitor when the contract expired after ten years. And if Yamaha had access to their technology and know-how, they simply wouldn't be able to compete on even ground. As a result, the full technical collaboration Mercury initially had when the joint venture was agreed upon quickly changed to a stance where no key technologies were shared after the official contract was signed.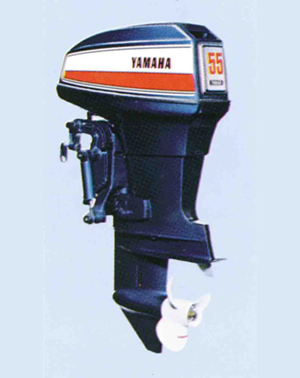 10
A Market Valuing Fairness & Freedom
In 1978, five years after forming the joint venture, the Federal Trade Commission (FTC) issued a complaint against the joint venture. The charges were based on the contract clause which gave Brunswick exclusive sales and distribution rights of products produced by Sanshin Industries for the U.S. under the Mariner brand.
The FTC's complaint was that the purpose of that clause was to specifically prevent Japanese manufacturer Yamaha from entering and selling outboards in the U.S. market. This was unfair as it limited the freedom of choice of U.S. consumers. This may seem hard to believe given the current* problem of trade friction between Japan and the U.S., but it's even more surprising when one realizes that this occurred only fifteen years ago, and also that the basic stance of U.S. policy was originally free trade and consumer rights.
*In 1993 when this was written.
Four years after the complaint was first filed, a U.S. court ruled in favor of the FTC. With one year remaining on the original ten-year joint venture contract between Yamaha and Brunswick, the contract was abrogated in 1982.
Ironically, it was only two or three years later that U.S. public opinion turned against Japan for its exports to America. After the events that led to the joint venture being nullified, Yamaha bought back the shares of Sanshin Industries held by Brunswick, and the company was once again a Yamaha Motor subsidiary.
11
Fruits of the Joint Venture
Reflecting on the results of the joint venture, Brunswick expanded their lineup of small outboards, began selling them under the Mariner brand, and did very well on the market. Brunswick had established the two-brand sales network they wanted, so they'd achieved their original goal. For Yamaha and Sanshin, we'd acquired some technologies—though only a modest amount—along the way.
However, in retrospect, I think what we most gained from the joint venture was an actual feel for the scale and workings of one of the world's leading outboard motor companies. I feel it's thanks to this that we were able to establish concrete goals for ourselves. We recognized anew how important it was to clearly define the goals we wanted to strive for.
Yamaha's products following the joint venture began taking on a much stronger recreational focus with the U.S. market in mind. Compared to our earlier engines designed for fishing and commercial use, recreational engines needed to be lightweight and compact, and there are natural limits that come into play when trying to build a single engine with performance suitable for both commercial and recreational applications. But if we were to ignore that and build an outboard for any and every purpose, the result would likely be a confusing plethora of models. After much thought, we decided to try and keep our offerings as orderly as possible and opted to build a two-prong product lineup: one recreational and one commercial. The amount of work this entailed was huge but we threw everything into getting it done.
Yamaha was the first manufacturer in the outboard motor industry to offer two application-specific model lineups. This meant that Yamaha had double the number of models of other manufacturers, but our products had clearly defined characters and the greater number of models also boosted our overall production volume. Luckily, the Japanese economy was also in the middle of its boom years and this further bolstered the results of this policy, which is in place to this day regarding outboard product development.
After seven or eight years, OMC followed in Yamaha's footsteps and began to produce commercial-use models. We learned a lot from the joint venture and there were a lot of difficulties we faced in entering the world's leading outboard market, but on the other hand, the increased exports to developing markets and Mercury selling outboards built by Sanshin Industries under the Mariner brand resulted in yearly production at Sanshin reaching almost 200,000 units.