Days Gone By Stories from the Trailblazing Years of Yamaha Motor
Introducing the stories behind Yamaha Motor's technologies.

Our jobs weren't just about developing motorcycles; we also entered them in races. The YA-1 dominated the top spots in the Mt. Fuji Ascent Race and then the stage moved to the Asama Highlands Race. Every manufacturer saw racing as the ideal means to advertise their technological advances and product quality, so they all focused their respective resources towards competing to win.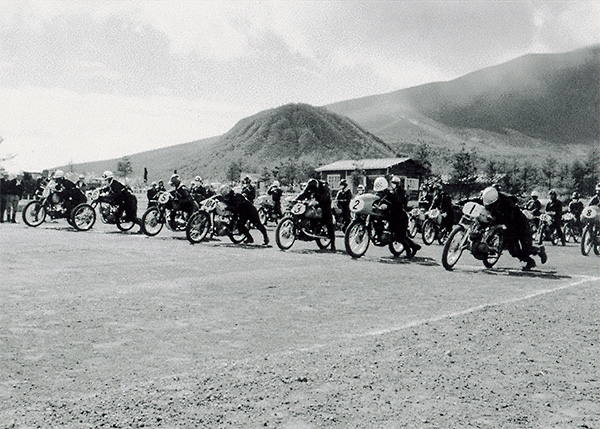 The Asama Highlands Race was one of the first full-on motorcycle races run in Japan. What I remember most is the second time it was held. Unlike the inaugural race that was held on public roads, the 2nd Asama Highlands Race that was held in October 1957 took place on an automobile test course. However, this so-called "test course" was merely an unpaved road running along the base of Mt. Asama and strewn with volcanic ash, so any vehicle running on it kicked up a huge amount of dust. While it was really terrible, it was still the first event that felt like a real race in Japan.
Our previous racebikes were merely modified production models with tuned engines and any unneeded parts removed. But for the 2nd Asama Highlands Race, it was the first time we built a new, dedicated racing chassis, so both the engineers and riders were very passionate about building these machines.
We built single-cradle frames using pipes made of high-tensile steel. The riding positions were customized to suit the physical build and individual preferences of the riders for their respective machines, and we built a one-off chassis for each bike to perfectly suit them. The front fork, seat and rear suspension were also all designed with special specs for racing, and suspension spring rate constants were set according to each rider's technique. A lot of manufacturers entered the event but Yamaha's main rival was Honda, so we naturally planned our strategies with the utmost detail and secrecy.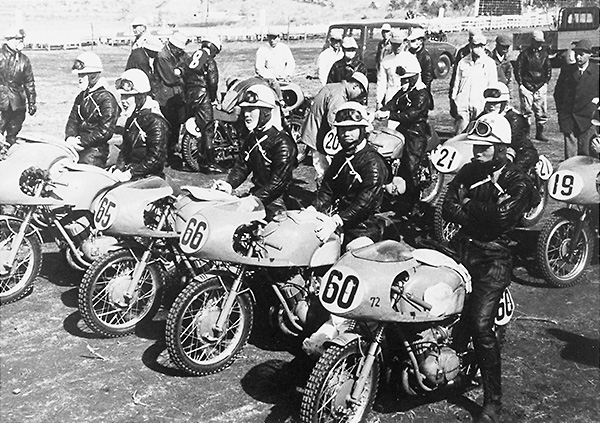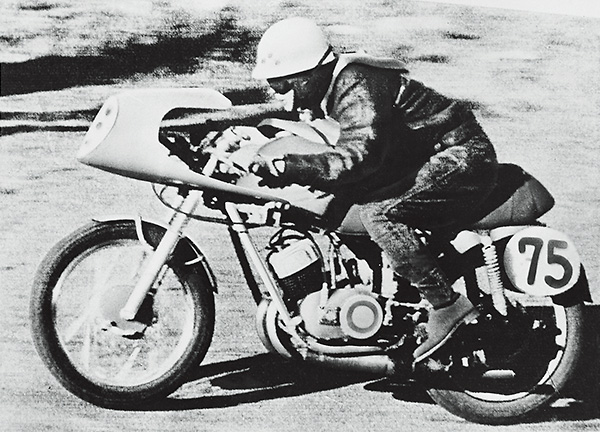 When Honda was out on their practice runs, we always secretly recorded their times, and when we went out to practice during the daytime, we only ran at 70 to 80% of our true speed. Only at early dawn and after it was dark did we do practice runs at full speed. The roads were terrible and there were lots of curves. Because we were practicing every day, engines were seizing, breakdowns were constant and chassis broke left and right.
But just because parts broke didn't mean we could simply make them stronger, because that would add weight. So we spent a month gathering data to determine how many laps a machine could do before a certain part broke. Each rider was given three machines. Each would ride the one that best suited his riding style to about half of its expected life according to the data we'd gotten, and then set aside for the race. The remaining two machines were used for practice sessions.
9
Another Perfect Win at Asama
The night before the race, everyone except the riders stayed up all night preparing the bikes. We worked with great care to do whatever we could to make doubly sure everything was ready, like re-tightening every single bolt and attaching lock wires. Work on tuning the engines on the other hand continued until the day before the race in the testing room at the factory in Hamamatsu. The engines were then transported to Asama overnight to make it in time for the race.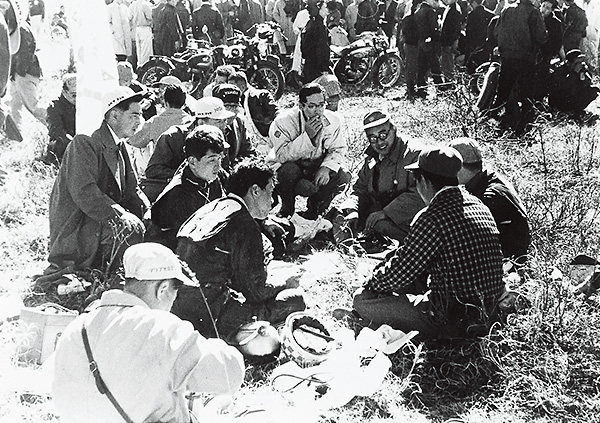 Honda on the other hand sent their race engines from the factory to Asama by private airplane, so as you can imagine, this race was taken very seriously by all concerned. In Europe, full-fledged races were common, already quite popular and some motorcycles were starting to be fitted with cowlings. We also decided to mount cowlings on our machines at Asama, but we couldn't test them in order to maintain secrecy. This was very aggravating because not only could we not verify their effectiveness, we were also uncertain if the cowlings would come off during the race or if they might cause any unforeseen accidents. In the end though, we decided to go for broke and used them in the race.
On race day in the Yamaha pit, we organized a group with the same number of people as all the Yamaha and Honda riders competing in order to record the lap times of every Yamaha and Honda bike. Based on this data, instructions were constantly transmitted to each Yamaha rider during the race. This meant that everyone in the Yamaha pit was aware of how the race was progressing and was able to make calm decisions.
Gathering this detailed data regarding the Hondas, together with the fact that the Yamaha riders had not been riding at 100% during practice, proved to be a very successful strategy. Although the Yamahas ridden by Taneharu Noguchi and Fumio Ito had to retire, Osamu Masuko, Yoshikazu Sunako and Mutsuo Shimora dominated the race, finishing 1st, 2nd and 3rd, respectively. The Yamaha riders were so far ahead that during the later stages of the race, they were instructed to slow their pace to ensure the machines finished. And to everyone's great relief, the dolphin cowling we had been so worried about also completed the race without breaking.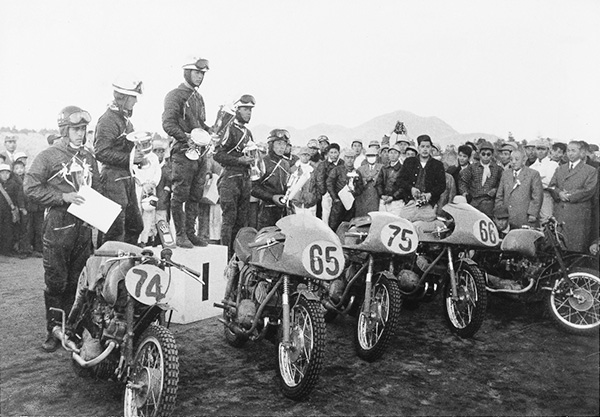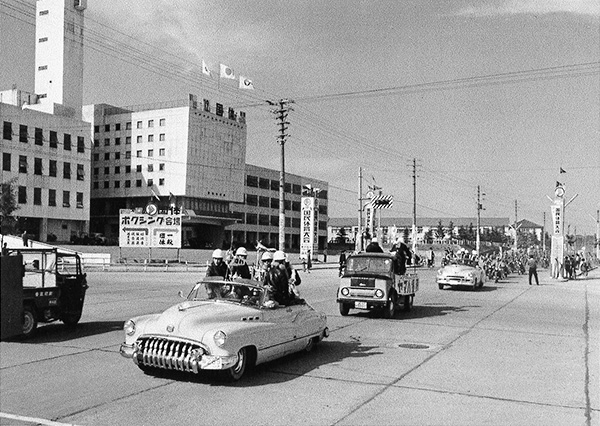 Racing really brings clear results. Even if you give your fullest efforts and spend stacks of money, it's all for naught if you don't win. But that's also why the feeling of satisfaction when you do win is all the more incredible. It's a powerful emotion that can probably only be understood by those who have experienced racing before. Motorcycling was enjoying a golden age in Europe at the time, and the level of racing there was consequently much higher than in Japan, so it was an era when we didn't even dare to dream that Japanese motorcycles would someday cross the continent and enter the European market.