Our jobs weren't just about developing motorcycles; we also entered them in races. The YA-1 dominated the top spots in the Mt. Fuji Ascent Race and then the stage moved to the Asama Highlands Race. Every manufacturer saw racing as the ideal means to advertise their technological advances and product quality, so they all focused their respective resources towards competing to win.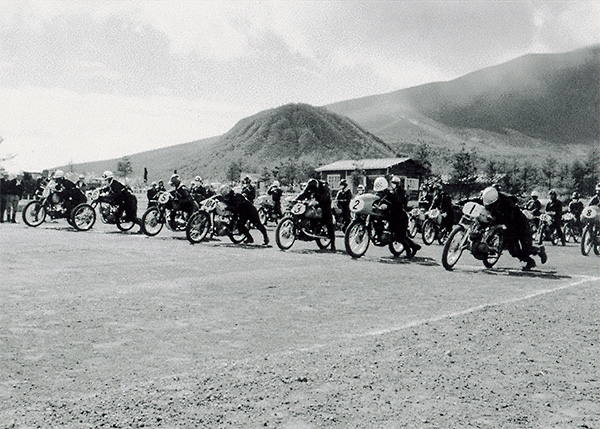 The Asama Highlands Race was one of the first full-on motorcycle races run in Japan. What I remember most is the second time it was held. Unlike the inaugural race that was held on public roads, the 2nd Asama Highlands Race that was held in October 1957 took place on an automobile test course. However, this so-called "test course" was merely an unpaved road running along the base of Mt. Asama and strewn with volcanic ash, so any vehicle running on it kicked up a huge amount of dust. While it was really terrible, it was still the first event that felt like a real race in Japan.
Our previous racebikes were merely modified production models with tuned engines and any unneeded parts removed. But for the 2nd Asama Highlands Race, it was the first time we built a new, dedicated racing chassis, so both the engineers and riders were very passionate about building these machines.
We built single-cradle frames using pipes made of high-tensile steel. The riding positions were customized to suit the physical build and individual preferences of the riders for their respective machines, and we built a one-off chassis for each bike to perfectly suit them. The front fork, seat and rear suspension were also all designed with special specs for racing, and suspension spring rate constants were set according to each rider's technique. A lot of manufacturers entered the event but Yamaha's main rival was Honda, so we naturally planned our strategies with the utmost detail and secrecy.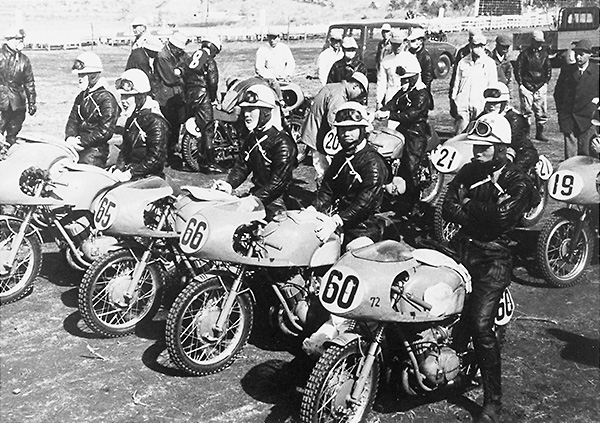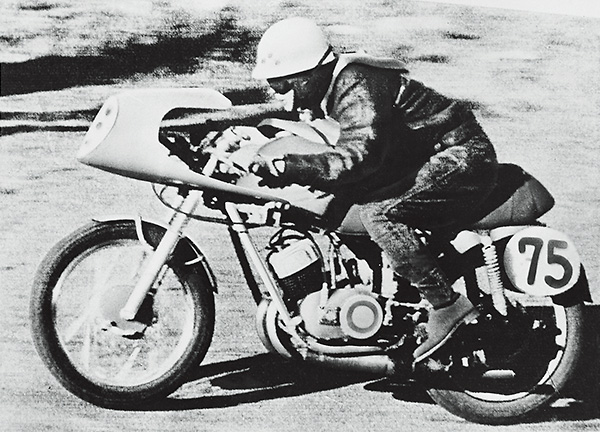 When Honda was out on their practice runs, we always secretly recorded their times, and when we went out to practice during the daytime, we only ran at 70 to 80% of our true speed. Only at early dawn and after it was dark did we do practice runs at full speed. The roads were terrible and there were lots of curves. Because we were practicing every day, engines were seizing, breakdowns were constant and chassis broke left and right.
But just because parts broke didn't mean we could simply make them stronger, because that would add weight. So we spent a month gathering data to determine how many laps a machine could do before a certain part broke. Each rider was given three machines. Each would ride the one that best suited his riding style to about half of its expected life according to the data we'd gotten, and then set aside for the race. The remaining two machines were used for practice sessions.