1
The Inspection Tour of Europe and the U.S.
I remember it was in September 1959, shortly after establishment of the Yamaha Technological Research Institute. President Kawakami had instructed Research Department Manager Shun Ono to make an overseas inspection tour of Europe and the U.S. for about a month and a half, and I was to accompany him. The purpose of our visit was to seek out what kind of products Yamaha Motor should develop in the future.
In those days, simply getting governmental permission to travel overseas was quite difficult. The Japanese yen had next to no value overseas back then and it couldn't even be converted to dollars, so you needed permission from the Ministry of International Trade and Industry to receive an allotment of dollars. Then we had to visit the embassies of the countries we wanted to visit and take an oath before each country's ambassador in order to be issued a visa. This trip was so special that on the day of our departure, President Kawakami and many others came to Hamamatsu Station to see us off.
During this trip we visited trade fairs, auto shows, machine tool manufacturers, automobile and motorcycle factories, multi-purpose engine factories and more. Our impression at the time was that we didn't have much to learn regarding motorcycles, but we were impressed by the cutting-edge approach of the machine tool manufacturers. They were not only selling machines, but also offering their customers services with their machining technologies, including designs for jigs and dies. This was very different from Japanese manufacturers who simply made and sold their machines, and really impressed me. I fully realized then that it would be best for us to rely on European manufacturers for meeting our new machining equipment needs.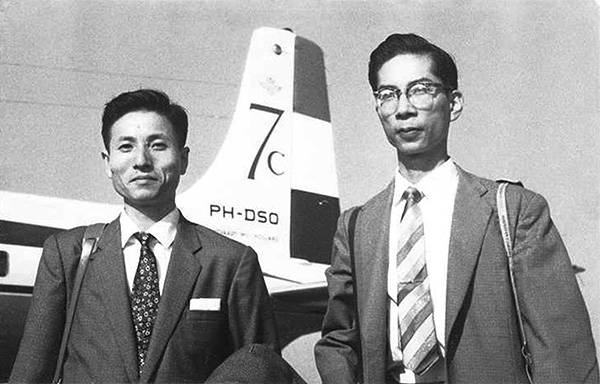 At the automaker factories, the production equipment for cars was becoming ever more specialized and the long history of the developed countries in the auto industry was palpable. The sheer size of their operations shocked us and made it clear that we wouldn't be able to just copy what they were doing in a day or overnight.
However, when it came to the factories of ubiquitous sports cars like Porsche, Mercedes and Pininfarina, our mouths actually weren't left agape at the way each and every car was made by hand on a line. With sports cars, performance is bolstered by superior design and technology, and the scale of their factories was something we felt we could achieve. Similarly, we could also see firsthand that while the production scale of manufacturers in Europe and the U.S. was small, they were turning out many products that were world-famous.
We now clearly understood that products known around the world were backed by superior engineering, and I realized that the first step in developing a new Yamaha product would be to create a corporate structure to enable that. This was when the desire to build a sports car welled up inside me and I told Ono-san, "I say we build a sports car."
After returning to Japan, Ono-san wrote his report to President Kawakami, detailing our impressions and suggesting that beginning R&D for building a high-performance sports car could facilitate the company's entry into the automobile industry. Then in November 1959, the Yasukawa Research Lab was created at the Yamaha Technological Research Institute.