Days Gone By Stories from the Trailblazing Years of Yamaha Motor
Introducing the stories behind Yamaha Motor's technologies.

1
The Inspection Tour of Europe and the U.S.
I remember it was in September 1959, shortly after establishment of the Yamaha Technological Research Institute. President Kawakami had instructed Research Department Manager Shun Ono to make an overseas inspection tour of Europe and the U.S. for about a month and a half, and I was to accompany him. The purpose of our visit was to seek out what kind of products Yamaha Motor should develop in the future.
In those days, simply getting governmental permission to travel overseas was quite difficult. The Japanese yen had next to no value overseas back then and it couldn't even be converted to dollars, so you needed permission from the Ministry of International Trade and Industry to receive an allotment of dollars. Then we had to visit the embassies of the countries we wanted to visit and take an oath before each country's ambassador in order to be issued a visa. This trip was so special that on the day of our departure, President Kawakami and many others came to Hamamatsu Station to see us off.
During this trip we visited trade fairs, auto shows, machine tool manufacturers, automobile and motorcycle factories, multi-purpose engine factories and more. Our impression at the time was that we didn't have much to learn regarding motorcycles, but we were impressed by the cutting-edge approach of the machine tool manufacturers. They were not only selling machines, but also offering their customers services with their machining technologies, including designs for jigs and dies. This was very different from Japanese manufacturers who simply made and sold their machines, and really impressed me. I fully realized then that it would be best for us to rely on European manufacturers for meeting our new machining equipment needs.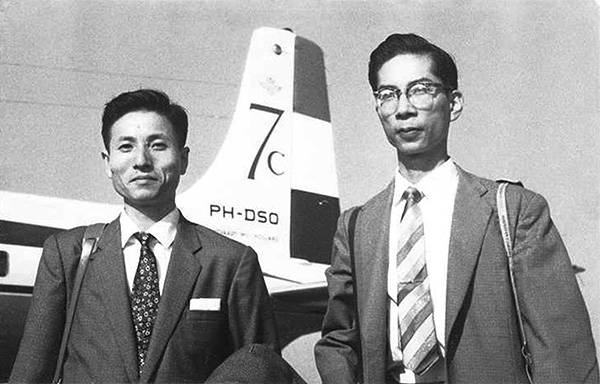 At the automaker factories, the production equipment for cars was becoming ever more specialized and the long history of the developed countries in the auto industry was palpable. The sheer size of their operations shocked us and made it clear that we wouldn't be able to just copy what they were doing in a day or overnight.
However, when it came to the factories of ubiquitous sports cars like Porsche, Mercedes and Pininfarina, our mouths actually weren't left agape at the way each and every car was made by hand on a line. With sports cars, performance is bolstered by superior design and technology, and the scale of their factories was something we felt we could achieve. Similarly, we could also see firsthand that while the production scale of manufacturers in Europe and the U.S. was small, they were turning out many products that were world-famous.
We now clearly understood that products known around the world were backed by superior engineering, and I realized that the first step in developing a new Yamaha product would be to create a corporate structure to enable that. This was when the desire to build a sports car welled up inside me and I told Ono-san, "I say we build a sports car."
After returning to Japan, Ono-san wrote his report to President Kawakami, detailing our impressions and suggesting that beginning R&D for building a high-performance sports car could facilitate the company's entry into the automobile industry. Then in November 1959, the Yasukawa Research Lab was created at the Yamaha Technological Research Institute.
2
The Yasukawa Research Lab and Developing the YX-30
The purpose of the Lab was to conduct R&D for a full-on, high-performance sports car. Yamaha Motor was only producing 2-stroke motorcycles, so this was the first research organization created with the intent to enter the automotive industry. At the time, there were only two carmakers in Japan with completely domestic operations: Toyota and Nissan. On top of that, most of what they built were small trucks; cars were built for taxi use and in small numbers no less. At first it was only Haruo Kinoshita and myself working at the Lab, but the number of personnel steadily increased and we had twenty or so with us by the start of the following year. Yamaha's organization for automotive research was now in place.
The first question was, what kind of car should we study? That is, what car should we use as a sample? Thinking that the high-performance engine of the future would likely be a DOHC engine—a rarity back then, even from a global perspective—we chose the British MGA Twin-Cam as our sample car, since it had a 1,600cc DOHC engine. However, actually acquiring an imported car in Japan in those days was no easy matter. Fortunately, we heard that an American military officer stationed in Japan had one and we were able—with great effort—to convince him to part with it. Talk about a stroke of good luck!
However, although we finally managed to get the car we wanted to use as a model, we had none of the equipment or facilities needed to ascertain its performance. So we asked Hitachi and they let us use their chassis dynamometer at their Taga Factory in Ibaraki to check its performance.
It was astonishing. At the time, no Japanese car had a top speed exceeding 100 km/h, but the MG could hit 160 km/h and it also had great acceleration. While driving the car from Tokyo to Hamamatsu, we were able to get a small taste of its performance ourselves.
We divided the members of the Lab into chassis and engine/drivetrain groups and got started by first disassembling the MGA and making sketches. We then thoroughly studied the vehicle. We also collected and analyzed as much data as we could on other sports cars from around the world. Our goal was to use this data as a foundation to which we would add our own ideas and build a prototype Yamaha sports car.
After much heated group discussion on what specs we'd use for the car, we finally decided on the following. The engine would be a 1,600cc, liquid-cooled, 4-cylinder, 4-stroke, DOHC unit. In this respect it was the same as the MGA, but we would build the engine out of aluminum instead, and not only the cylinder head and engine block, but even the connecting rods. Since there were no all-aluminum engines anywhere in the world at the time, we decided to take up the challenge and build one.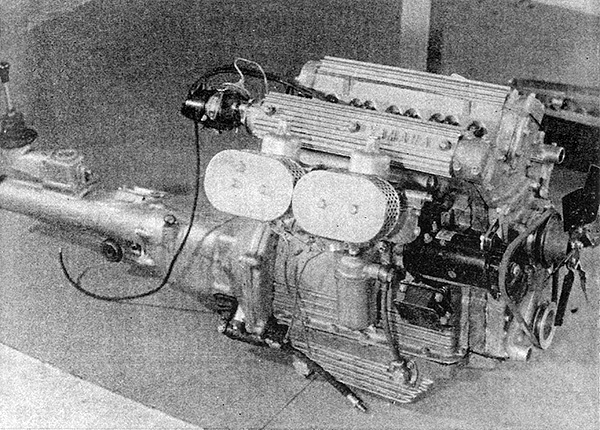 For the chassis, we opted for a space frame using lightweight but highly rigid box-section steel pipes welded together. The car would be a two-seater with an open-top body designed by GK Design. Instead of using conventional sheet metal for the body, we would use hand-laid FRP to reduce weight. In those days, very few cars in the world had FRP for the body.

Our desire to go all-out resulted in an impressive list of unique and creative specifications. Wanting to speed up the development process as well as raise the level of refinement for the prototype, we decided to use as many existing suspension components as we could from domestic and foreign cars.
The project number for this car was YX-30. Because this was a completely new endeavor, we ran into all kinds of difficulties once we actually got down to work.
With the complex water jacket for the cylinder head in particular, no matter how many test castings we did, we kept getting blowholes, making the piece unusable. In the end, we filled the blowholes with resin and welded the surrounding aluminum, making it at least seem feasible. But sure enough, when we tested the engine, coolant started leaking everywhere and after a short time the power suddenly dropped off. We took the engine apart and found that the big-end conrod bearings had seized. The shakeout we did to remove sand from the casting had left some sand still in the smaller spaces...
After finding and then overcoming such failures over and over again while somehow managing to build a prototype body, the car was finally completed as 1960 was coming to an end. It had been just one year since the startup of the Lab.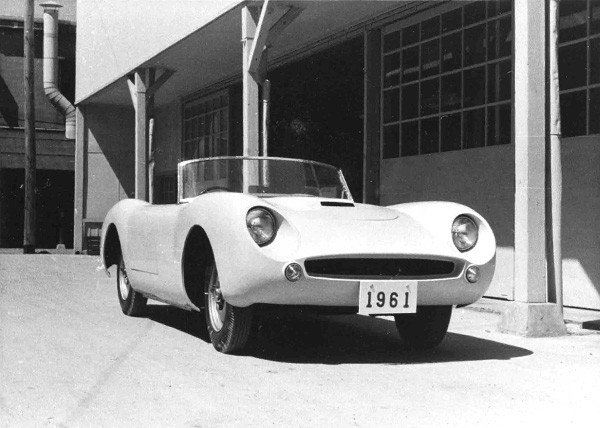 We put the key in the ignition and fired up the engine. Our first test drive was around the courtyard of the Lab. Everything worked; it was drivable. When President Kawakami saw it his eyes sparkled with satisfaction.
3
Japan's First Sports Car
We were finally ready to test drive the car, but we had no place to do so! After looking everywhere for a feasible location, we happened to learn that the newly completed Shinohara Bypass in Hamamatsu—part of National Route 1—had not yet been opened for use. So we asked the Ministry of Construction if we could use it and they gave their consent.
When the day finally arrived for us to test the performance of the prototype sports car we had designed and built, the members of the Lab woke at 4:00 on a winter morning, waited for dawn to break and began the tests. The car recorded a stunning top speed of 144 km/h and we all later jubilantly toasted to this remarkable achievement.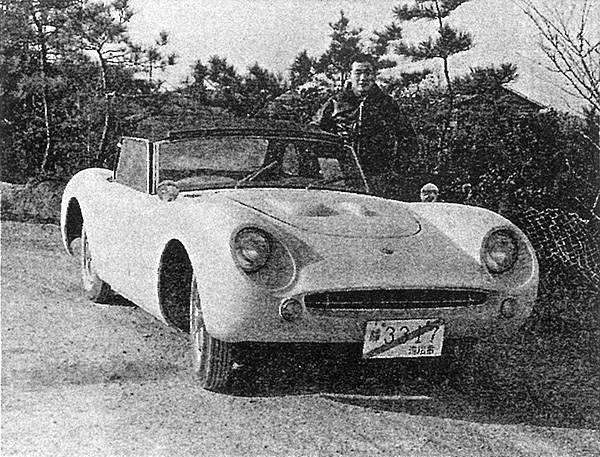 Looking back on it all, I break out in a cold sweat when I think what could have happened if the suspension or something else had failed! We then started driving the car on city streets and other public roads to test and verify its durability, driving back and forth between the Omaezaki area and the foot of Mt. Fuji. There were lots of breakdowns and we had to come up with ways to fix them every day. When things started to calm down and we were at last getting some results with our durability testing, we also began discussions and brainstorming ideas for car No. 2.
Six months later, on June 5, 1961, car No. 2 was completed. This car featured a 2+2 coupe body while the engine, suspension, drivetrain, etc., were all the same as those in car No. 1.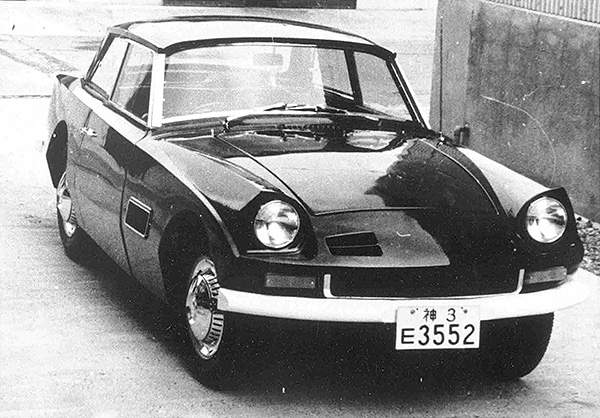 The organization of the Lab was as follows:
Yasukawa Research Lab (23 members)

| | |
| --- | --- |
| Lab Chief | Chikara Yasukawa |
| Engine Design | Yoshitsugu Kunimine, Shirou Ijuuin, Yukiyoshi Ohashi, Souichi Nakano, Shigeki Izumisawa, Motoyuki Moritomo |
| Body Design | Haruo Kinoshita, Katsumi Sunayama, Mamoru Yamada, Hitoshi Hanakawa |
| Frame Design | Koreaki Takahashi, Watao Abe |
| Suspension Design | Masahiko Fukuda, Minoru Yamada |
| Drivetrain Design | Moriyuki Taguchi, Tadashi Igarashi, Kounoshin Kamiya |
| Electrical System Design | Osamu Iida |
| Performance Testing | Yoshinori Endo, Toshimitsu Harada, Teruhiko Taneda |
| General Affairs | Yasuko Suzuki |
When I first joined Nippon Gakki, I was surprised by the company's unique atmosphere. In those days, directions made by management or by one's superiors were absolute and the opinions of subordinates weren't given much weight. Before I knew it, I was constantly questioning myself as to why my subordinates were so reluctant to freely offer their own opinions. I hoped that if I was ever promoted to be department head, I would create an atmosphere—at least in my own department—where people could freely speak their minds and where everyone had freedom to do their jobs as they thought best as long as they took personal responsibility for their actions.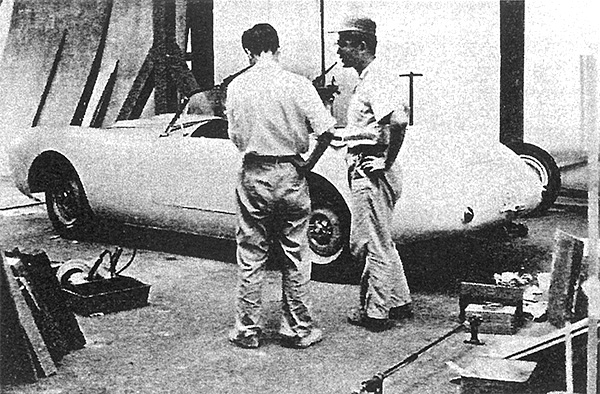 I always tried to give the Yasukawa Research Lab that kind of atmosphere. We often held department drinking parties; pouring saké for each other, we would get into enthusiastic dialogs and talk about life as people so often do in their youth. When these parties really got fired up, we played our legendary "Cricket in the Water" game. A large bowl was filled with saké, we'd toss all sorts of things into it and it was then passed around for everyone to drink from. On the way home, everybody would often stop by my house for another drink, a practice which invariably resulted in my personal stock of saké at home always running completely dry by the end of our festivities.
On one of those evenings, we continued the party at the company's housing for families but the ruckus caused some issues at work the next day, so we had to make the rounds and apologize to all the tenants. Although things did go too far like that from time to time, we were a young group—everyone except me was under thirty—and this was how we really got to know each other like students back at school and gradually created an atmosphere based on mutual trust.
Work at the company proceeded well and everyone worked hard. The members of our department enjoyed such individual freedom that other departments probably saw us as lacking discipline, and their criticism was fierce: "Yasukawa Research Lab members have far too much of a free hand. They need to be dealt with more strictly and made to follow the rules." But we were a group of young people, all passionate about our work.
We were excited to be the ones working on building Yamaha's very first automobile and Japan's first sports car, and that only spurred us on. Everybody at the Lab took our work very seriously; that's why we succeeded in completing a prototype car in less than a year. Even now I remain convinced that the spirit and atmosphere I fostered at the Lab was the right one.
Even now, once every year, the former members of the Yasukawa Research Lab get together to reminisce about those days, of the youthful enthusiasm and energy we put into our work, the way everything looked and felt back then, and our unforgettable pride in building Japan's first DOHC car engine (they are much more common today in Japanese high-performance cars) and Japan's first true sports car.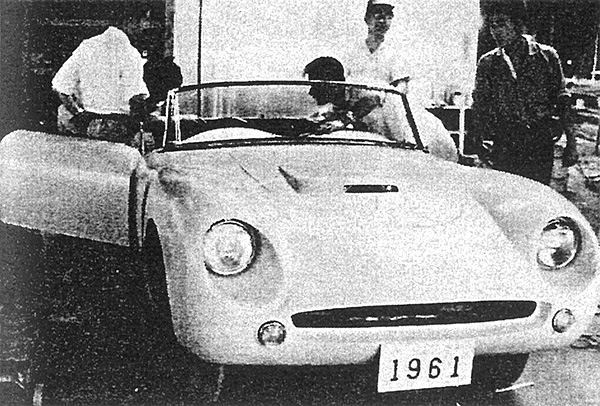 4
The Battle with the Tice Engine
While work was progressing on car No. 2, I found a magazine article about a prototype automobile engine that was successfully built using sheet metal. The source of the article was C. Itoh & Co., Ltd., so after enquiring there for more details, I found out the engine was built by Tice Engineering, a manufacturer of aircraft parts located on the outskirts of San Diego, California. So, Managing Director Aisa and I packed our bags and traveled to the U.S. to pay them a visit.
The 2,000cc, DOHC "Tice Engine" was made almost entirely of copper-plated pressed-steel plates, from the engine block to the combustion chambers. The parts were then placed in a furnace and assembled by brazing. The engine was not just light but also very powerful, with a power-to-weight ratio of one horsepower per pound! The structural engineering was revolutionary, employing high-precision brazing techniques used to produce aircraft parts. This kind of technology was simply unthinkable in Japan at the time.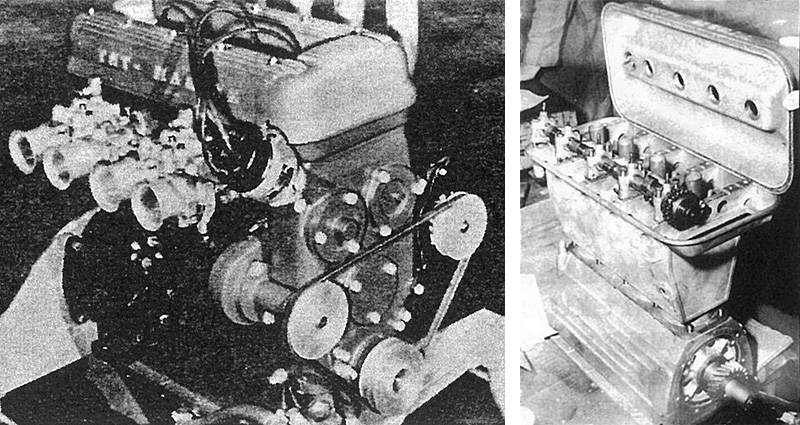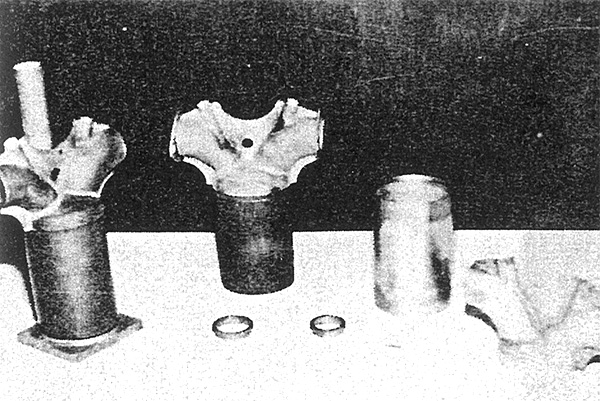 We thought that practical use of this technology would result in a fantastic engine, and we quickly signed a technology license agreement with them. Together with fellow Lab Chief Nakatani, who at the time had been looking into new metalworking methods at the Yamaha Technological Research Institute, we spent two months at Tice Engineering learning their manufacturing techniques and made preparations for adopting them back in Japan.
However, when we actually tried using the technology and methods in our work, we found that we couldn't achieve the desired level of precision with the brazing. One reason was that there were simply many places that needed to be brazed. As a result, we'd get cracks in the combustion chambers, coolant leaks at the engine block joints and other problems, and we weren't able to make improvements either. Every time we tried, the only solution we could come up with was to replace the plated parts with cast parts, but that meant we ended up losing the advantages of the steel plate construction we sought in the first place, and the engine moved closer and closer to a more conventional engine architecture.
We were determined to somehow make this engine structure work and had a strong desire to create something totally new. If it was today, the result of our efforts might have been different, but our manufacturing technology at the time just wasn't enough to get there, let alone ensure reliability or a number of other targets. A massive amount manpower, time and funds went into trying to build this engine, and in less than a year, we'd spent a colossal amount of money on the project.
So as you can imagine, I got a serious scolding from our director of general affairs at the time: "We've never had any department blow through money like your research lab..."
To tell the truth, I think we were incredibly fortunate that they let us continue with the project as long as we did. This was largely thanks to President Kawakami's own passion and interest in new technologies and I regretted it to the very end that we were unable to meet his expectations.
In hindsight, the whole thing was a massive failure due to bad judgements on account of youth and inexperience. The repercussions afterwards were big as well.