Land Mobility : Electric Wheelchairs
Introducing Yamaha Motor Land Mobility : Electric Wheelchairs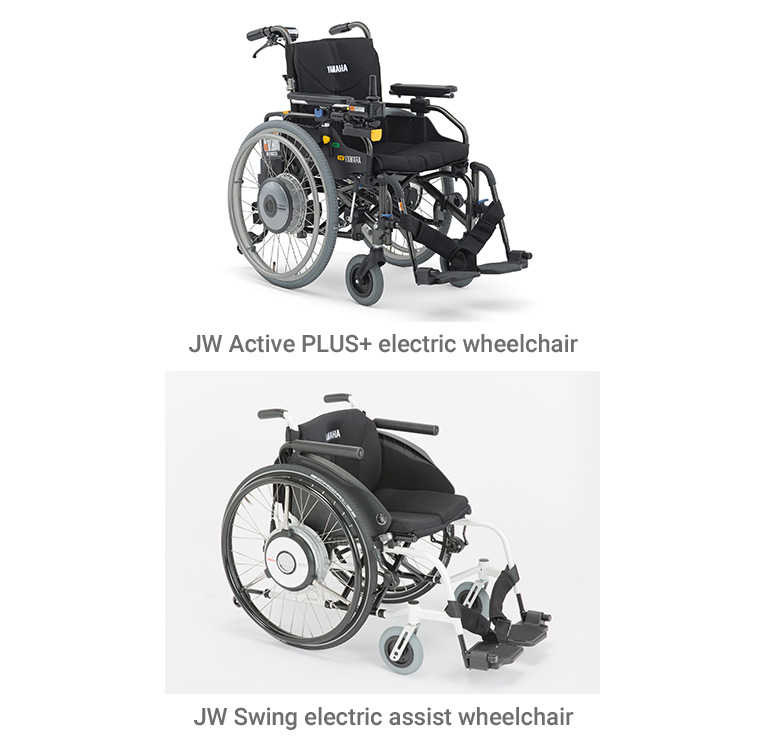 Product Profile
Wheelchairs, which facilitate the mobility of the elderly and persons with disabilities, are broadly divided into manual and electrically powered types. Yamaha Motor's Joy Wheel (JW) series, which brings a new dimension to the world of wheelchairs by combining the light weight and flexibility of manual wheelchairs with the power and stability of electrically powered models, includes both electric power units and completely assembled electric wheelchairs. Electric power units come in two types: power units that convert manual wheelchairs into electrically powered wheelchairs, and power assist units that make manual wheelchairs easier to use.
- Electric Power Type -
These units add electric power to facilitate the use of manual wheelchairs while retaining manual wheelchairs' convenience of being able to fold and carry. The unit consists of a joystick for operation, two wheels with a built-in motor and clutch system, and a compact, lightweight battery.
These power units can be attached to a variety of wheelchair models, for smooth operation using a single joystick.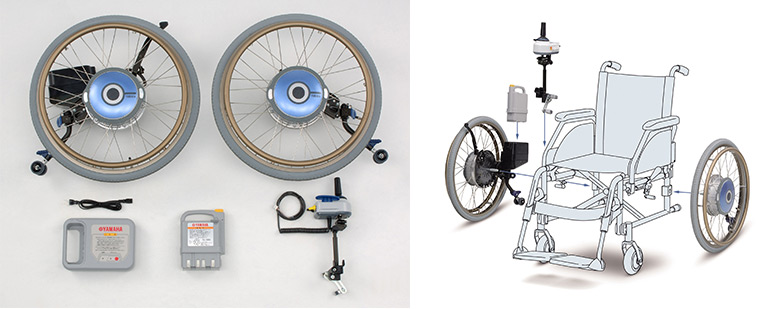 - Assist Type -
Power assist units use electric power to supplement the turning of the handrims of a manual wheelchair, using the same Power Assist System as Yamaha's electrically power assisted bicycles (PAS). The units consist of a motor built into the wheel hub assembly, a handrim torque sensor, and a compact, lightweight battery.
Functions include "slant control," which makes it possible to move forward in a straight line even on a horizontal slope, and "assist distance control," which can be used to adjust the length of the assist distance for each push on the wheel. "JW Smart Tune," a dedicated software for Yamaha wheelchairs, can also be set according to the user's physical condition and operating environment. The wheelchair can still be operated in the same way as manual ones, so that users use their residual function. Therefore, it gained a high reputation.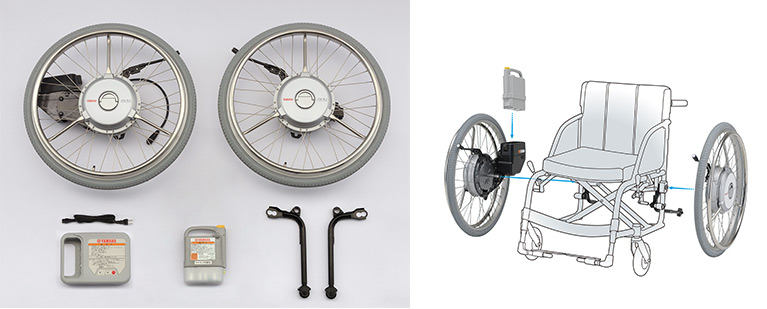 Background of the Business
Applying its proprietary control and drive technologies to contribute to the health and social welfare of an aging population, Yamaha Motor began limited-area marketing of power units for manual wheelchairs in 1995 (followed by nationwide sales from 1996).
Since then, we have applied our proprietary advanced control and drive technologies to offer electric wheelchairs that are comfortable and convenient for users, and also minimize the effort required by caregivers.
Current Business and Market Conditions
In Japan, most electric wheelchairs are used by persons with disabilities as certified mobility aids (eligible for government subsidies) or rented by the elderly under the long-term care insurance system.
Outside Japan, Yamaha supplies power units to manufacturers in the United States, Europe, Australia, South Korea and other countries on an OEM basis.
Production
| Name of company (Site) | Location |
| --- | --- |
| Yamaha Motor Co., Ltd. (Iwata Main Factory) | Iwata, Shizuoka, Japan |