Marine Products : Personal Watercraft
Introducing Yamaha Motor Marine Products : Personal Watercraft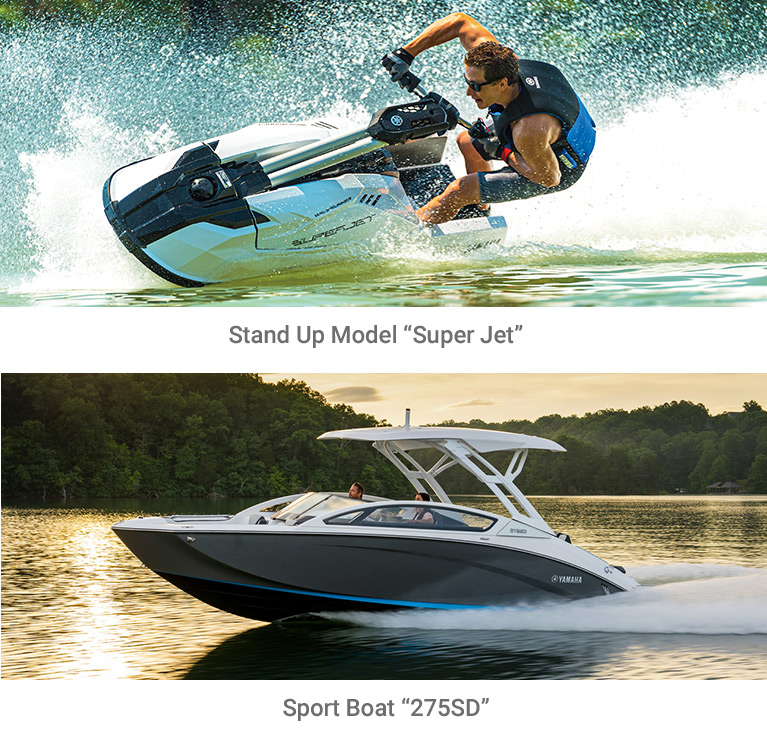 Product Profile
Personal watercraft (or PWC) come in two varieties: one that requires the rider to stand (one-person capacity), and another that is ridden from a seated position. PWC mount a small engine, but rather than using a propeller for propulsion they draw in water from the intake section at the bottom of the hull and shoot it out from the back with a jet-propulsion mechanism. Sport boats that use the same kind of propulsion system are also popular mainly in North America.
Background of the Business
In 1986, Yamaha Motor launched its first product, the WaveRunner 500. The product's marketing concept, "A water vessel anyone can ride, with assurance and convenience," was welcomed by markets and effectively expanded the enjoyment of marine recreation beyond existing mainstream activities like cruising and fishing. PWC attract many users, mainly in North America.
Current Business and Market Conditions
Yamaha PWC feature a highly stable and streamlined hull built on technologies Yamaha Motor developed for boats, and a compact, lightweight, yet powerful engine utilizing the Company's motorcycle and marine engine technologies. Most Yamaha PWC employ 4-stroke engines. These models meet environmental regulations in the U.S. and Japan, the largest markets, which include U.S. EPA (Environmental Protection Agency) regulations and Japan Marine Industry Association voluntary regulations.
Production
Name of company (Factory)
Location
Engines
Yamaha Motor Co., Ltd. (Iwata South Factory)
Iwata, Shizuoka, Japan
Assembly
Yamaha Motor Manufacturing Corporation of America*
Georgia, U.S.A.
Yamaha Jet Boat Manufacturing U.S.A., Inc.*
Tennessee, U.S.A.
* Group company