Robotics : Industrial-use Unmanned Aircraft
Introducing Yamaha Motor Robotics : Industrial-use Unmanned Aircraft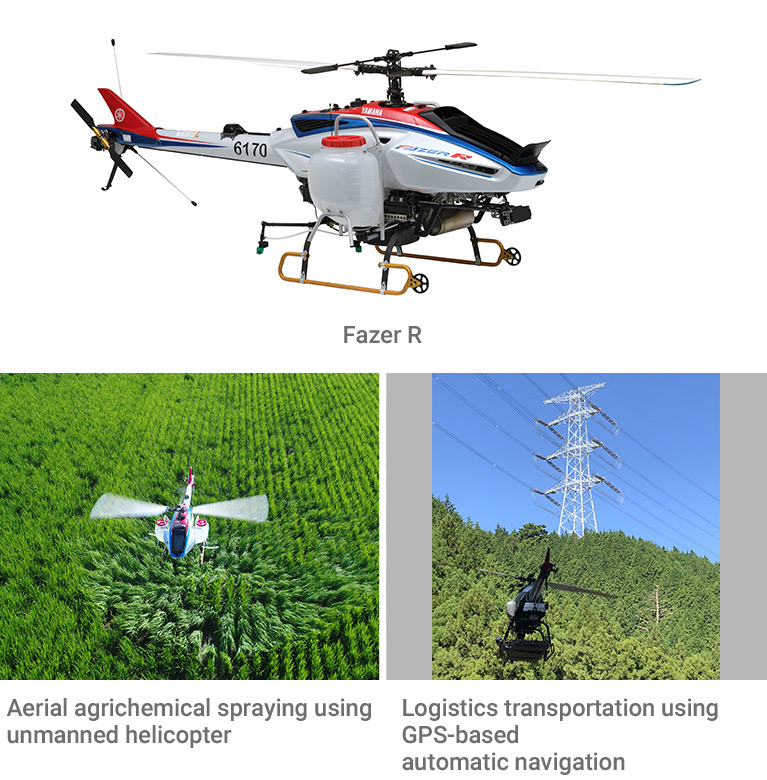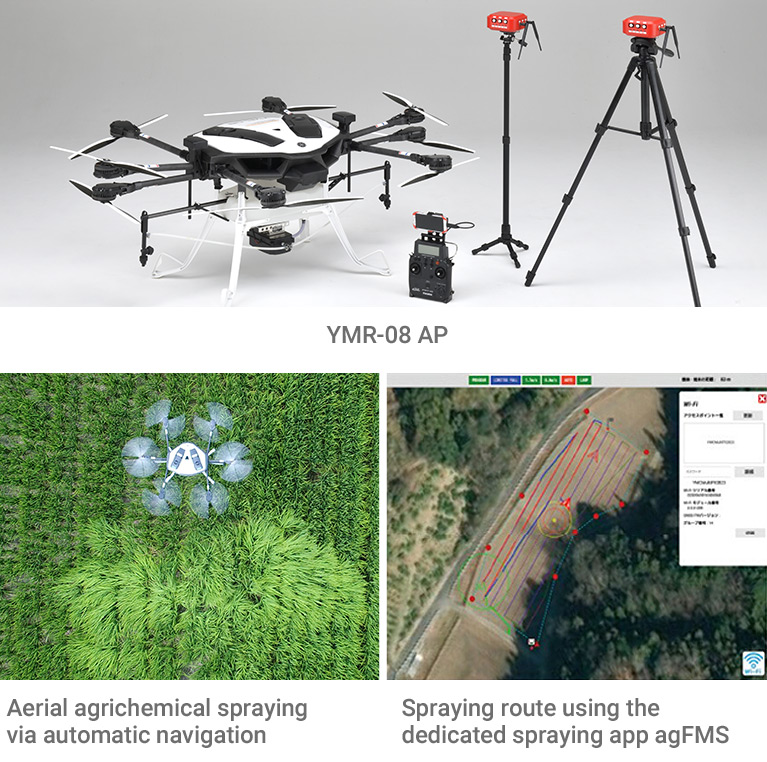 Product Profile
Our industrial-use unmanned helicopters primarily work in the agriculture industry. To date, they have been used for aerial crop dusting and other purposes, helping achieve labor savings and greater efficiency in farming to address pressing issues presented by a farming workforce that is shrinking and aging. In 2019, we released the YMR-08 industrial multirotor drone, which provides maneuverability in smaller areas. In 2020, we released the YMR-08AP, which is capable of automatic navigation.
We have also enhanced the safety features of our industrial-use unmanned helicopters by adding onboard obstacle detection. GPS-based automatic navigation systems allow the utilization of industrial-use unmanned aircraft in other fields such as observation, surveys and transportation.
- Agricultural Applications -
Major users include municipalities, National Federation of Agricultural Cooperative Associations, agricultural cooperatives, crop-dusting organizations and individual farmers. Their primary application is spraying agricultural chemicals. Yamaha industrial-use unmanned helicopters used in agriculture make jobs more efficient and thus help to improve productivity and reduce labor.
- Observational and Surveying Applications -
Yamaha Motor provides various solutions and services with its unmanned aircraft. By incorporating a GPS-based remote control system or mounting laser scanners, cameras, winches or other peripheral equipment on the aircraft, we provide services like inspections of high-voltage power lines and transporting the needed maintenance equipment, measuring topography and the like for forestry management, providing aerial observation for security and conducting monitoring or surveys for disaster readiness.
Background of the Business
In the early 1980s, Yamaha Motor was commissioned by a government organization to develop an industrial-use unmanned helicopter that could easily perform agricultural crop-dusting operations. In 1987, the Company practicalized the world's first industrial-use unmanned helicopter, the R-50, and commenced full-scale marketing of the product in 1989.
Since then, Yamaha has become a leading company in the business. Our industrial-use unmanned helicopters have contributed to the modernization of Japan's agriculture industry, and their use has expanded to include aerial observation and survey work. In recent years, the Company has been promoting use of the helicopters for overseas agriculture markets.
Production
| Name of company (Factory) | Location |
| --- | --- |
| Yamaha Motor Co., Ltd. (Fukuroi Factory) | Fukuroi, Shizuoka, Japan |