Land Mobility : Motorcycles
Introducing Yamaha Motor Land Mobility : Motorcycles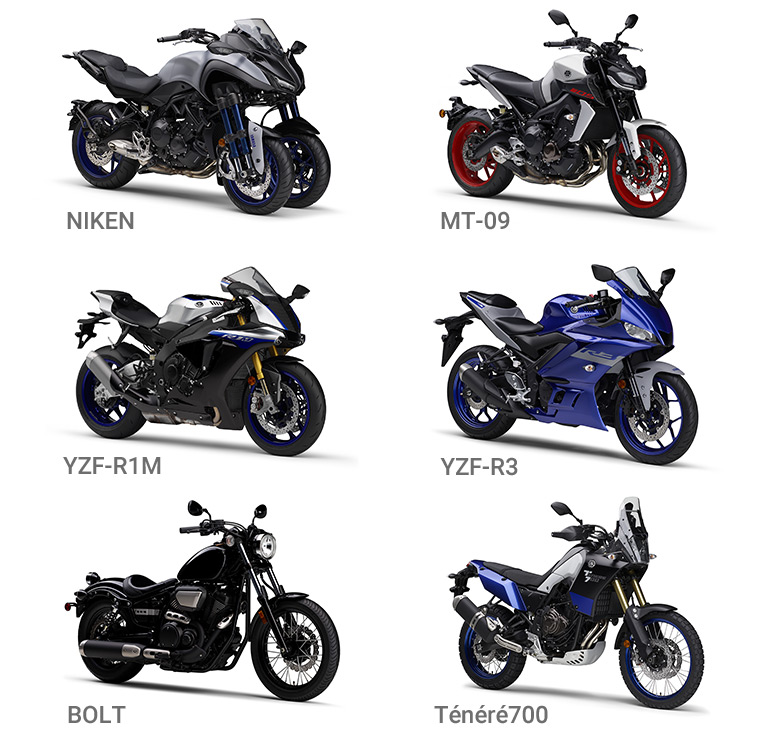 Product Profile
Motorcycles play a familiar and vital role in the lives of people around the world, their applications spanning from pure utility, such as the transportation of goods, to personal enjoyment and sports. The Yamaha Motor group satisfies these needs with its diverse product lineup. Yamaha motorcycles are made to a variety of specifications, each type featuring unique technologies serving its particular use: scooters, used primarily for day-to-day mobility, such as commuting and shopping trips; sports and cruiser models, used widely in urban areas and for long-distance touring; trail models for off-road excursions; and racing machines for road racing, motocross and other competitions.
Background of the Business
During World War II, Nippon Gakki Co., Ltd. (founded in 1897, presently Yamaha Corporation), the company from which Yamaha Motor was later spun off, was assigned to apply its technologies in musical instrument manufacturing to the production of propellers for military aircraft. After the War ended, the company sought ways to use its manufacturing facilities for peaceful ends. Eventually, it entered the motorcycle business as the motorcycle manufacturing division of Nippon Gakki. The company's first motorcycle model, the YA-1,got off to a successful start, winning in its debut entries at Japan's top two motorcycle races at the time, while also receiving high acclaim for its product quality. To scale up production and market the YA-1, Yamaha Motor Co., Ltd. was established. Some years later, in 1961, Yamaha entered its first World GP race. Since then and to this day, Yamaha has continued to challenge itself on the racing scene, making the art of engineering based on technologies and know-how a hallmark of the Yamaha brand.
Current Business and Market Conditions
Japan
For the market as a whole, scooters with an engine displacement of 50cc and under (class I), which are used primarily for commuting and work-related activities, occupy roughly 40% of all unit sales. Motorcycles with an engine capacity of 51cc or larger fall into a number of categories, from scooters to large motorcycles and sports models for personal enjoyment. The Japanese market is also unique in that it has a driver's license restricted to operation of AT (automatic transmission) motorcycles. In recent years, large motorcycles for riders interested in touring and sport riding as well as highly practical 125cc scooters have been popular.
Japan Motorcycle License Types and Regulations
Displacement
50cc and under
Over 50cc to 125cc and under
Over 125cc to 250cc and under
Over 250cc to 400cc and under
Over 400cc
Road Traffic Act designation
Moped
Regular motorcycle
Large motorcycle
Road Transport Vehicle Act designation
Class I moped
Class II moped
Light two-wheeled vehicle
Compact two-wheeled vehicle
License required
Moped license
Limited compact license
Regular motorcycle license
Large motorcycle license
Speed limit on normal roads
30km/h
60km/h
Legal number of riders
1
2(excluding vehicles with no rear seat)
Highway usage
Prohibited
Allowed
Two-step right turn
Required
Prohibited
Curbside lane usage
Required
Not required
Vehicle inspection
Not required
Required
Europe
As one would expect from the birthplace of motorcycles, motorcycles have a well-established place in European society as part of the culture. The market is characterized by widespread use of motorcycles among riders of all ages as a commuter vehicle and as means for recreation, from touring through the countryside to circuit racing and other sports. Motorsports are also popular there. Over half of the MotoGP racing series, the world's premier motorcycle racing championship, is held in Europe.
North America
The North American market is characterized by its predominance of motorcycle enthusiasts. Cruisers, with their low-riding seats and long bodies—perfectly suited for riding on long stretches of straight, open road—are a representative category, but there is also a large segment of users who enjoy riding off-road or on mountainous terrain for sport or recreation. The popularity and extensive variety of motorsports practices by professionals and amateurs alike are other unique qualities of the North American market.
ASEAN Region
In the ASEAN region, motorcycles are a primary mode of transportation for commuting to work and school and for daily living in many communities. They also serve an important role as social infrastructure, assisting the flow of goods and services. Practical, smaller displacement motorcycles around 125cc are traditionally the mainstream choice. However, since the turn of the century there has been a growing segment of users resembling those in developed markets who favor more personalized and luxurious features. Yamaha was quick to introduce automatic transmission motorcycles to this market, and is now recognized as a leading company.
India
India has become the world's largest motorcycle market, with total demand for new models reaching about 19 million units in 2019. The scooter category, in particular, is showing remarkable growth, and now accounts for roughly one-third of total demand. With the country's development having entered a period of increased motorization, Yamaha has proactively introduced new scooters since 2012, and these models have been well received, particularly by young customers. Yamaha is also working to increase sales by emphasizing sports models.
Initiatives in Electrification
Over the quarter century since the launch of the Passol in 2002, Yamaha Motor has been releasing electric commuter motorcycles as a pioneer of electric motorcycles, and has also proactively worked to increase their popularity. We have laid the groundwork in all areas for their use by envisioning the optimal electric vehicle for each region, including the release in Taiwan of the EC-05, which can use the Gogoro Energy Network's battery swapping stations.
Production
Country
Name of company (Factory)
Japan
Yamaha Motor Co., Ltd. (Iwata Main Factory)
Europe
France
MBK Industrie
Asia
Indonesia
PT. Yamaha Indonesia Motor Manufacturing
Thailand
Thai Yamaha Motor Co., Ltd.
Vietnam
Yamaha Motor Vietnam Co., Ltd.
Philippines
Yamaha Motor Philippines, Inc.
Malaysia
Hong Leong Yamaha Motor Sdn.Bhd.
Taiwan
Yamaha Motor Taiwan Co., Ltd.
China
Chongqing Jianshe Yamaha Motor Co.,Ltd.
Zhuzhou Jianshe Yamaha Motor Co., Ltd.
Jiangsu Linhai Yamaha Motor Co., Ltd.
India
India Yamaha Motor Pvt. Ltd.
Pakistan
Yamaha Motor Pakistan Private Ltd.
Central and South America
Brazil
Yamaha Motor da Amazonia Ltda.
Mexico
Yamaha Motor de Mexico, S.A. de C.V.
Colombia
Industria Colombiana de Motocicletas Yamaha S.A.
Argentina
Yamaha Motor Argentina S.A.
Africa
Nigeria
CFAO Yamaha Motor Nigeria Ltd.