Marine Products : Marine Engines
Introducing Yamaha Motor Marine Products : Marine Engines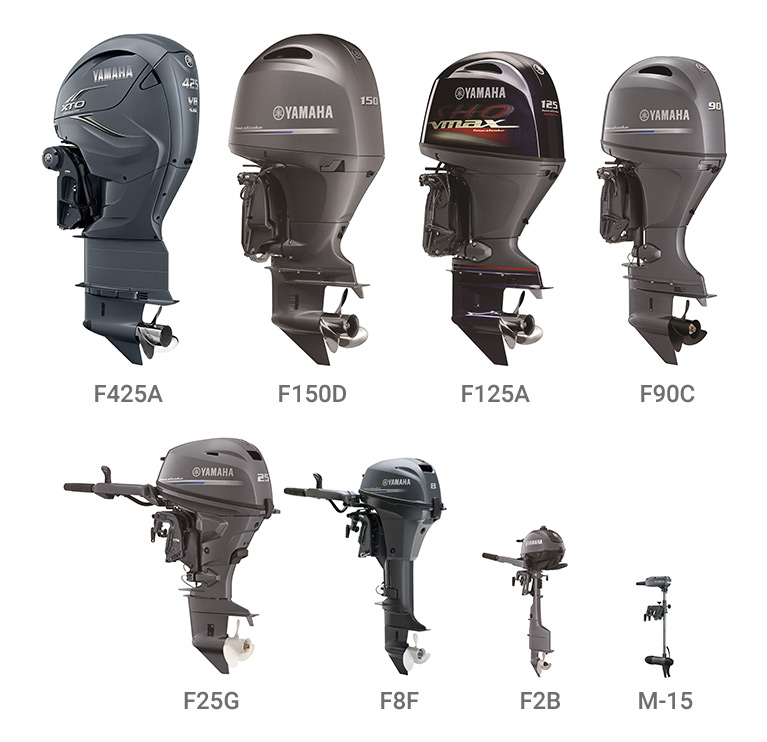 Product Profile
Marine engines used to propel boats can be categorized into three types: outboard motors, stern drives (inboard-outboard motors), and inboard motors. Outboard motors, which are suited for small to medium-size boats, are mainly known for their excellent affordability, environmental friendliness, ease of maintenance and high space efficiency and are used by a variety of people all over the world. In developed regions like Europe and North America, they are primarily used for leisure, while in emerging countries they are predominantly used for fishing and transport/transportation.
Background of the Business
Applying its small engine technology developed for motorcycles, Yamaha Motor released its first marine engine, the small outboard engine P-7, in 1960. In the more than half-century that followed, the Company has expanded its marine engine lineup to suit manifold uses and conditions in the various locations they are used, focusing especially on outboard motors, including models with increasingly large horsepower and models that have better fuel efficiency and are designed to withstand more extreme environments. Cumulative production of Yamaha outboard motors reached 12 million units in 2019.
Current Business and Market Conditions
Yamaha outboard motors are based on the principle of being reliable and durable, with light weight and a compact size. With a variety of sizes from 2 horsepower to 425 horsepower, they range from environmentally friendly 4-stroke models that are especially popular in developed countries, to Enduro models with simple structures that are suitable for use in emerging countries and electric models for coastal commercial fishing, and from recreational to commercial uses.
We also offer products installed on boats in combination with our outboard motors, including an information management system that informs the driver of the engine status and navigational situation, and a boat control system that assists in maneuvering medium-size and large boats at low speeds through narrow areas.
More than 90% of Yamaha outboard motors are exported to markets outside Japan, and are currently being sold in roughly 180 countries and territories. In North America, our main market and where sales of large models are strong, we introduced the F425A, our most powerful model at 425 horsepower, in 2018 and have received a favorable reception.
Environmental Compliance
Yamaha Motor offers a full line of products that comply with voluntary restrictions set by the Japan Marine Industry Association, as well as standards set by 2010 EPA (United States Environmental Protection Agency) regulations on exhaust emissions and 2008 CARB (California Air Resources Board) regulations.
Production
| | Name of company (Factory) | Location |
| --- | --- | --- |
| Medium-size and large 4-stroke outboard motors and large 2-stroke outboard motors | Yamaha Motor Co., Ltd.(Fukuroi South Factory) | Fukuroi,Shizuoka,Japan |
| Small and medium-size 4-stroke outboard motors and small and medium-size 2-stroke outboard motors | Yamaha Kumamoto Products Co., Ltd.* | Yatsushiro,Kumamoto,Japan |
| Small 4-stroke outboard motors | Thai Yamaha Motor Co., Ltd.* | Thailand |
* Group company
Outboard Motor Cooling Structure and Features
An outboard motor brings in water from the outside and uses it to cool the engine. This is the main difference between outboards and land vehicles with liquid-cooled engines like motorcycles.
Helm Master Boat Control System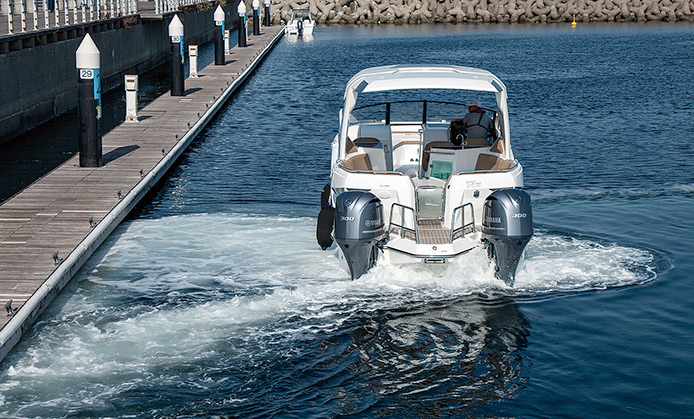 The Helm Master digitally controls all the steering, gear shifting and throttle work of twin or triple mount large-class Yamaha outboards.
Complementing the standard steering and remote control unit, the single joystick control enables fore-aft, port-starboard and diagonal motion as well as in-place rotation of the bow.