Land Mobility : All-Terrain Vehicles & Recreational Off-highway Vehicles
Introducing Yamaha Motor Land Mobility : All-Terrain Vehicles & Recreational Off-highway Vehicles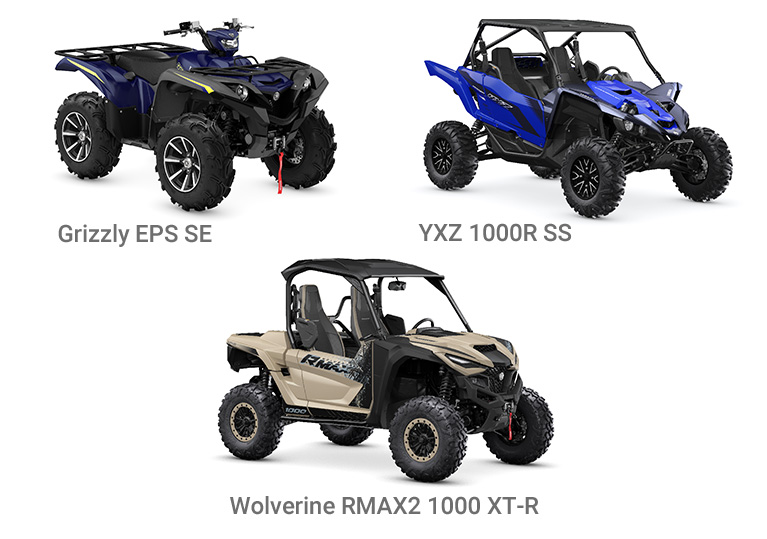 Product Profile
All-Terrain Vehicles (ATVs) and Recreational Off-highway Vehicles (ROVs) are off-road-specific vehicles capable of handling all sorts of unpaved or rough terrain found in grasslands, mountain trails, sandy areas, etc. ATVs seat one rider and have a steering system with handlebars, etc., similar to a motorcycle, while ROVs are designed to fit two or more people and have a steering wheel system, etc., similar to an automobile. Both are used in a wide range of ways, from leisure and sport riding to utility work in the agriculture industry, etc.
Background of the Business
Yamaha's ATVs were developed using technologies created and matured in the process of developing and manufacturing off-road motorcycles. Sales of Yamaha ATVs began in the U.S. in 1979 with Yamaha Motor's first ATV, the YT125. Since then, Yamaha has gone on to market a variety of ATV models t hat answer real market needs. We also have a broad lineup in the ROV segment, with multi-purpose models, recreational models, and pure sports models. We are working to bolster sales in overseas markets and in North America in particular.
Current Business and Market Conditions
The U.S. market accounts for over 50% of worldwide ATV demand due to its large stretches of natural terrain, unpaved roads, and large ranches and farms all over the country. Yamaha Motor meets these diverse needs with its wide range of products that include utility models, sports models and more.
The main market for ROVs is also the U.S. In addition to demand as a vehicle for outdoor recreation, there is stable demand for ROVs as vehicles for utility use in a variety of industries, and market scale is growing continuously.
Production
| Name of company | Location |
| --- | --- |
| Yamaha Motor Manufacturing Corporation of America | Georgia, U.S.A. |