Satisfaction on the production line Quantity x Quality x Labor-saving: SMT solution
Here are various SMT solutions that can be realized by adopting a production floor consisting of Yamaha's SMT equipment.

Plenty of support features mean less setup work

Minimizes setup and improves efficiency
Even if programs automatically switch, setup still needs operators. But Yamaha aims to minimize setup work and minimize errors as far as possible.

A rich array of automatic setup features for each piece of equipment
Yamaha printers feature automatic setup that does not involve work by operators, enabling efficient setup free of human error.
For the mounter, the push-up pins and nozzles can be automatically exchanged to minimize operator work as much as possible.
Fully automated printer setup
Current setup work

Fully automated printer setup

Printer: Fully automatic setup
Printer: Automatic push-up pin exchange
Mounter: Auto nozzle changer

Compact feeder of ease of use with a quick-change feeder carriage
Yamaha feeders are slim, lightweight and compact – you can even manage them with just one hand.
As setup involves handling substantial numbers of feeders, compact feeders and quick-change feeder carriage significantly cut the operator's workload.
Lightweight and compact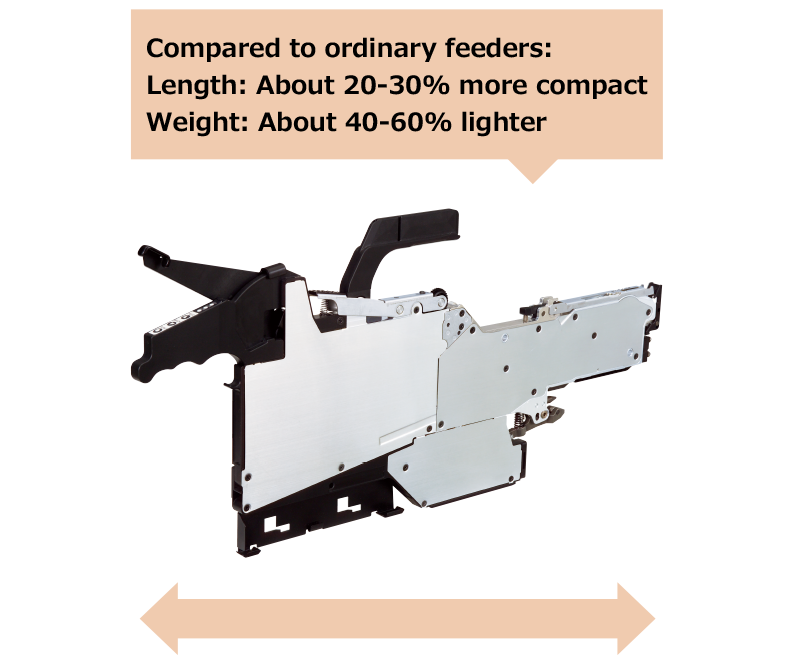 Handling with one hand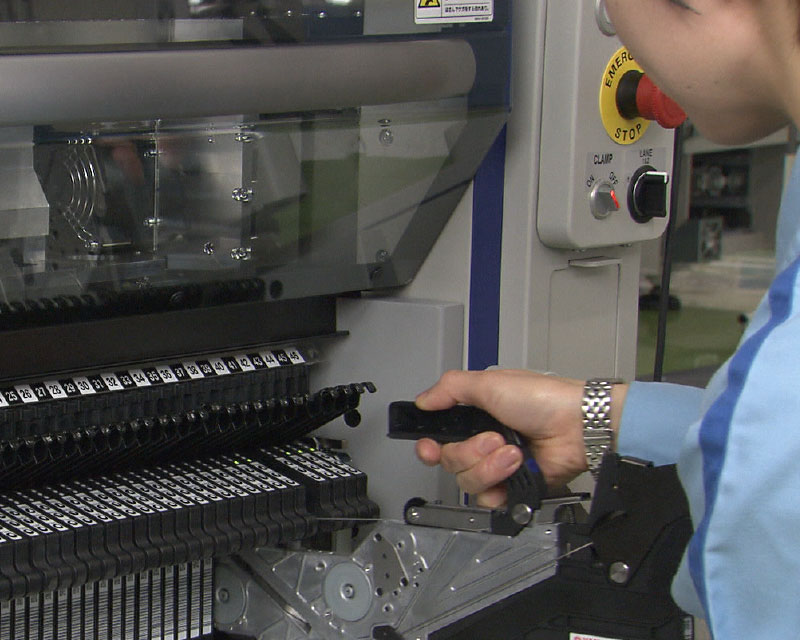 Quick-change feeder carriage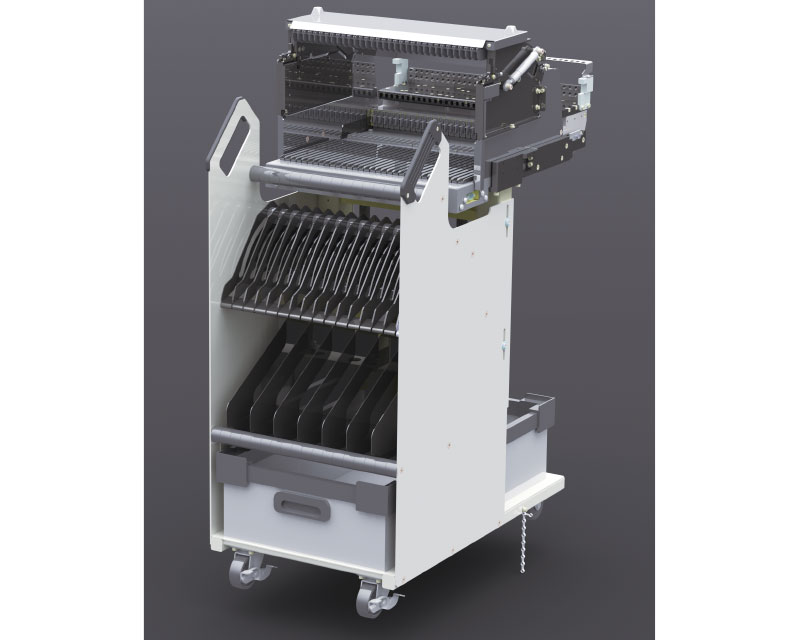 Common GUI
Yamaha's 1 STOP SMART SOLUTION builds key SMT equipment using Yamaha machines. As they feature a GUI based on a common design concept, you can operate the machines right away when performing multiple operations.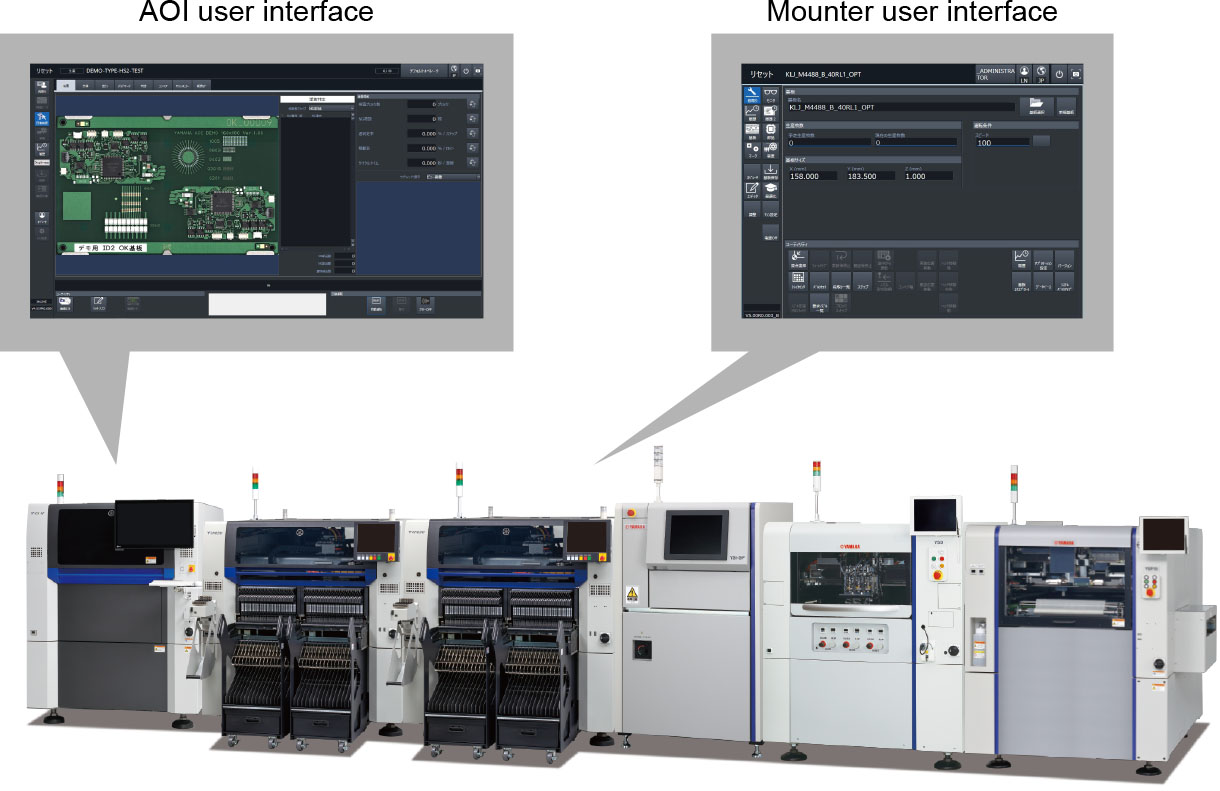 No stopping and easy replenishment means less time and effort to complete a production run

Rationalized replenishment via automatic components/material supply
For efficient production, how the machines can keep running without stopping the line is a crucial factor. Because replenishing components is the work that most often stops the line, Yamaha simplifies this task as much as possible, making it more efficient.

Simplified splicing work
To prevent line stoppages and keep production going, components need to be replenished by splicing. As splicing requires experienced workers, failures and work delays by the operator could lead to frequent line stoppages.
Auto loading feeders enable the operator to do splicing work at any timing they want, solving this problem. They prevent all the splicing work happening at the same time, as well as simplify the work itself.
Examples of introducing Auto Loading Feeders
Conventional feeders
Auto Loading Feeder
Effects
Tape setting time
80 sec/setup
30 sec/setup
Approx. 63% reduction
Top tape collecting time
15 sec/setup
None
100% reduction
Machine stoppages due to operator error
5 minutes/setup
None
5 minutes/setup reduction
Splicing tape cost
¥5.0/setup
None
¥5.0/setup reduction

Replenished every time components ran out

Replenished collectively at an appropriate time

150 visits reduced

Approximately 145 minutes reduced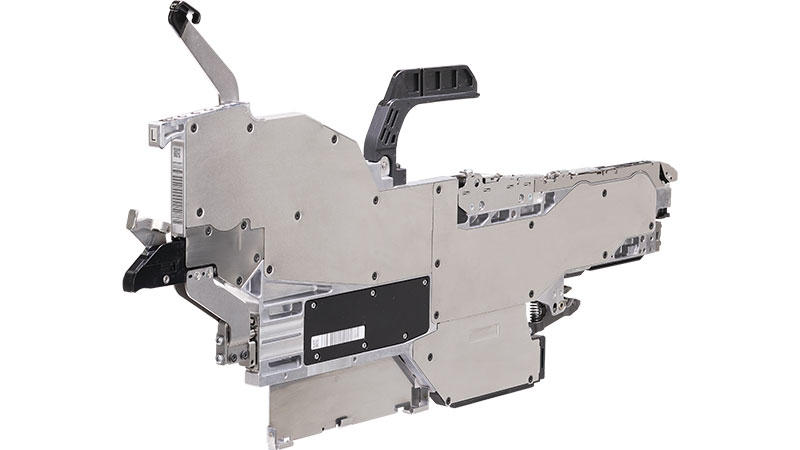 Replenishing components with the Auto loading feeder

Tray components replenishment without stopping the line
As one pallet can only carry a small number of tray components, it needs to be replenished many times when many components are involved, often causing the line to stop.
Yamaha tray feeders can collect emptied trays from production and exchange them with new ones, supplying components without stopping the line.
sATS30NS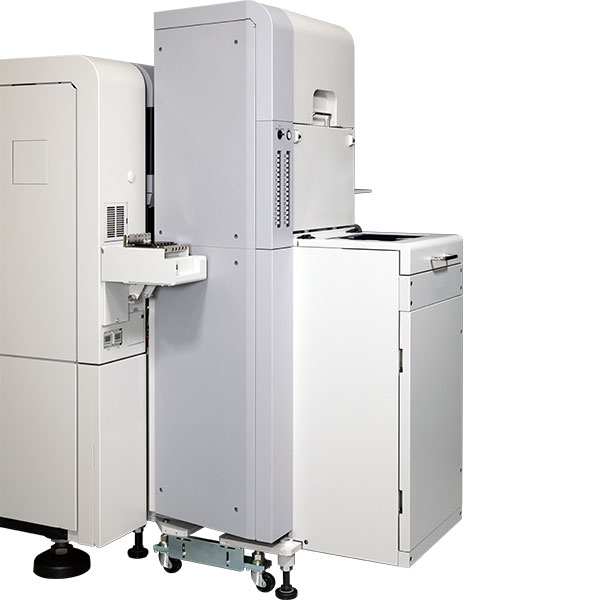 eATS30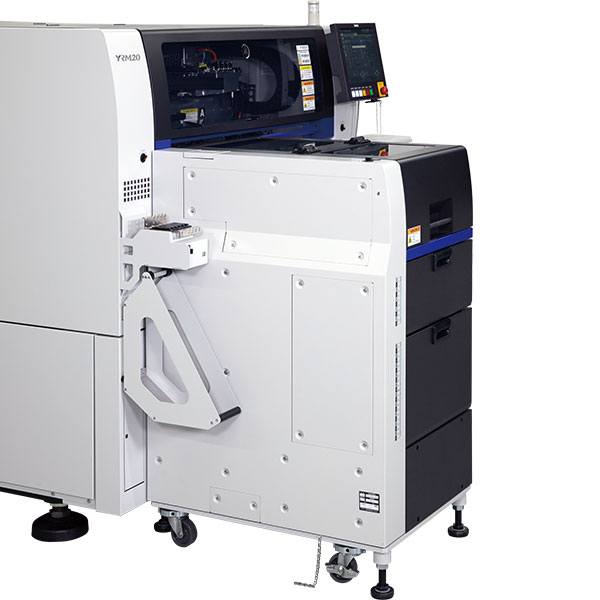 Automatic solder supply
Normally for solder printing, solder needs to be replenished when there is just a little remaining, stopping the equipment.
But Yamaha printers can automatically supply solder without stopping the equipment.
For PCBs such as automotive-related ones that consume a lot of solder, large-volume 12-oz syringes can be used to further prolong the non-stop production time.
Example : effects of adopting the automatic solder supply feature
Manually supplied
PSC (12-oz syringe)
Effects

 
Printing quality
△
〇
Quality improvement
Time to exchange the container
30 sec.


(time for additional supply with a spatula)

30 sec.


(when exchanging with a loaded syringe)

Same
Number of times for solder supply during 24-hour production
48 times
1 time
47 replenishments reduced
The walking distance/time by the operator
1,920 m / 24 min.
40 m/0.5 min.
1,880 m/23.5 min. reduced
Stoppage time during 24-hour production
24 min.
1 min.
Almost no stoppage time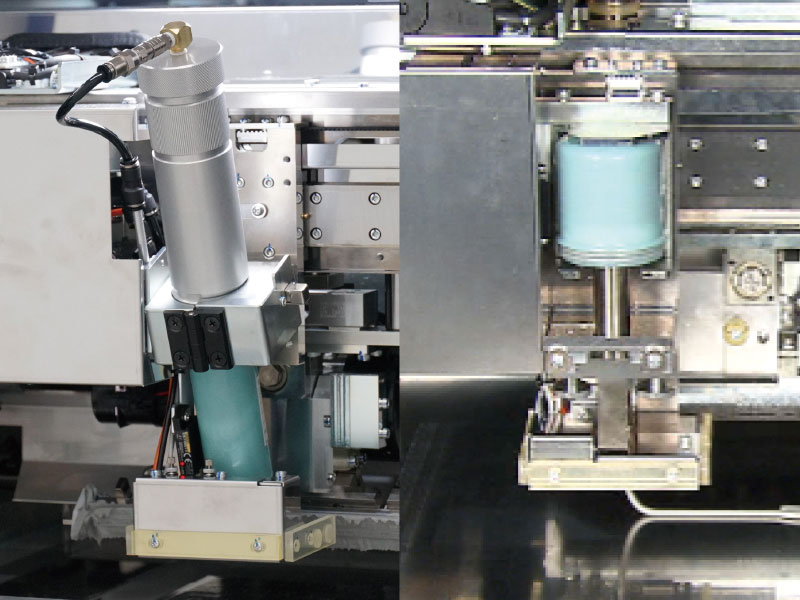 The equipment automatically maintains and diagnoses itself, eliminating the need for inspections

Automatic maintenance/self-diagnosis
To keep production quality high, the condition of equipment must be checked regularly to see if it is up to standard. Yamaha mounters and AOI automatically check equipment condition during production, minimizing the need for work such as start-up inspections.

Nozzle health check
Usually, keeping the nozzle in the right condition takes regular inspection, adding extra work for the operator.
Yamaha mounters automatically check the condition of the spring at the end of the nozzle, check the nozzle air pressure, and inspect it with images to see if the nozzle is clear. The blow station also automatically cleans the air channel, performing maintenance work autonomously inside the machine.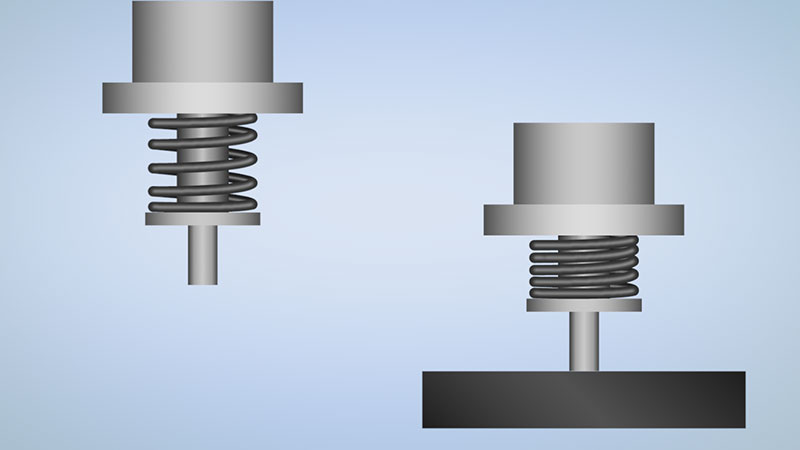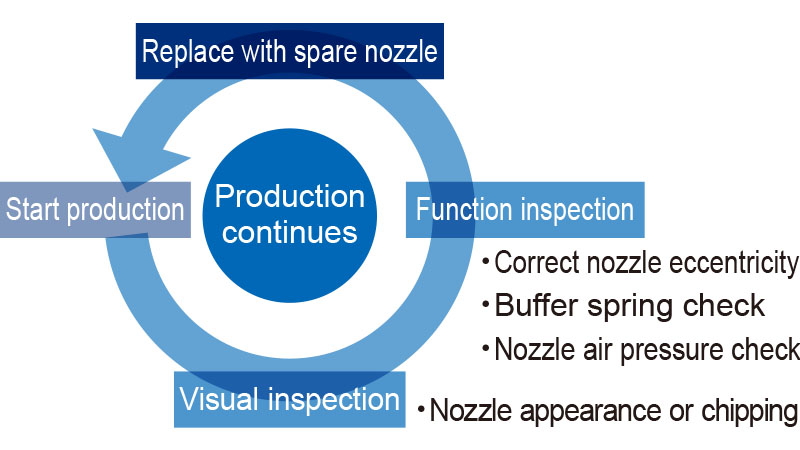 Inspection capability checked automatically by AOI
Yamaha AOI automatically checks with optical inspection equipment whether the important lighting has the right luminosity, and with 3D inspection to see if heights are measured properly, backing up inspections.