Satisfaction on the production line Quantity x Quality x Labor-saving: SMT solution
Here are various SMT solutions that can be realized by adopting a production line consisting of Yamaha's SMT equipment.

Few pickup and mounting errors means minimal minor stoppages, reducing your stress
The solution maintaining outstanding pickup and mounting performance and prevents the pickup rate from dropping
The most frequently seen errors in production lines are mounter's pickup errors.
1 STOP SMART SOLUTION provides a solution to minimize pickup and mounting errors.

Stable pickup and mounting using multi-layered correction
Yamaha mounters possess various correction features to achieve stable component pickup and reliable mounting.
By automatically scanning the correction mark in the system during production, the mounter always provides consistently high pickup and mounting performance.
Multiple Accuracy Compensation System MACS



Advanced pickup error analysis on the dashboard
Pickup error can be improved more effectively if you start from components with many errors and high error rate.
1 STOP SMART SOLUTION includes a function that can quickly identify which components you need to start improving, and identify the cause of pickup error, whether it is components, the head, or the feeder.
Analysing Dashboard

All Image Tracer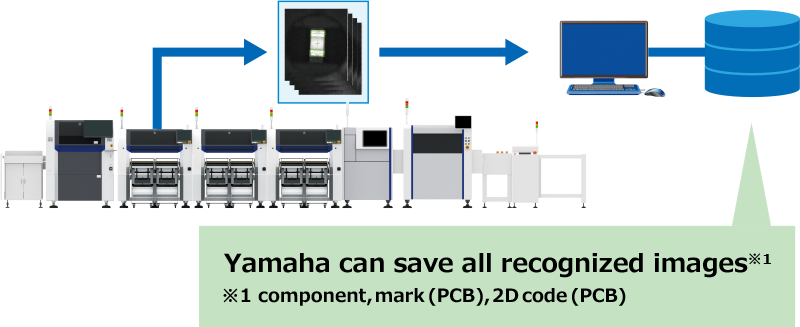 1. Automatically keep the nozzle's condition properly with a nozzle health check
Keeping the nozzle in the right condition is critical for maintaining a high pickup rate.
Yamaha mounters carry a blow station that regularly blows the nozzle to clean the air channel and prevent deterioration of pickup. The sliding of the spring at the top of the nozzle is checked, as are images of the nozzle, to keep it in the right condition at all times for continuous production.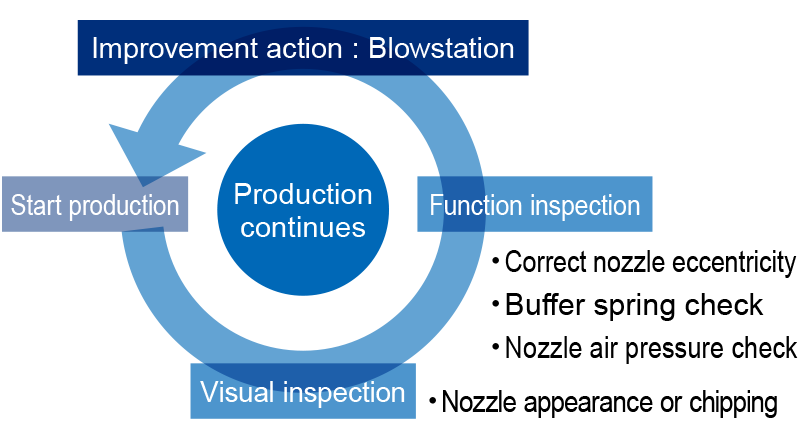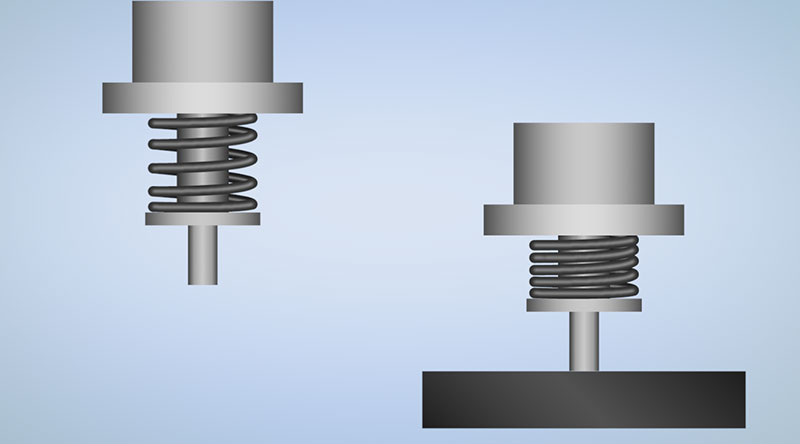 Easy production almost completely free of printing defects

High solder printing accuracy and flexibility
The printing process is said to cause most defects in production lines.
Yamaha's solder printing solution solves this problem.

Squeegee 3S head with variable angle of attack
Yamaha printers' original variable-angle squeegee 3S head can cater to a wide range of printing conditions, realizing outstanding solder printing quality on all types of PCBs.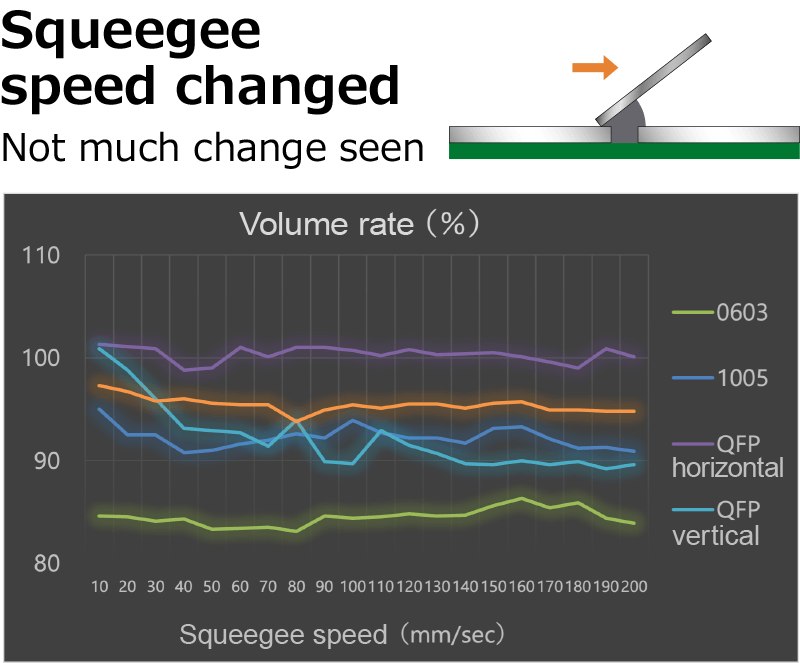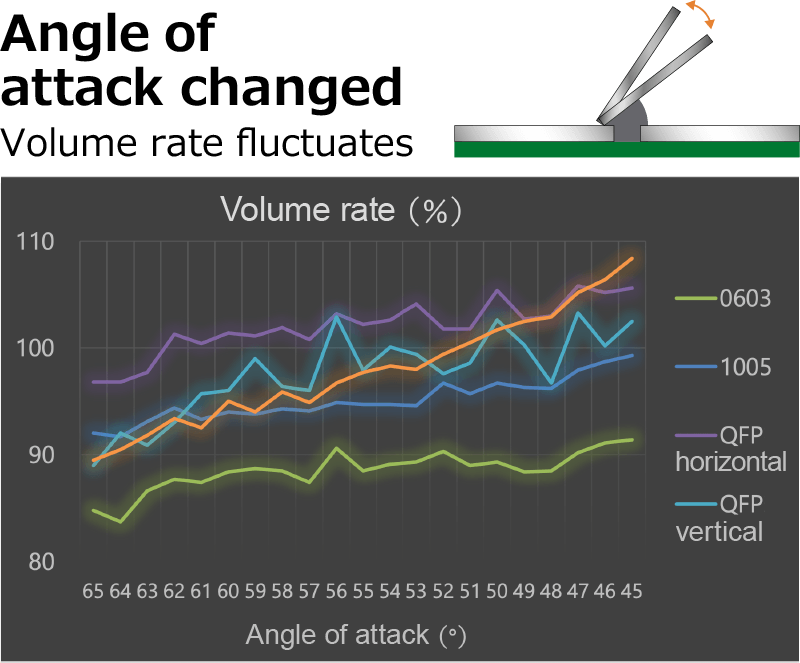 High-accuracy printing with autonomous control, linked to SPI
Linked to SPI, printing information is fed back to the printer in real time.
This means you can maintain exceptional printing precision autonomously, according to the changes in finishing accuracy of production PCBs by production lot.
Feeding back the printing position: Printing position stabilizes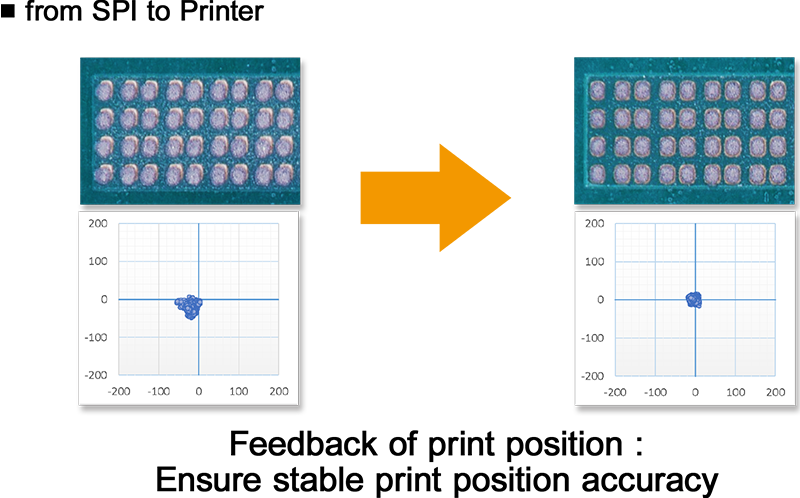 Cleaning feedback: Prevents bridging

Extensive expertise in engineering methods and peripheral materials
For high quality solder printing, selecting and designing the right peripheral materials, such as solders and metal stencils, is critical.
Yamaha has extensive knowledge and experience in this field, and can jointly evaluate solders and metal stencils together with manufacturers. We also offer individual printing seminars to share information that could help solve your concerns.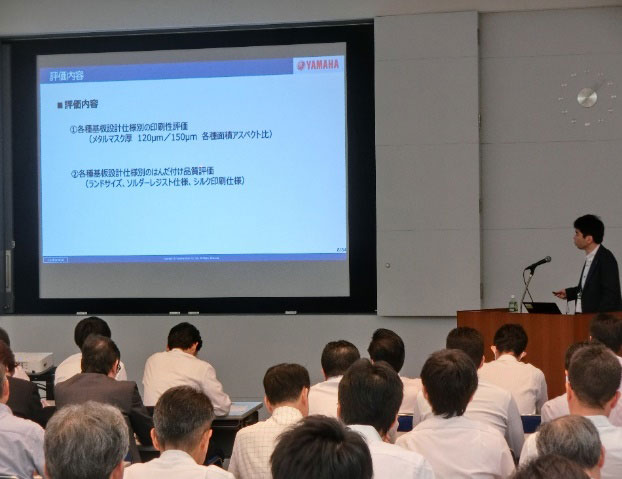 Prevents high-volume defects

Accurately and effortlessly identifies what is causing defects as soon as they arise
When defects are found, stopping the line and identifying the cause takes a long time and creates significant production losses. Conversely, continuing production will lead to large numbers of defective products.
Yamaha's range of inspection systems can solve such problems.

Preventing large volumes of defects by inspecting before reflow
Customers are increasingly adopting pre-reflow inspections to achieve better quality.
Pre-reflow inspection can detect sequential defects before solder solidifies, preventing large volumes of defects from occurring after reflow.
Examples of when flux blurs characters, making them undetectable during post-reflow inspection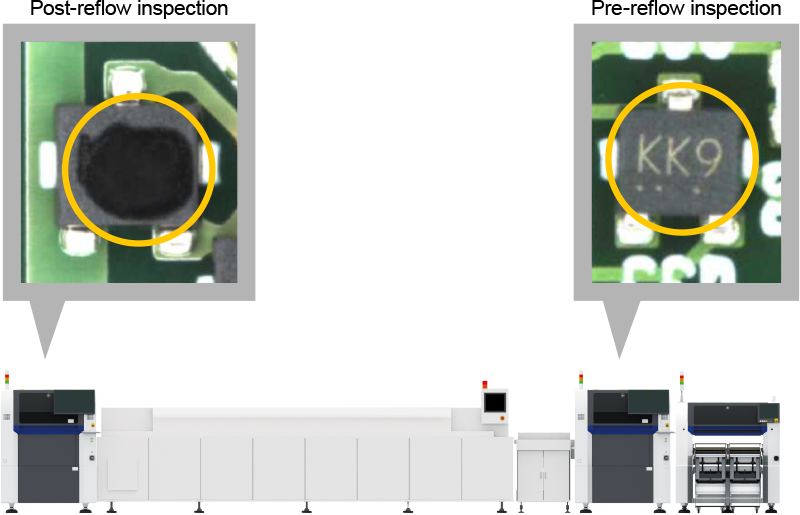 Automatic defect detection before reflow enables you to automate first article checking, prevent repair work processes, and reduce the cost of disposal losses
Polarity inspection and character inspection before reflow reduces false calls by the inspection system, improving the non-adjusted ratio.
Identifying the causes of defects further prevents faulty processes and improves quality throughout all processes

Linking the inspection system and mounter to prevent defects
When you find a defect, surveying the process and its source is a tiresome task.
Because Yamaha links the mounter and AOI, if a defect is detected, the mounter that generated it is instantly stopped, preventing more defects down the line and helping you identify why the defect occurred.
QA Option


Identifying the cause of a defects by comparing images from each process
When defective PCBs were found after reflow, production has been hard to improve because it has been difficult to identify which process was responsible.
To speed up improvement, 1 STOP SMART SOLUTION can compare images from all processes and identify which process started to show defects.
Process Correlation

[Example of identifying the source of a defect]
Foreign object found on components
[Cause]
The cause was the foreign object sticking to the components from the beginning.
[Measure]
Feed back the finding to the component manufacturer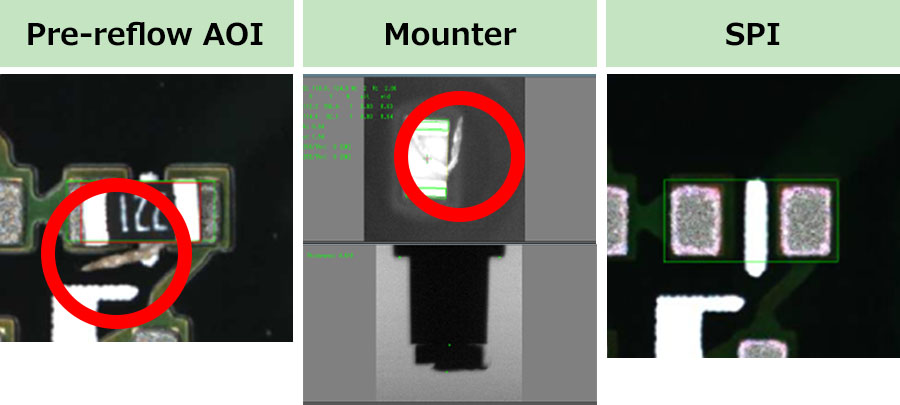 [Example of identifying the source of a defect]
The components were upside down
[Cause]
The defect was identified to have happened when the reel was switched.Failed splicing was the cause.
[Measure]
Training conducted again on splicing.