Function and Feature
2-beam 2-head Dual-lane class 120,000CPH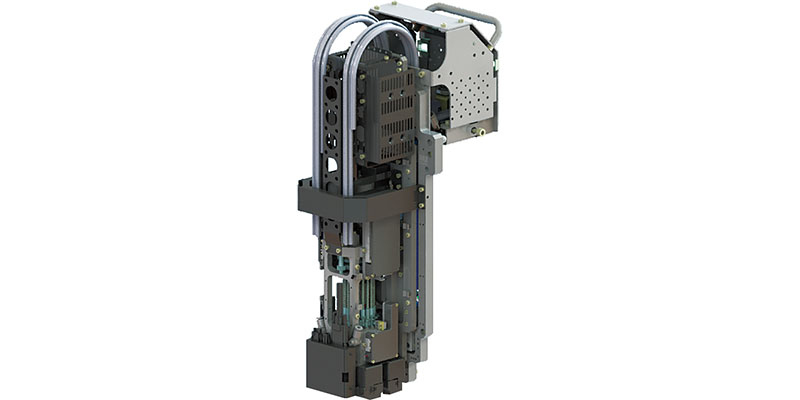 1 head covers 0201mm to large-size components

Dual-lane transfers PCB Max.W330mm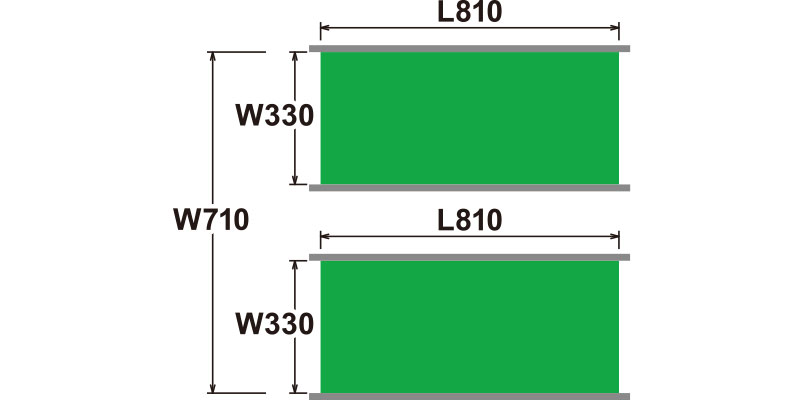 Low-impact, High mounting accuracy ±15um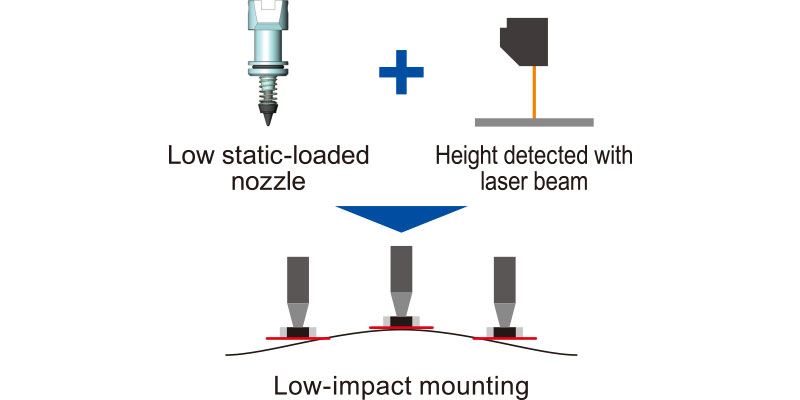 Recommend for Such Production Site
For customers who want to achieve the highest productivity in a limited floor space
Various Yamaha original features realize full dual lane lines with twice the productivity in the same floor space
The Yamaha 1 head solution provides both high speed mounting for chip components and flexibility for mid-to-large components
RM head:A newly developed head that realizes both high-speed chip mounting and flexibility for mid-sized components up to 12mm, T6.5mm.
HM head:Realizes large component high-speed mounting and flexibility via 10 fully proven inline heads + scan camera.
FM head: is a high-precision high-efficiency head that holds up to 5 nozzles while also handling large-size-tall and odd-shaped component. The FM head also has a force control function.
Supports various dual-lane surface mounting with high efficiency
Parallel Mode : Production of different types (same type is also possible) on two lanes. For PCBs with a small number of component types, and for situations where you want to increase production capacity as much as possible.
Alternate Mode : Two lanes produce the same board. For PCBs with a large number of component types and with a short cycle time.
Hybrid Mode : By combining parallel mode and alternate mode on the same line, productivity can be maximized while maintaining the number of feeder slots.
High-efficiency production with various features
ALF:Applies a unique center-open method to successfully realize non-skilled operation + labor-saving by tape and reel presetting + improved pickup rate.
Side-view camera function monitors nozzle tip images to detect the component pickup position (attitude) and detects such as missing components, vertical mounting errors, and reversed components.
Relative height of the mounting surface and component bottom controlled by measuring PCB height to control mounting height, which minimizes impact on micro components togeter with a low static-loaded nozzle.
IT option - Production Setup Verify ensures quality via barcode checks during component changeovers and refills. It also handles Material Time Limit Management & Bin Code Management tasks.
IT option traceability function utilizes ID information during component verification to identify the range of the defective lot.
All Image Tracer Plus saves images during component recognition and applies factor analysis to them when a defect occurs. Images from the side-view camera can also be saved.
Dashboard analyzes the operating rate and mounting quality to support better productivity and quality. N-point collation function linked to the YSi-V and All Image Tracer help to swiftly identify the cause of defects.
Various features that enable operation with less man-hours
Auto Loading Feeder realize non-skilled operation + labor-saving by tape and reel presetting.
ZSR feeder: Light-weight single feeder that can be carried in one hand with reel attached allows external setups/changeovers of reel-setting tasks. This vastly reduces the load on the operator.
IT Option- Components Remain Counter:Gives pre-warning of component shortage (stockout) to allow preparing spare tape and reels and splicing the tape before the machine stops.
Automatic changeovers: Prevents changeover errors and reduces machine switchover downtime on multi-connected lines by sequentially carrying out the "next changeover' when the next PCB lot arrives. Automatic push-up pin changerover is also available.
Dashboard and All Image Tracer Plus can reduce man-hours from checking the matter to investigating the cause and taking countermeasures.
Various features that realize automatic maintenance inside the machine
Maintenance made easy: Yamaha's mounter head
Automatic cleaning of nozzles and shafts within the machine Shaft blow / Side blow
Nozzle ID management enables maintenance optimization based on the total number of shots.The nozzle holder can be exchanged with a single touch which makes setup and maintenance easy.
Nozzle and feeder maintenance warnings:Self-diagnosis and self-recovery functions continuously maintain nozzles and feeders in a clean state for continuous high-quality production.
Maintenance support with the dashboard