Intelligent Factory
IoT/M2M Integration system - System allows linking our SMT machines to equipment made by other companies and give all-around high productivity in the mounting process.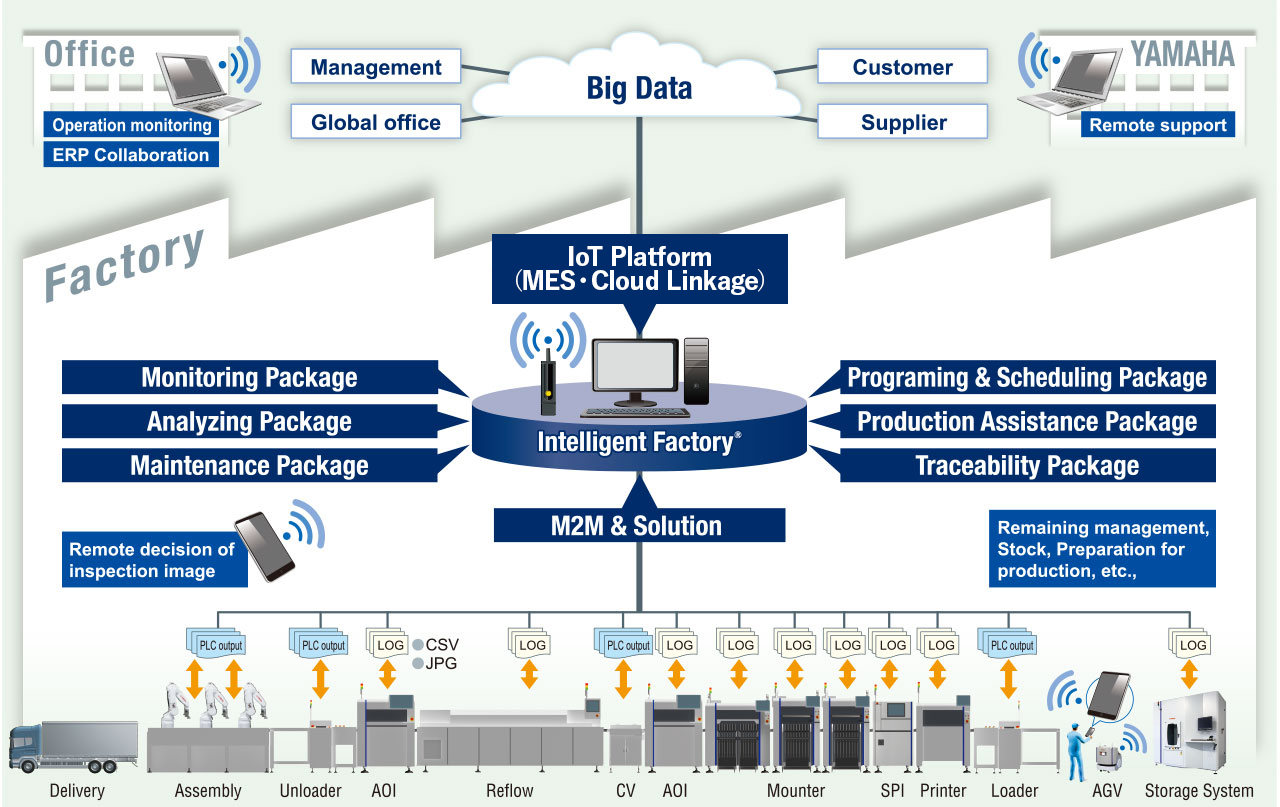 Programing & Scheduling Package
Production data Programming—Optimizing—Grouping
P-ToolFor Mounter, Printer, Inspector
Optimization
Generates streamlined PCB data to shorten production time. Common part allocator function for multiple products slashes man-hours needed for production setups!
Data Conversion (ASCII Data Conversion)
Converts data generated by CAD and other equipment into Yamaha data.
Grouping
Optimizes multiple boards by automated grouping, setup and changeovers into common, collective shape. Slashes man-hours needed for production setups to cut the overall production time.
Visual Editor
Shortens time for creating PCB data and boosts quality.
P-Tool EcoExclusive for Printer & Dispenser
P-Tool simplified version includes essential functions for printers and dispensers.
P-Tool AOIExclusive for Inspector
P-Tool simplified version includes essential inspection functions
Production Assistance Package
Remaining parts and setup error monitoring, part expiry monitoring, and rank monitoring
Set-up Navigation (S-Tool)
Navigates through external setups onto carriage. Collates ID to prevent components setting task errors.
Note :Connecting the cart and PC sets environment equivalent to that on the machine (Consult us for details.)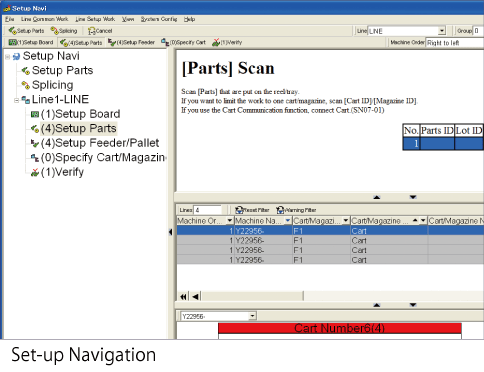 Setup Verification (IT Option)
Requests part stock from PCB data. Navigates through the setup/changeover sequence. Collates ID to prevent task errors.
Note : Information scanning via two-dimensional code. (Consult us for details.)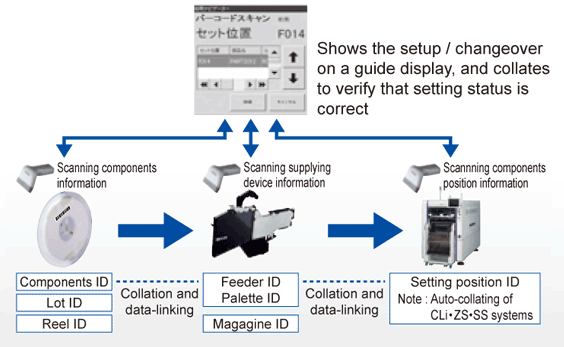 Material Time Limit Management (S-Tool, IT Option)
Checks components stock information during setups and production while taking storage information such as for solder and MSD into account. Issues components stock ageing or deterioration warnings. Prevents use of components stock that reached its expiry date.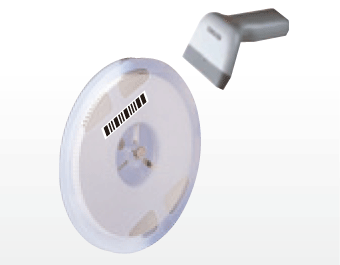 Rank Monitoring (S-Tool, IT Option)
Mounts LED parts by rank. Reduces data monitoring load such as for board data and prevents work errors by collating by rank.
Remaining Parts Error Monitoring
Remaining Components Monitor (M-Tool)
Monitors remaining part status from PC mounted alongside production line.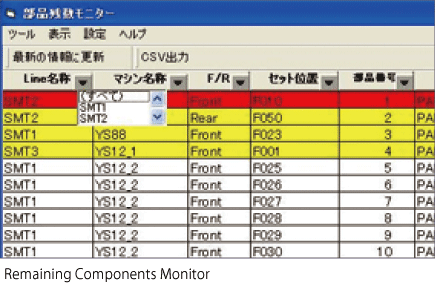 Parts Remain Counter (IT Option)
Monitors remaining number of components, and requests resupply before running out of components. This reduces machine downtime by preparing components beforehand.

Monitoring Package
Monitors productivity and product quality, etc.
Live Production Dashboard
Visual management of factory floor and line status.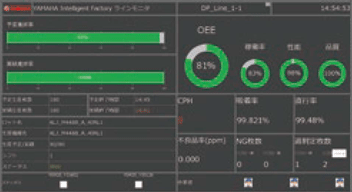 Production Analytics Dashboard
Supports pinpointing the problem source by analyzing a drop in operating rates and QC problems.

Traceability Package
Product lot tracing, process condition tracking, etc. Note: Requires T-Tool dedicated server PC and IT Option tracer output for target machine during operation.
Production history search (T-TOOL)
Searches production history data such as components lot information accumulated in the server, to swiftly and smoothly pinpoint the utilizable range and effective scope of components used in production.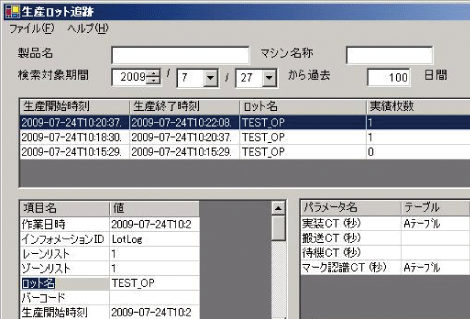 All Image Tracer
Saves all of your mounter component recognition images on-time, and all the way through the production process yet with no stress. Gives powerful support for analyzing component mounting quality.

M2M & Solution
Links M2M (machine-to-machine) and links to other company's equipment, line solutions, etc.
Auto Program Change-Over (IT Option)
Automatically selects conveyor width and PCB data for production line by scanning barcodes listed on the board and the instruction sheet.

QA Option
When an error occurs, this function pinpoints the head on the mounter placing components, and shows an actual video image of the pickup position and pickup state.
Mobile Decision Function
Sends information and images of defect via wireless LAN to the operator's mobile terminal to allow making on-the-spot pass-fail decisions.

SPI linked functions
Ensures high positioning accuracy by linking SPI with our company printing functions and feeding back information on solder misses during printing.
Note: Please consult us for information on corresponding manufacturers and functions.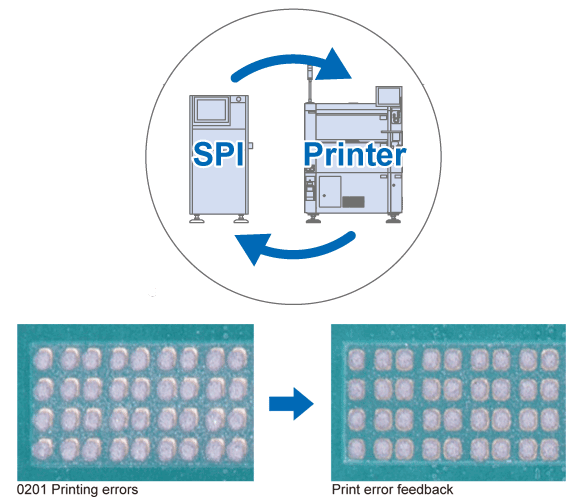 Maintenance Package
After-maintenance, product warranty, etc.
Remote Machine Support
The display screen on the customer's machine also appears on the Yamaha service engineer's PC via the Internet. Sharing screen images in this way leads to swiftly solving the problem.