Premium printer YSP10 Feature
World Class Speed and Performance! Capable of fully autonomous changeover tasks!
Ultra Fast Cycle Time
We achieved high productivity by totally redesigning the drive system to optimize the movement layout and cut the board transfer time to attain a cycle time including stencil cleaning of 12 seconds at the world's fastest level (optimal in-house conditions. Normal print time is 10 seconds.) reaching a speed 20% faster than conventional operation.
Supports fully autonomous stencil exchange
Automatic stencil replacement
(Option)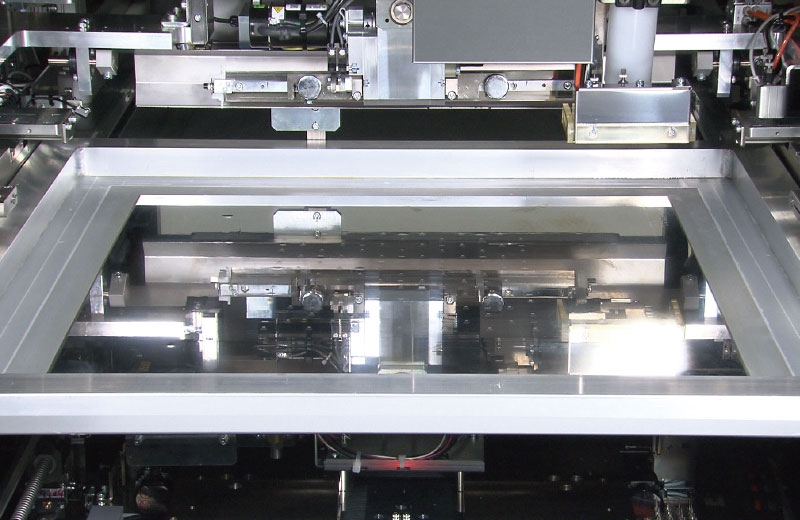 The function presets the stencil needed for the next production task while the printer is operating and automatically makes setups-changeovers. Space-saving design with small footprint sets and recovers used stencils all in one batch at the machine rear. This slashes the time needed for stencil replacement since workers can do stencil presetting in advance whenever they have time available without having to stop the printer. The squeegee head is now equipped with a new solder receiver plate to prevent solder from falling onto the stencil during replacement.
Automatic solder transfer
(Option)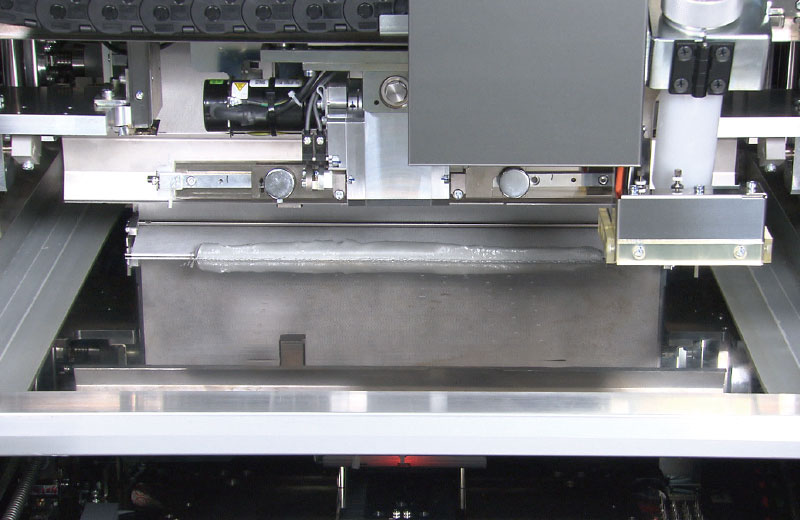 This function completely removes remaining solder paste automatically from the production stencil, and transfers it to the new stencil after exchange. This not only reduces the amount of wasted solder, but allows for continued use of pre-conditioned paste for the next print program. Using this function along with automatic stencil replacement will drastically reduce time lost due to operator errors during setups and changeovers.
Automatic push-up pin exchange function
(Option)
Automatically places push-up pins to support the PCB during the print process. The pins can place at optimal positions matching the shape and pattern of the circuit board, avoiding pre-placed components. This achieves stable and repeatable printing support for every program.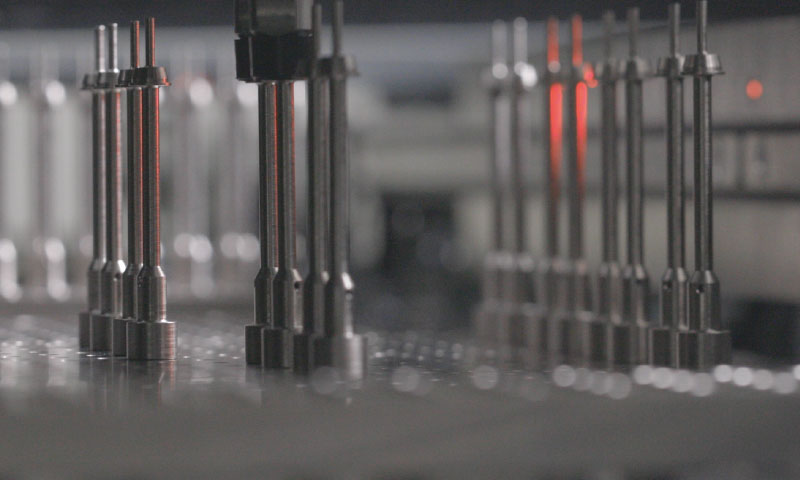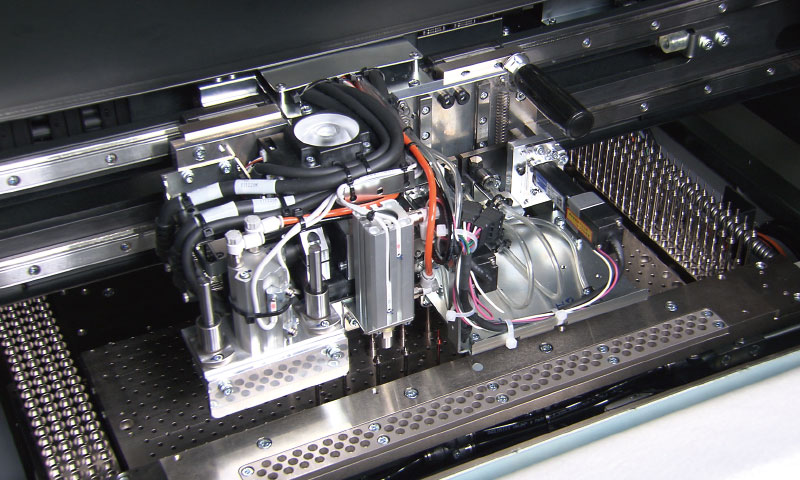 Delivers both high quality & super-accurate printing!
YAMAHA's original 3S head
[3S:Swing Single Squeegee]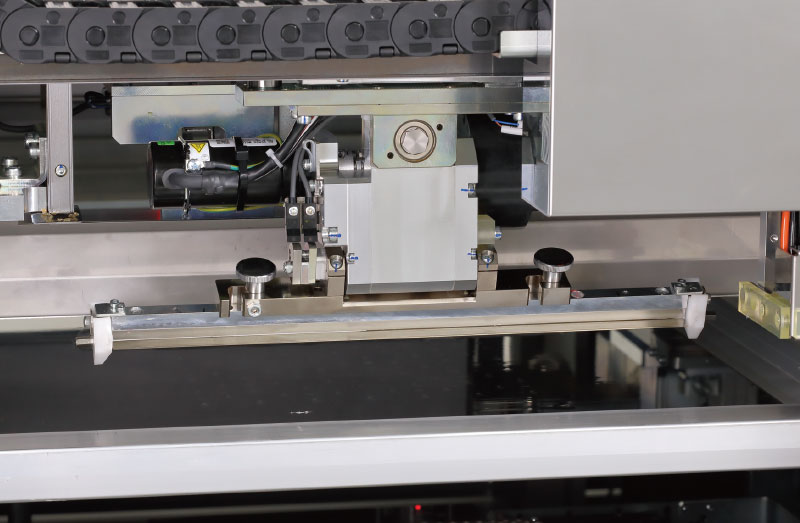 Program change squeegee attack angle and speed to an ideal setting to provide optimal printing conditions that match the solder being used.
Stencil vacuum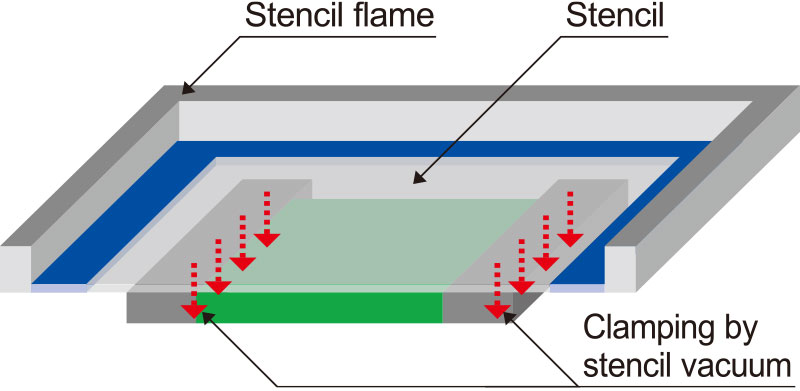 A stencil vacuum mechanism delivers consistent high accuracy printing with no effects from stencil droop. Also drastically cuts the setup time since no offset entry is needed during back and forth printing movement.
Auto cleaning system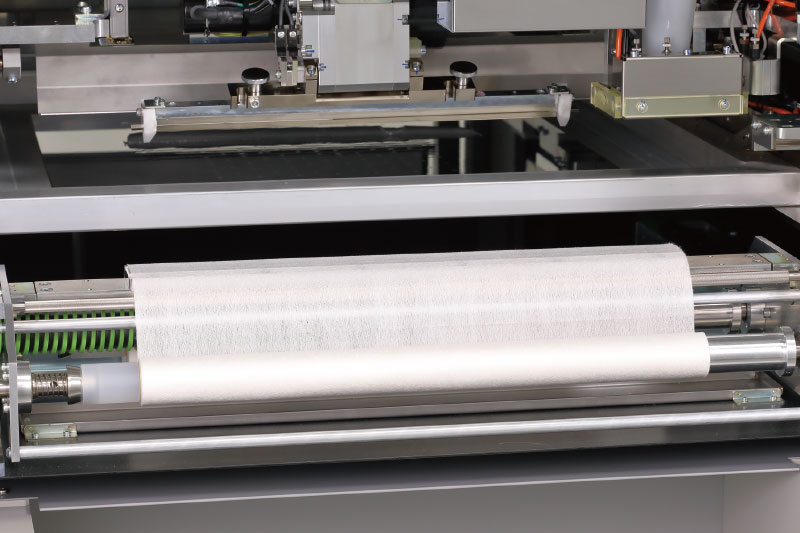 High efficiency cleaning system as standard equipment. New cleaner head ensures a huge reduction in cleaning cloth consumption.
Composite image alignment function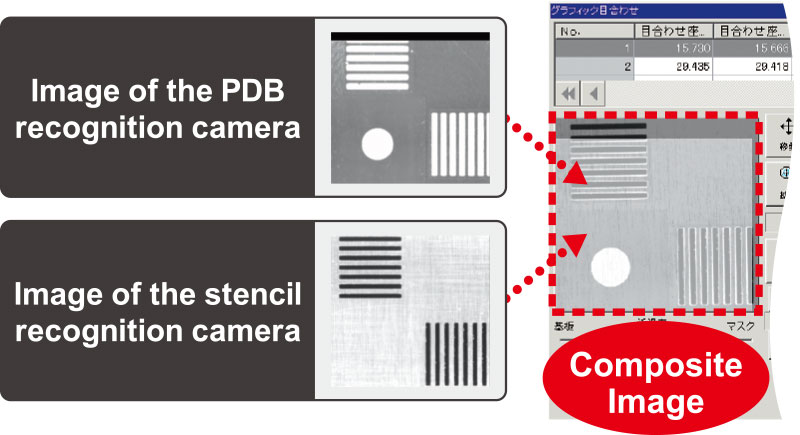 By images from two cameras are combined in layer, thereby operation of the PCB to printing stencil relative positioning can be performed simply and accurately.
Print inspection function
(Option)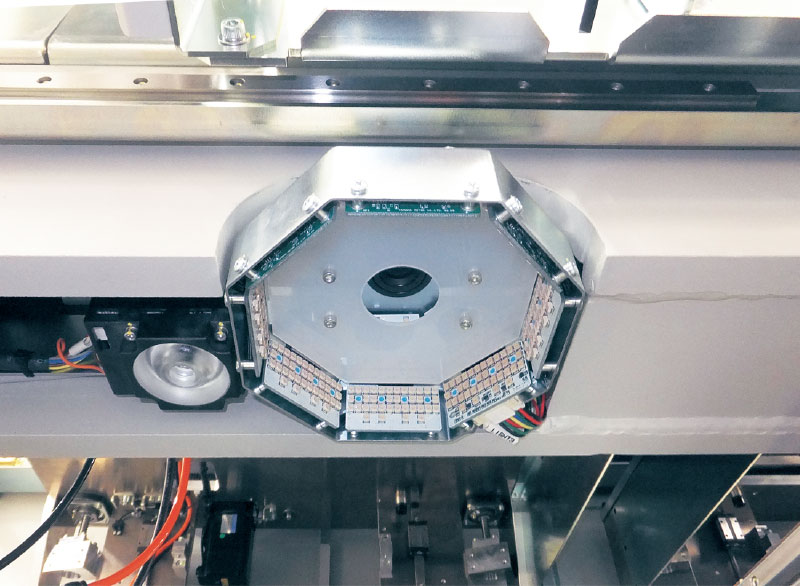 Supports full-on pro-level inspections with a dedicated camera. Feedback from inspection results allow over-printing and stencil cleaning.
PSC System (Option)
[PSC:Print Stability Control]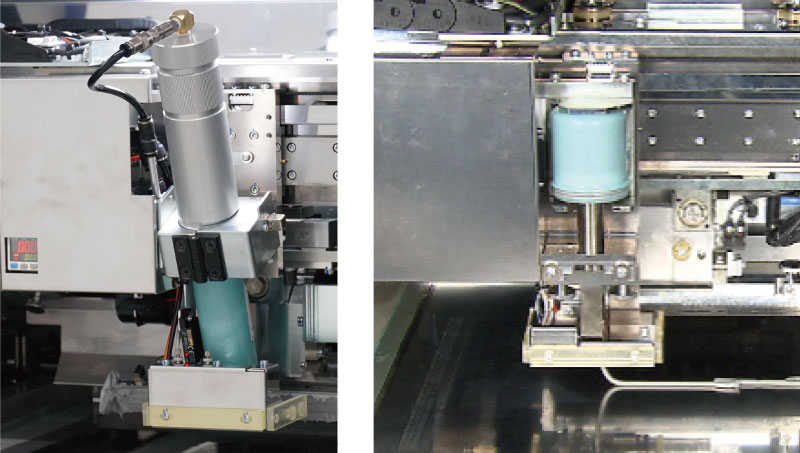 The PSC system stabilizes the rolling diameter of the cream solder that affects print quality. This system shortens the setup-changeover time and reduces the amount of solder loss in the process. Another bonus is non-stop production support.
Supports extra-large boards & large-size stencils
Supports extra-large boards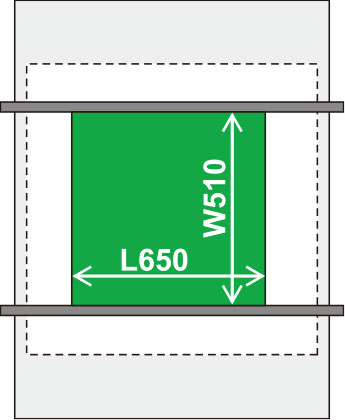 Expands large-size board support range from L510 x W460mm on up to L510 x W510mm boards. Also extends support range to include large-size mother boards including multiple smaller boards, large-size liquid crystal panel lighting boards and large-size industrial boards. Coverage of extra-large L610 x W510mm boards is available as an option.
Large stencil sizes
Supports L or large stencil sizes to maximum dimensions of L750 x W750mm. Instantly handles up to 5 stencil types sizes with just one touch.
Full range of options
Touch panel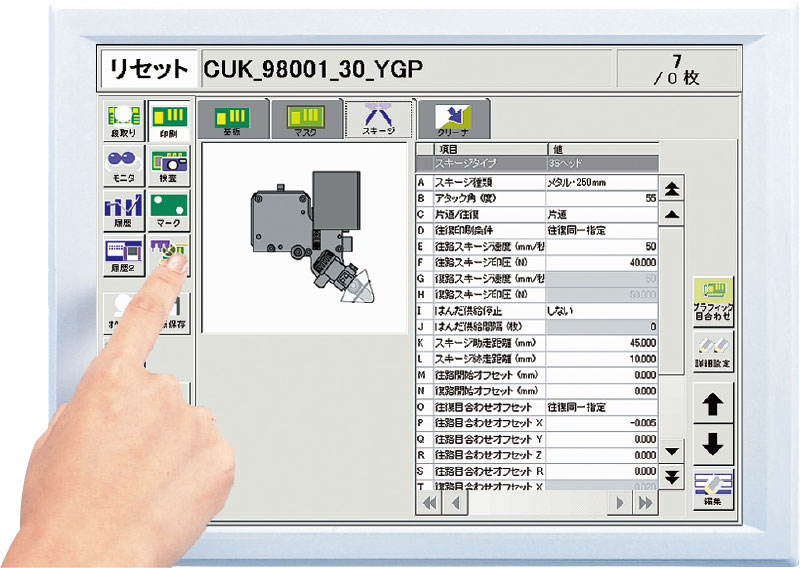 An easy-to-use and understand interface ensures smooth and sure operation. Display is switchable between 4 languages (Japanese, English, Chinese, Korean)
Options
Print inspection camera
PSC (Auto Solder Replenishment)
Left to Right transport
PCB vacuum system
Temperature control unit
Transformer for Temperature control unit
Solder remaining quantity detection
UPS system
Conveyor extension, entrance/exit
IT option