Awards
Introducing the stories behind Yamaha Motor's technologies.
2022  SCIE Chubu Branch Technology Award / Business-Academia Cooperation Award
Awarded

Robust control design for self-standing when stopped and at very low speeds in the automated motorcycle MOTOROiD
A major advancement was achieved in the robustness of the self-standing function of the motorcycle concept model MOTOROiD (introduced 2017). The adoption of a sliding-mode control system with high-frequency cutoff characteristics contributed to a dramatic improvement in the control unit capacity to sense and adjust to external disturbances. And this was achieved without requiring any changes in the machine's chassis design.
A joint research project with Susumu Hara, Professor, Ph.D., Department of Aerospace Engineering, Graduate School of Engineering, Nagoya University, led to a beneficial coexistence of different requirements: improvement of the self-standing function and suppression of the residual mode.

Recipient(s)

Mitsuo Tsuchiya
Digital Engineering Division, Digital Development Section, Technical Research & Development Center
Tetsuya Kimura
R&D Strategy Division, New Venture Business Development & R&D Strategy Section, Technical Research & Development Center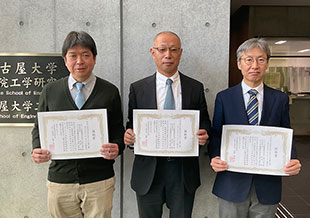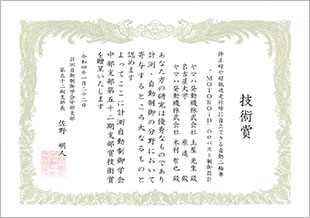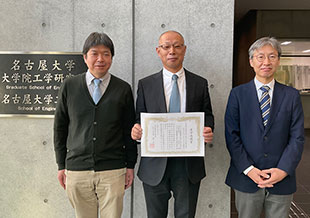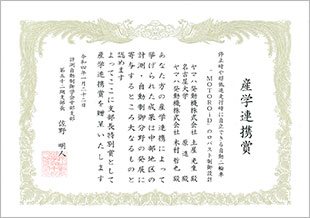 2020 IBEX Innovation Award
Awarded

Helm Master EX
This control system for outboard-mounted boats aids pilots with the various operations needed when docking, setting off and the like—from moving in the bow, stern, port and starboard directions to turns, diagonal movements and full 360° rotation—all via intuitive joystick operation. The EX features all-electric steering and several autopilot features developed in-house for the first time.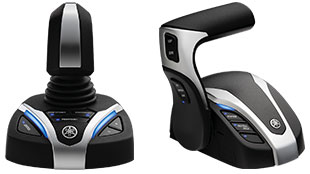 2019 JSME Tokai Branch Technology Award
View Technical Review

Awarded

Study on self-standing motorcycle control mechanism (AMCES)
AMCES is a high-precision balance control mechanism governed via artificial intelligence and autonomous technology. Equipped on the MOTOROiD concept model, this allows the machine to sense its own state and adjust its center of gravity accordingly to stand up off its kickstand and remain upright unassisted.

Recipient(s)

Mitsuo Tsuchiya
Digital Engineering Division, Digital Development Section, Mobility Technology Center
Eiichiro Tsujii
Planning Division, New Venture Business Development Section, Advanced Technology Center
Takashi Terayama
Engineering Division 2, Automotive Business Unit
Takashi Tsurumi
Fundamental Technology Research Division, Research & Development Section, Advanced Technology Center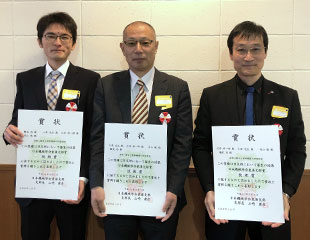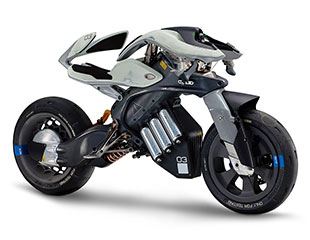 2017 Japan Boat of the Year: Special Award
Awarded

Helm Master
This control system for outboard-mounted boats provides electronic control of all the steering, gear shifting and throttle functions, etc., to allow intuitive control of the boat via a single joystick for maneuvering through narrow waterways, when docking or setting off and the like.

Recipient(s)

Isao Kanno
Research & Development Section, Marine Engine Business Unit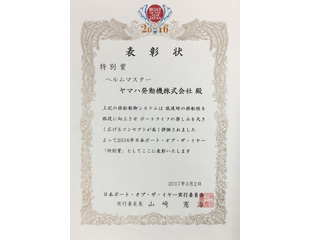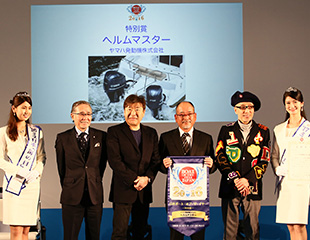 2013 APAC Best Paper Award
View Technical Review

Awarded

Support Effects of the Haptic Throttle Grip by the Friction Circle on the Driving Wheel

Recipient(s)

Manabu Fujito, Kouji Sakai, Yasunobu Harazono
Advanced System & Safety Technology Research Division, Research & Development Section, Technology Center