Function and Feature
Inspection with 3D X-rays Slice Section Image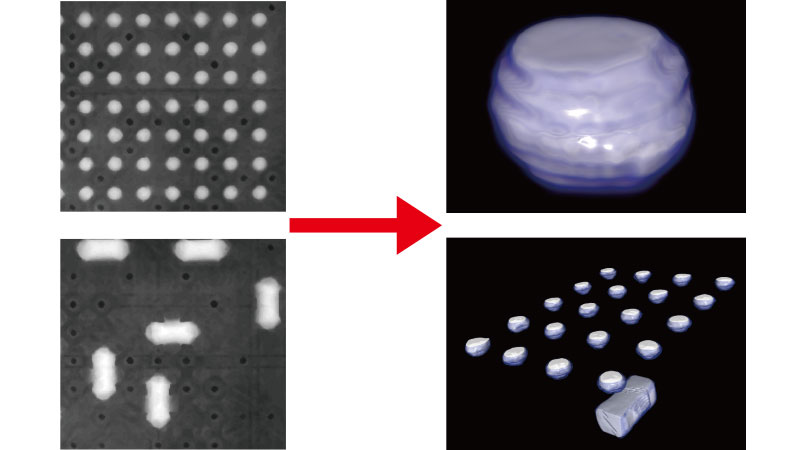 PCB warping is corrected with XYZ fiducial function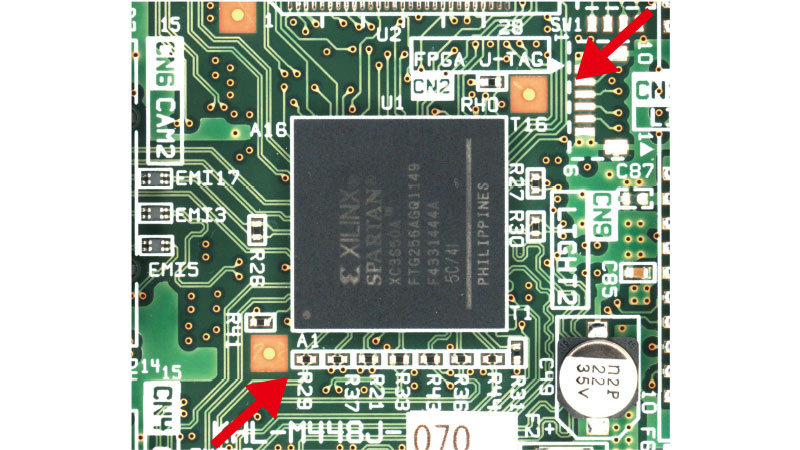 Equipped with 3D X-ray, 2D X-ray, Visible, Laser and Infrared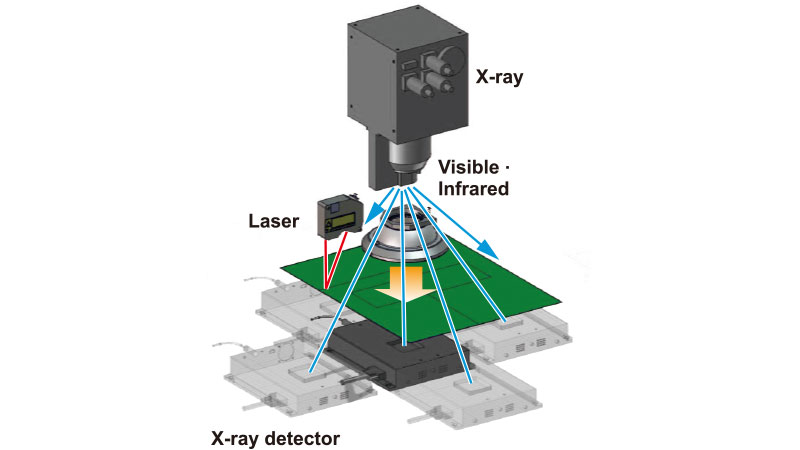 Data Link with Mounter

Recommend for Such Production Site
For customers who want to inspect each and every inspection point on a single unit
Capable of inspecting the desired point with the desired head. X-ray hybrid inspection device.
Hybrid inspection device utilizing 2D optical, 3D, 3D x-ray, and laser.
2D inspection function: Extracts images and makes inspection settings automatically using 3 optical inspection algorithms for brightness, color and shape.
2D optical inspection function: Realizes high repeatability by way of a high rigidity frame equivalent to a mounter and 5 million pixel camera, etc. Resolution of 10μm or 19μm is selectable.
Swivel type laser measurement: Measures the PCB's height setting. It is also capable of automatic inspections.
3D X-ray CT inspections: It can check solder connections via slice plane images. Resolution: TypeHD: mini7μm/TypeHB:mini18μm.
3D X-ray inspections: Selectable from 2 types
"3D-X TypeHD(High-speed high-accuracy):FOS flat panel method X-ray detector estimated service life: 1 year Speed : 5.8cm2/second"
"3D-X TypeHB (long-life): Direct conversion panel method X-ray detector estimated service life: 4 years Speed : 1.4cm2/second"
Utilizes Yamaha unique in-house digital X-Ray CT imaging technology. It can verify solder connections via slice plane images and can also extract and inspect X-ray slice images at any desired height.
Makes high accuracy judgments on a repair viewer
At the repair station, 3D X-Ray inspection results are directly checked as 3 dimensional images and a final judgement made.
Equipped with convenient functions that support data creation and judgements.
Yamaha standard library: Yamaha's in-house developed standard inspection library linking to approximately 80,000 types of SMT components Just choose a component shape and paste it to complete the inspection data.
Supports making visual judgements at the repair station and making image judgements from a remote station.
P-tool AOI limited (Ysi-OS iPRODB): Create data and use statistic analysis software on an offline PC. It also makes judgement rankings, all image saving and search, monitoring and trace.