History of YZR-M1 2004-2010
Valentino Rossi talks about his YZR-M1 from 2004 to 2010.
[Move the mouse pointer onto the button to see other contents]
YZR-M1 History: 2004-2010 | The machine Rossi loved
The first meeting between Valentino Rossi and the YZR-M1 occurred in 2004. It is now a famous story that the engine he chose from among the prototypes he first tested was the one he called a "sweet" engine. That was the word he used to describe the engine feeling, and it can be used to describe the relationship between Rossi and the M1 machine, as he went on to win four MotoGP championships in seven years with it. The end of the 2010 season brought an end to this love story, as Rossi moves on to a new challenge with another manufacturer next season. Before that final parting, Rossi left us a video in which he talks about the M1.
Commentary: Masao Furusawa (Executive Officer/Engineer, Engineering Base Section, Technology Center)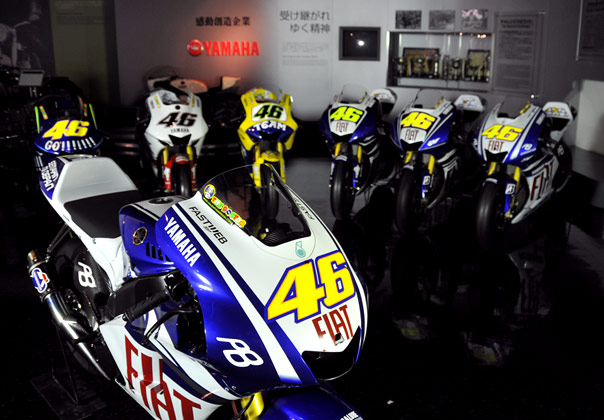 With these seven machines Rossi ran 117 races to 46 victories, 24 second places and 14 third places for a total of 84 podium finishes

2004 model | 990cc YZR-M1
Yamaha's first MotoGP champion machine
Click movie to enlarge screen
There had been a number of issues with the 2003 race machine. It did however have a very good chassis and excellent handling. These strengths were carried over into the 2004 machine. The biggest development issue this year was the engine. In order to make up for the weaknesses of the in-line-4 with single-plane crankshaft, the wheelbase had been shortened on the 2003 machine. Unfortunately that led to a lot of crashes and falls due to the reduced road-hold in the front wheel. To deal with this problem, a full-scale review of the engine was undertaken. Several prototypes were prepared and the spec that Valentino chose was also the one that I consider the best.
The weakness of that spec, however, was its power performance, and in dealing with that problem we focused our development efforts more on power development characteristics rather than sheer engine power output. Due to the adoption of a crossplane crankshaft on that 2004 model, it produced smoother and somewhat gentler power development characteristics that greatly improved rear wheel traction. That is the character that Valentino had initially described as "sweet." The adoption of the in-line-4 with crossplane crankshaft as the engine format for the 2004 M1 thus solved many of the problems we had with the 2003 machine. As a result, we were able to win the championship. In that sense, 2004 was a year of dramatic change for us.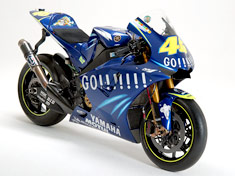 Engine: Liquid-cooled 4-stroke, DOHC in-line 4-cylinder
Displacement: 990cc
Max. output: Over 240PS
Rossi's result: 16 rounds / 1st places: 9; 2nd places: 2
PPs: 5; Pos. 1 (304)
---
Main development concept
Improve rear tire traction, maintain agility and handling characteristics
Engine: Improved throttle linearity
Adopted 4-valve combustion chamber and crossplane crankshaft
Improved connection and feedback between rider throttle operation and engine delivery
Chassis: Objective to maintain high cornering performance
Utilized proven packaging and dimensions
Adopted in-line 4-cylinder engine with short wheelbase and long rear arm combination.
Achieved balance of agility, supported by rear wheel traction, and handling
(Longer rear arm compared to 2003 model, change weight distribution by designing for lower center of gravity)
2005 model | 990cc YZR-M1
The fastest, most beautiful machine
Click movie to enlarge screen
We were able to agree 100% with Valentino's opinion. The 2005 YZR-M1 was the most competitive machine of all. In 2005, a complete review and revision of the gear drive for the camshafts improved the engine character greatly and reduced power loss. This gave the machine excellent power development and engine power output. The chassis achieved almost an ideal state. The 2003 machine had been given a short wheelbase in order to achieve sufficient traction, but the 2005 wheelbase was considerably longer. Compared to the machines of the rival manufacturers, that wheelbase was still short, however. Overall, I believe the 2005 machine had good handling agility and a high level of stability, improved power performance and power development characteristics plus optimum traction.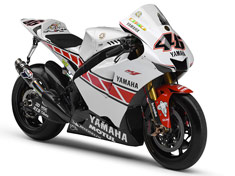 Engine: Liquid-cooled 4-stroke, DOHC in-line 4-cylinder
Displacement: 990cc
Max. output: Over 240PS
Rossi's result: 17 rounds / 1st places: 11; 2nd places: 3; 3rd places: 2
PPs: 5; Pos. 1 (367)
---
Main development concept
All new chassis and engine design for best balance between handling and engine performance in all conditions
Engine: Higher performance with lower fuel consumption
Adopted gear drive for camshafts, changed bore & stroke
Improved power delivery compared to 2004 M1, increased top end power and reduce mid-range power
Changed air intake layout for better cooling
Chassis: Achieved good balance between opposing elements by maintaining agility but improving stability in all conditions
All-new frame and smaller engine outer dimensions, lower fuel tank center of gravity
Reduced chassis movements: YAW, ROLL and PITCH
2006 model | 990cc YZR-M1
A machine plagued with "chattering"
Click movie to enlarge screen
Ideally, the 2006 machine should have been an improvement on the 2005 model, but it became a machine plagued with a "chattering" problem, as Valentino pointed out. In 2004, development efforts had focused on improving engine power development, while in 2005 we worked mainly on the chassis. In 2006 our focus was on reviewing and improving the EMS (Electronic Control System). The chattering problem emerged because the rigidity balance of the chassis had been lost in the process. We spent half the season working on this problem. In the meantime, we had fallen far behind in the title race and appeared to have lost the chance for another consecutive title. Going into the season opener, the 2006 model seemed to be performing well. When the racing started, however, he had a hard time keeping up with the competition. All in all it was a very tough season for Yamaha.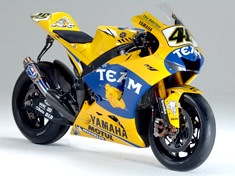 Engine: Liquid-cooled 4-stroke, DOHC in-line 4-cylinder
Displacement: 990cc
Max. output: Over 240PS
Rossi's result: 17 rounds / 1st places: 5; 2nd places: 4; 3rd places: 1
PPs: 5; Pos. 2 (247)
---
Main development concept
Further detailed improvement of the dominant 2005 M1 model with introduction of next generation fly-by-wire technology
Engine: Optimum balance between improved performance and good fuel consumption
Changed bore & stroke for higher rpm and higher power
Fully electronic throttle system adopted
(higher output: +5 PS; higher rpm: +400 rpm; fuel consumption: same as 2005)
Chassis: Improved agility and braking stability
New main frame design (modified rear suspension linkage area)
Engine Management System: Goal of more ride-friendly torque delivery
New engine brake control system
New electronic throttle management
(Throttle control, engine brake control, wheelie control, traction control, launch control)