Spies Interview
Ben Spies reviews his MotoGP 2010 season.
[Move the mouse pointer onto the button to see other contents]
Spies Interview | An important year that brought me a new future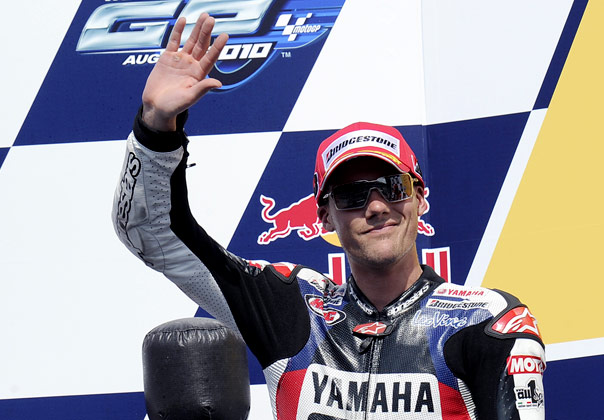 By finishing the season ranked 6th, Spies won the MotoGP "Rookie of the Year" title. It is a great start toward reaching the top in MotoGP
The family that supported me
The year has ended rally quickly. I have got to be honest and a little self-indulgent here but I am talking and patting myself and my Monster Yamaha Tech 3 crew on the back with the other, because to get sixth overall in the points is a great achievement for all of us.
Valencia was a good race and once I settled I could see the three Hondas coming back to me quite quickly. I kept them about a second in front of me and pounced when I felt confident I could pass them and pull away. They had some acceleration on me off the turns, so I knew when I made the pass it needed to be into a string of corners and not onto a straight. Once I passed Andrea and Marco I put my head down for a couple of laps and got rid of them. To finish fourth so soon after the crash in Estoril was the perfect finish to what has been a great season.
I have to thank everybody at the Monster Yamaha Tech 3 team for a great job, but especially my Team Manager Herve Poncharal and my teammate Colin Edwards, who has been a massive help. Colin and I have a very similar approach to racing – after 5pm we have fun, we like to joke around but when it comes down to business we want to beat each other because we want the best results we can.
A good friend and a good rival
There are other things that are more important than racing, you've got to remember that too, but we take our jobs seriously. I'm sure that even though I'm in the factory team next year I'll still be able to go into his bus or he can come into mine to hang out. Not much will change. It is good to be able to travel and get along and even though I may not seem like the loudest person in pit-lane we know how to have fun and turn the racing clock off at the end of the day.
On the track it has been huge to have him there to help – at circuits I don't know but even at circuits I know. On Sunday the rider who crosses the line first comes away with the result but it's always been a team effort. To be fair there have been times during practice when I have been faster and he has asked me for advice. We don't have any secrets and for example if I find a tire I like better, I tell him. It is good for a satellite team to have this attitude because at the end of the day it is important to have both bikes as close to the front as possible.
Looking back at the season as a whole it is hard to pick the best moment, but it has to be between Silverstone and Indianapolis. To be honest, I didn't expect to get my first podium so quickly, especially after crashing and injuring my ankle in practice. I had a great battle with Nicky Hayden and I remember the last lap was difficult to pass him, but I got a really good drive onto the back straight and tried to pass him at Stowe Corner but he came back by. On the next straight I managed to get by him and then had to ride quite defensively on the last part of the lap. I was on the edge but I had to go for the podium and it worked out. It felt good to say that on that particular day I was the third fastest motorcycle racer in the world.
Then to go and get pole at Indianapolis, in front of the American crowd with all the history of the circuit was a great feeling. We made an announcement that weekend that I would be joining the factory team in 2011 so it felt good to give something back to Herve and the guys. To be on the podium at the legendary 'Brickyard.' As an American, that is something I will never forget.
In the best possible place and looking to be the best I can
Overall I would say 2010 wasn't exactly a golden year for me but for my first season in MotoGP, learning the tracks and being in a new environment, I am happy. When I look at the riders who finished ahead of me in the championship and especially those that finished behind me, I have to be satisfied. Obviously I can improve in lots of ways. I have strong points and weak points as a rider and we are working to get that balance right. But I am in the Yamaha factory team, which is the ultimate you can hope for as a rider, so I can smile for a moment but also be aware that the hard work starts here.
I had the chance to meet my new team at the Valencia test and I'm super happy with them. A lot of things were new including obviously riding the 2011 prototype bike. There are a lot of subtle changes from this year so I spent some time getting used to it along with working with a new Japanese engineer who is very, very good. I had a couple of new mechanics who were learning the ropes as well so it was a lot of learning.
On the second day we messed with the bike a bit, changed some settings and went in a positive direction. I have read some comments from Jorge about the new engine for next year, he seemed to be happy with the way that was going, so I look forward to seeing that in Malaysia. Overall, I'm really happy. I can feel the potential of the bike and I think there's quite a bit more to come, so I'm looking forward to now having a couple of months off then getting back to it!
I said at the beginning of the season that a top five finish would be like a win but by the end it felt more like a normal result. I've had a better year than I thought I would have, so thanks again to my team and all the people around me who have given me unbelievable support. I've learned a lot this season and I'm confident I will be even stronger in 2011.Thanks also to everybody at Yamaha and all the fans around the world. I look forward to being even closer to you next year!

Ben #11