Poncharal Interview
Monster Yamaha Tech 3 Manager Herve Poncharal reviews the 2010 season.
[Move the mouse pointer onto the button to see other contents]
Poncharal Interview | The dream goes on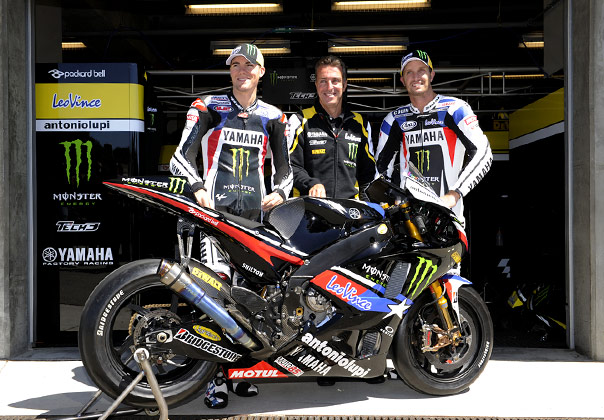 Ranked 4th on the season, Monster Yamaha Tech 3 Team was once again the top team among the privateers. It was another year when Herve's skills shone brilliantly
The formula for success is the team balance
It has been quite a year for the Monster Yamaha Tech 3 Team – I can't believe it is already twelve months since we began our adventure with Ben Spies! To be honest I knew Ben was something special, and like a lot of people I was expecting a lot of things from him. On the other hand, I also knew that we have had riders come from Superbike in the past and it is not that easy to make the transition and adapt to MotoGP. In the end, Ben exceeded everybody's expectations, even his own. And when I look back, I think we had a really great season.
We had two podiums, one at Silverstone and one at Indianapolis, where we also started from pole position. We also had two front row starts and Ben ended up sixth in the championship as the best rookie – by a long way! Ben made the transition just as it needed to be made, with a humble attitude, forgetting everything he already knew and really trying to learn to ride a MotoGP bike. With the team everything worked well, Tom Houseworth and Woody slotted into our operation perfectly.
On the other hand, Colin didn't do as well as last year, when he finished fifth in the championship, but he has played a big part in Ben's results. They have been very close to each other and Colin has been a great source of advice, helping him to learn quicker.
That's life, and this is the game
Obviously Silverstone and Indianapolis were the highlights of the season – Ben's first podium and an incredible pole position, leading the race for seven laps and finishing ahead of the factory Yamahas – but I also remember Aragon as a very special race. Even though the result was only a fifth place, the way he fought against Dovizioso and re-passed him on the brakes down the back straight and pushing him into a mistake was incredible. Although the result wasn't as good as Indy it was just as big, for me and for the whole team, because we could see how much of a fighter he is.
Also the last race in Valencia, the way he caught Dovi and Simoncelli and passed them was impressive. Talking about those two riders specifically after the race, he asked me: "What do you think those guys are going to think the next time they see me behind them with five laps to go?" It made me laugh. Really, he is somebody who loves to finish races strong, he loves riding on worn tyres and he is a true fighter – strong on the brakes and unafraid.
Obviously I am sad to see Ben leaving because he brought so much to the team and I know when you are fighting for poles and podiums there is nothing to match that feeling. If he would have stayed with us we would have had a lot more of that to look forward to next year but as we say in France: 'C'est la vie!' This is the game. Ben had a contract with Yamaha in Japan and we knew that if either one of the factory riders were to leave at the end of this season he would be taking their position. I am happy for him because he will have everything he needs to be at the front but we will miss him. Hopefully for us Cal Crutchlow can bring those kinds of emotions in the not too distant future and of course we still believe in the talents of Colin Edwards.
At this stage it is unfair to compare Cal to Ben. Ben is very special, he is a cool guy, very shy, very quiet. He doesn't talk, almost at all! Honestly speaking I think if Cal had been joining us twelve months ago it would have been a difficult situation for him, psychologically speaking. He would have been looking at what James Toseland did on our bike the previous year and thinking it might be difficult for him to make the switch to MotoGP. For sure he would have had some apprehension and whilst he knows that next year won't be easy for him the fact that he can look at what Ben has done with our bike and our team he knows anything is possible.
Making Cal the next Ben!
Despite what some people may have said in the past the bike is good enough to fight for the podium and even pole positions and together with Yamaha we can help Cal achieve those targets. Cal is positive. He was in Valencia with us for the last round to see Ben fighting with the factory Honda machines and he knows it is down to him. It was the same situation for him when he took Ben's position last year in Superbike. From my point of view and that of the team we will certainly be telling him what Ben did in certain situations as they arise but I have told him not to put too much pressure on himself.
In 2011 there will only be two new rookies, which will be Cal and Karel Abraham, so nobody will be looking at the lap times throughout the winter. Nobody is going to criticise Cal if he happens to be last on the time sheets because virtually everybody else has much more experience than him. I have just told him: "Do as many laps as you can and try to understand that the riding style in MotoGP is very different to a Superbike so try to adapt."
We are sharing a lot of information inside Yamaha so that we have access to the data from all the other riders and we can tell him where he is good or where he can improve. Cal is very motivated, he is very hungry and he did a very good job in his first year in World Superbike after winning the title in World Supersport so everything is in place for a great season. It's down to him and us to make sure that is the case.
We have always had a great feeling with Yamaha and great support from them – not just this year because we had Ben in our team, who had a contract directly with the factory. I have to say that in this respect Yamaha is a wonderful factory to work with because they are not only there for us when things are going well – they were also very supportive when we were struggling as a team. Of course everybody at Yamaha is pleased that Ben has been able to do so well with us but the relationship is strong either way.
Now we are hoping that Cal can follow in Ben's footsteps and become a leading contender in MotoGP. It won't be easy for him but I believe he could not be in better hands, with the experience of our team, the support of Yamaha and the ideal teammate and mentor in Colin Edwards. We began testing at Valencia and he made a good start, although it is early days yet and we don't want to get carried away. Sepang will be a much bigger test for him.
Finally I would like to congratulate Yamaha on another perfect season. To win the triple-crown of Riders', Manufacturer' and Teams' world titles for a third successive year is an incredible achievement. I am glad we were able to add to it with the Rookie of the Year title and by finishing as the highest placed satellite team, in fourth place overall. It was a truly memorable season for us in 2010 and we are all geared for even more success in 2011.
See you then!

Herve