Brivio Interview
FIAT YAMAHA TEAM Manager Davide Brivio reviews the 2010 season.
[Move the mouse pointer onto the button to see other contents]
Brivio Interview | The 20 years with Yamaha, a defining period of my life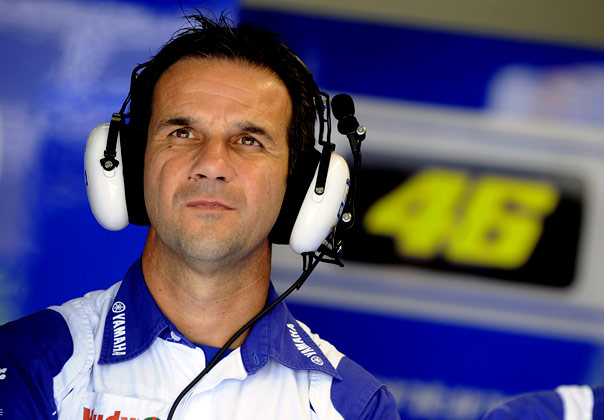 The 2010 season ends a 20-year partnership between Yamaha and Davide Brivio. His contribution to Yamaha has been immeasurable
Yamaha has made my career!
As many of you will already know, this will be my last appearance for the Yamaha website, as at the end of the 2010 MotoGP season I announced that I would be leaving my position as Team Manager for the Fiat Yamaha Team and ending an association with the factory that has spanned two decades. Over this time I have made many friends and I have some unforgettable memories to take with me into my next adventure. It has been a defining period of my life and career.
Just to give you a bit of history, I began working with a satellite Yamaha team in the World Superbike Championship back in 1990, with Fabrizio Pirovano as the rider. We finished second in the championship together in 1991 and for the following season I began full-time working for Yamaha in charge of what was effectively the factory team, although it remained privately operated in Italy until the end of 1994. It was in November that year that I had a call from Japan inviting me over to Yamaha headquarters. It is my earliest memory of working for Yamaha and definitely one of my favourites because it was a very important moment in my career.
They asked me to run a factory World Superbike team out of Italy, it was a special honour. I remember there were many Japanese colleagues there - the project leader, the technical director, the communications director. I was nervous but very excited! They told me they wanted to enter WSB but for me to run it through Yamaha Italy as an employee of the factory. Of course for me to say yes was very easy but getting ready for the new season was very hard! We didn't have many staff in Italy at the time but we worked hard and over the next few seasons we built the foundations of a strong team.
Unfortunately at the end of the 2000 season Yamaha decided to stop factory activity in WSB but for me this presented a new opportunity, which was to move to MotoGP, which was actually still the 500cc class at the time, to work with Noriyuki Haga. My job was also to prepare the racing department in Italy for the arrival of the factory MotoGP team, which moved over from Holland in 2002.
Since then I have been involved as Team Manager in MotoGP and of course many things have happened over this time. Sealing the signature of Valentino Rossi was a big moment, then of course from a racing point of view everybody remembers Welkom in 2004 and Laguna Seca in 2008 as major highlights. For me, though, the Chinese Grand Prix in 2008 was a hugely important race for us. After two difficult seasons in 2006 and 2007 a lot of people had begun to doubt us but this was the race when we announced our return and that victory was like the first one of a new chapter for us.
Good challenges and good memories
I remember when we first discussed the idea of signing Valentino, lots of people in Yamaha were not confident that it was possible. It was a dream, a crazy idea! However, I have to give credit to them because they let me try and then on the way people started to realise it was possible and got behind it. I have to say my good friend Masao Furusawa was a very important part of this process because he convinced the Yamaha president to spend the money! He did a great job within the factory whilst I worked on Valentino and his management team. Furusawa-san did an essential job to get Yamaha behind the project and once Valentino saw that he had their faith and commitment he was quick to sign.
If I am honest, until probably ten or eleven months ago I always thought Valentino would end his career with Yamaha. Vale said many times that he would never leave and I know he meant it. However, in racing things change quickly and they can often take you by surprise. Anyway, the relationship between Valentino Rossi and Yamaha has been something special that I think both parties will remember with joy and good memories forever.
The same is true for me, even though I now move on to a new challenge working as part of Valentino's personal management team. There are so many of my Japanese friends that I will always remember, too many to name, although there are a couple I simply have to mention. I worked for many years with Masahiko Nakajima, which was a real pleasure, Masao Furusawa has been very important figure in what we built together during the 'Valentino chapter' of Yamaha's history and I also want to mention the guys from the communications department. In the early days there was also Suzuki-san and Hoshino-san, who were very important parts of the WSB project.
Like I said, there are too many great people to mention them all personally but everybody knows who they are. Working for so long with Yamaha I grew up with them from a professional point of view and I want to thank them from the bottom of my heart. They gave me a lot of confidence and the opportunity to realise my dreams. This was to work in racing, then to work in Grand Prix, then to win the World Championship. Thanks to the trust they placed in me and the opportunity they gave me I will always remember them and be extremely grateful.
Now after almost 20 years as a Yamaha employee I face a new challenge, which will be very exciting and interesting for me because I will see things from the other side. The important thing is that my personal relationships with Yamaha are still good and I will stay in touch. Yamaha always been recognised as a very friendly company and I'm sure it won't change. My professional targets take me in a different direction but on a human level that doesn't mean anything has to change. Thank you Yamaha!

Ciao, Davide