History of YZR-M1 2004-2010
Valentino Rossi talks about his YZR-M1 from 2004 to 2010.
[Move the mouse pointer onto the button to see other contents]
YZR-M1 History: 2004-2010 | The machine Rossi loved
Commentary: Masao Furusawa (Executive Officer/Engineer, Engineering Base Section, Technology Center)

2007 model | 800cc YZR-M1
The first 800cc lays foundation for consecutive titles
Click movie to enlarge screen
The regulation change to 800cc displacement automatically led to a drop in power. Lack of power was constantly an issue for us and, as in years past, we placed top priority on power development characteristics in our development efforts. The second priority was maximizing cornering speed and stability. This was particularly important because of the reduced engine power. More sophisticated EMS control functions became the key. Feeding the engine more fuel would have been another option, but the new FIM regulation reduced fuel tank capacity from 22 to 21 liters that season. This resulted in even less power than initially expected. Nonetheless, our competitors came out with very powerful machines that left us far behind in the opening round at Qatar. This year's spec ended up being one that provided us with more issues than results.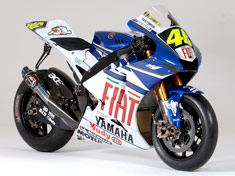 Engine: Liquid-cooled 4-stroke, DOHC in-line 4-cylinder
Displacement: 800cc
Max. output: Approx. 200PS
Rossi's result: 18 rounds / 1st places: 4; 2nd places: 3; 3rd places: 1
PPs: 4; Pos. 3 (241)
---
Main development concept
Maximized cornering speed is key for competiveness
Engine: Optimum balance between high-rev power and fuel consumption
New engine specification
(Smaller dimensions: Width: -8mm; Height: -18mm; Axle (wheelbase): -5mm; Weight: 3.5 kg lighter than '06; Max revs: 2,000rpm more than '06; Fuel consumption: lowered by 3%)
Chassis: Maximized corner speed and agility
Modified chassis stiffness (well balanced frame and rear arm)
Improved aerodynamics with modified front fairing shape (CdA: +/- 7 % reduction)
EMS: Direct, natural feeling – achieved through sophisticated control
Operation based on real-time vehicle dynamics
(Calculated bank angle and tire frictional force + Calculated optimal torque at rear wheel)
2008 model | 800cc YZR-M1
A machine revitalized by tire and EMS advances
Click movie to enlarge screen
Learning from the failures of the 2007 season, dramatic progress was made with the 2008 spec. It that sense, it can be likened to the 2004 model. To improve power performance within the 21-liter fuel restriction, we focused on reducing power loss. From this year's engine a pneumatic valve system was adopted. This succeeded in boosting top-end revs and reducing power loss at the same time. Changes were also made in the crankshaft lubrication system to further reduce power loss. The sum total of these changes made the 2008 model M1 a very good machine.
Furthermore, as Valentino has explained, the switch to Bridgestone tires led to major revisions in the machine geometrics. As we mentioned earlier, the wheelbase on the 2003 machine was very short, and that was true again with the 2008 spec. The introduction of the crossplane crankshaft had already improved rear-wheel traction and lightened tire wear. Now, in order to improve traction even more, we moved the machine's center of gravity further to the rear. This was achieved by shortening the rear arm. Although this reduced weight distribution on the front wheel, the performance of the Bridgestone front tire used this year was so good that it provided better front tire performance than in 2003 despite that load reduction. All of this made the 2008 machine the best Yamaha had fielded in recent years.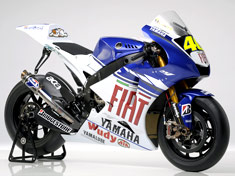 Engine: Liquid-cooled 4-stroke, DOHC in-line 4-cylinder
Displacement: 800cc
Max. output: Approx. 210PS
Rossi's result: 18 rounds / 1st places: 9; 2nd places: 5; 3rd places: 2
PPs: 2; Pos. 1 (373)
---
Main development concept
Enhance tire performance, improve engine power and reduce fuel consumption
Engine: Less friction and lower fuel consumption (better combustion)
Introduction of pneumatic valve system
(weight of valve train reduced 40%, new surface treatments for internal parts reduction friction 14%, Max. power: +12%, Max torque: +8%, Fuel efficiency: Average +6%)
Chassis: Maximized rigidity balance and geometry
Maximized dimensions
(front alignment, wheelbase, center of gravity location, front-rear weight distribution, rear dimensions, etc.)
Frame rigidity revised (increased in longitudinal and torsional directions, decreased in lateral direction)
Improved aerodynamics for boosted engine performance and reliability (coolant temp. -10°C, oil temp. -15°C)
EMS: Direct, natural feeling – achieved through sophisticated control
Same concept as 2007 model
2009 model | 800cc YZR-M1
Big progress made in EMS
Click movie to enlarge screen
This was again a year that saw major advances in EMS sophistication. Building on the progress made since 2006, this brought the EMS control functions to a nearly ideal state. The control system had reached the point where it functioned as a "smart brain" that enabled smooth and constant communication with the rider. Input from the many sensors positioned in vital parts of the machine enables simulations that are processed in real time by the machine's CPU and compared dynamically against data gained from the constantly changing running conditions, on wet and dry tracks and in hot and cold temperatures. This sophisticated control function made the 2009 model a highly competitive racer.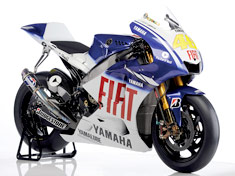 Engine: Liquid-cooled 4-stroke, DOHC in-line 4-cylinder
Displacement: 800cc
Max. output: Over 200PS
Rossi's result: 17 rounds / 1st places: 6; 2nd places: 5; 3rd places: 2
PPs: 7; Pos. 1 (306)
---
Main development concept
Enhance tire performance, tire mileage and performance and enhance engine reliability
Engine: Improve performance
Altered airbox, fuel injection system, combustion, reduced internal friction
(Max. Power: +4%; Max. Torque: +3%)
Improve drivability
(10% reduction in crankshaft inertia compared to '08, etc., to Improve partial throttle performance)
Piston temp. estimation analysis by CAE (30 degree reduction compared to '08)
Chassis: Frame rigidity balance for better handling in braking and turning
Revised frame rigidity (Increased longitudinal and lateral, reduced tortional)
High speed aerodynamics revised (CdA down by 5% resulting in 1% higher top speed)
Current YAW movement maintained
Change the shape of front cowling and front fender frame
EMS: Development of engine control to achieve natural feeling
New wheelie control system added to existing functions
(pitch rate factor added front fork stroke parameters)
2010 model | 800cc Faster, smarter and more beautiful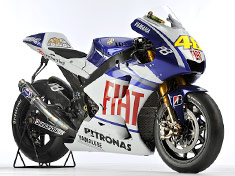 Engine: Liquid-cooled 4-stroke, DOHC in-line 4-cylinder
Displacement: 800cc
Max. output: Over 200PS
Rossi's result: 18 rounds / 1st places: 2; 2nd places: 2; 3rd places: 6
PPs: 1; Pos. 3 (233)