23
1981-1990

YZR500 Conquers the World Grand Prix

Six generations of YZR500 factory racers spanning five years from the OW35 in 1977 to the OW53 in 1981 had featured parallel-four piston-valve engines. However, the company introduced a new technology for the OW54 in 1981 and the OW60 in 1982: rotary disk valve air intake with the four cylinders arranged in a square using two crankshafts. The OW61 was rolled out in 1982 as an extension of this technology. This 2-stroke 500 cc machine incorporated the Grand Prix's first ever V-4 engine. In 1983, the OW69 debuted as the second model using a V-4. It was the first bike to feature an aluminum delta-box frame and 17-inch front tire, further advancing the evolution of GP race bikes.
The next year in 1984, Kenny Roberts won the Daytona 200-mile Race in record-setting time on an OW69 at Daytona Beach, Florida. The victory marked the 13th year in a row that a Yamaha bike had won the race. That same year, Eddie Lawson, a star pupil of Roberts, won the Riders Championship in the 500 cc class of the World Grand Prix in splendid fashion. The basic style of the YZR500 was essentially established by around 1985, after which Yamaha continued refining it by taking advantage of peripheral technologies that were rapidly progressing with each year.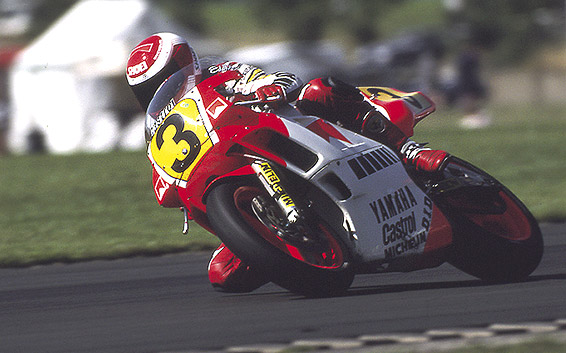 The OW98 came out in 1988, which proved to be an outstanding year for Yamaha. The company won the Manufacturers Championship for the third straight year, with a season highlighted by Yamaha bikes capturing first, second, and third in the 500 cc class at the Austrian GP, the seventh race of the series. Lawson also won his third World Grand Prix title. 1989 marked the release of the OWA8, which incorporated a data recording system that sensed the bike's performance while it was being ridden. And, in 1990, Yamaha took its sixth Manufacturers Championship with the OWC1.
Successive generations of the YZR500 turned in exceptional performances at the All-Japan Road Race as well. Tadahiko Taira's three consecutive titles from 1983 to 1985 caused a sensation, making him a superstar. Taira's exploits helped rapidly boost the popularity of motorcycle racing in Japan.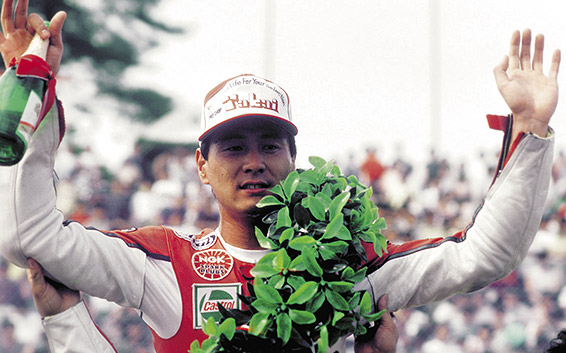 .