21
1977-1983

Developing Bestselling Products

In the latter half of the 1970s, as emission controls were getting tougher in the US, market research came in from Europe indicating that there were many riders eager for a pure 2-stroke sports model. This news lit a fire under many engineers who had staked their pride on Yamaha's reputation for 2-stroke motorcycles. They had a strong desire to create a model that would be the epitome of Yamaha's 2-stroke technology because they thought it might be the last such bike they would have the chance to build. With this, development on the RZ250/350 commenced.
The engine was a liquid-cooled 2-cylinder model adapted from the TZ250/350 production racer. The specs—35 horsepower for the 250 cc model and 45 horsepower for the 350 cc model—were phenomenal at the time. The engine was 12% lighter than the RD400's air-cooled engine, and the frame was also 20% lighter, at 13 kilograms. Efforts to make the bike lighter in pursuit of more nimble handling extended to the exterior parts, and plastic was used in the fenders, side covers, and crankcase. Power-to-weight ratios of 3.97 kilograms per horsepower for the RZ250 and 3.17 kilograms per horsepower for the RZ350 were achieved.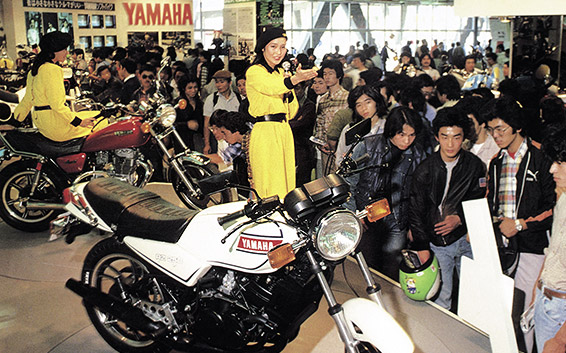 When the 23rd Tokyo Motor Show opened in 1979, the Yamaha booth was immediately flooded with crowds of motorcycle fans eager to see the RZ. The race bike-like specs were of course enthusiastically received, but the elegant, refined design of the motorcycle also caused a sensation with features that included a pearl-white fuel tank, flame-image cast wheels, a multi-segmented, upward-angled muffler, a distinctive large black radiator, and buffed aluminum footstep brackets.
When the motor show ended, dealers were inundated with orders, and test-ride events at venues around the country had lines going out the door. In the annual rankings of motorcycles produced in Japan put out by Autobike magazine, the RZ graced the top of the list even though voting had taken place before it had even hit the market. The RZ250 was launched domestically in August 1980 and the RZ350 in March 1981, after which both went on to become Yamaha bestsellers.
The JOG scooter, a flagship product for Yamaha, was first released in 1983 when the RZ was extremely popular. Scooters targeted at women were the mainstream at the time, but the JOG became a hit marketing to young people because it provided a new kind of lifestyle based on the fun of its light, easy handling. In addition, the JOG Sports was launched in 1988. It provided enhanced performance in the basic areas of riding, turning, and stopping. Cumulative production of the product line reached over one million in October of that year. The following year, in 1989, the new JOG was released featuring a helmet storage compartment and was selected for a Good Design Award.
.