22
1984-1985

World's First DOHC 5-Valve Engine

In September 1984 at IFMA, the world's largest motorcycle show, which was held that year in Cologne in then West Germany, Yamaha's supersport model, the FZ750, was the talk of the show.
The FZ750, Yamaha's first 4-stroke supersport bike, was the company's new flagship model that harnessed all of its combined strengths. The power unit featured the world's first 5-valve dual overhead cam engine and its forward inclination and low center of gravity improved the motorcycle's overall performance.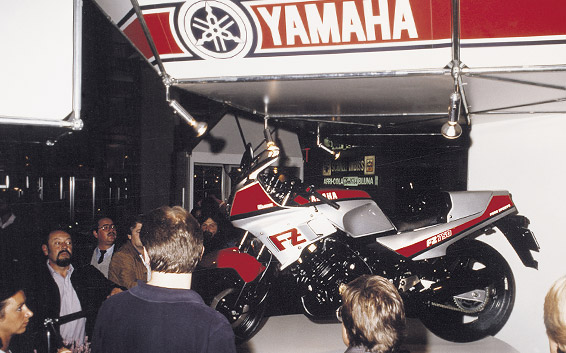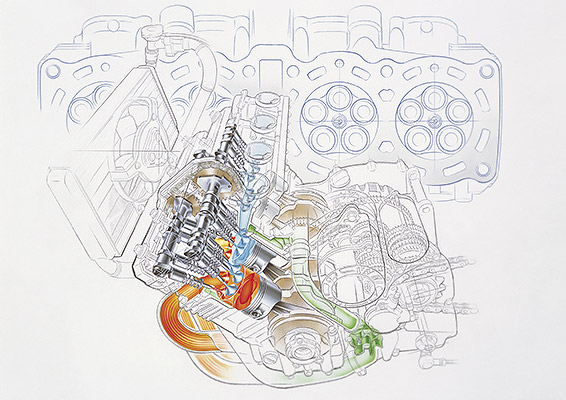 Development for the FZ750 centered on a thoroughgoing dedication to integrating man and machine. All the latest technologies were brought together and overall performance was further polished. The bike incorporated the world's first 5-valve dual cam engine. Five valves were employed to maximize the engine's potential. The intake area was expanded by using a large number of intake valves, lightweight valves were adopted, and a high compression ratio was achieved by using a compact combustion chamber. With three intake valves and two exhaust valves, Yamaha created the ideal combustion-chamber design: compact and nearly spherical, valves arranged at a sharp angle, and plenty of room around the spark plugs. The convex shape of the combustion chamber provided robust output and torque while at the same time offering excellent fuel economy. Output and torque were better across a wide range of engine speeds compared with conventional 4-valve engines, with overall power 10% higher and fuel efficiency 5% better (Source: Yamaha engine tests).
The engine layout, which pursued the integration of man and machine, was dubbed "Genesis." Following the FZ750, this design concept was incorporated into the FZ250, FZX750, FZR400, and other bikes, giving rise to the Genesis series. The series pursued a brand of total performance that appealed to rider sensibilities, not only in terms of the bike's ride and handling, but also in its design, sound, and other features. Aiming for a harmonious oneness between rider and machine, design concepts based on Genesis have been a constant presence in Yamaha's subsequent motorcycle development activities.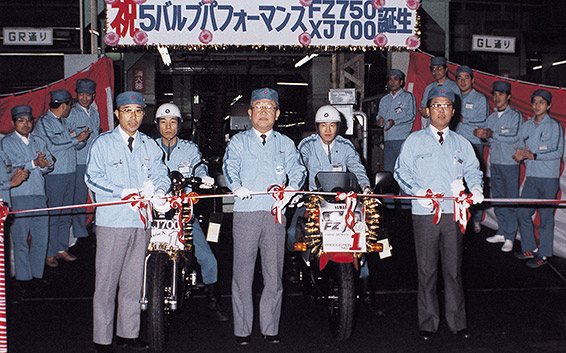 .