1986
View an archive of races Yamaha competed in 1986.
Lawson wins his second championship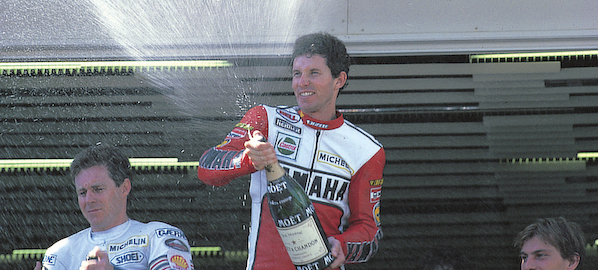 YZR500 wins title for first time in two years



In the 11-round 1986 series, Eddie Lawson and Rob McElnea from the Yamaha Marlboro Team, Mike Baldwin and Randy Mamola from the Lucky Strike Roberts team, and Christian Sarron from Team Sonauto Cauloises, competed for the title as Yamaha riders. Lawson won seven of the 11 races to regain the world title. It was his second championship title, following his first one in 1984. Yamaha gained the manufacturer's title this year with five of its riders ranking in the top six for the season.

After finishing the opening round in 2nd, Lawson won the next four races to lead the championship ranking. He was especially amazing in rounds two to four, where he led the races from pole to finish. However, in the US round at Laguna Seca he crashed with a rider he was about to lap and broke his right collarbone only a week before the ninth round in France. It was uncertain whether he would be able to race in the French GP, but he came back not only to take pole position, but also to win the race by a huge margin over the rider in 2nd place. In the following round, Lawson artfully maneuvered his way through the wet Silverstone circuit to finish 3rd. He scored points consistently by adjusting his race pace according to conditions in each race. In the 10th round in Sweden, Lawson took the lead in the third lap and raced away to finish 16 seconds ahead of his main championship rival, Wayne Gardner (Honda), despite having a considerable point margin before the race. This resulted in Lawson clinching the championship title.


YZR250 debut, and Lavado takes his second championship title



This season, the "Caribbean Hurricane" Carlos Lavado riding for Venemotos Yamaha and Martin Wimmer and Tadahiko Taira (who had won his third consecutive All Japan Championship title the previous year) riding for the Yamaha Marlboro Team competed for the championship title on the YZR250. The season ended with Lavado taking the 250cc championship title, his second since 1983.

At the start of the opening round, the Spanish GP, it looked for a moment as if Lavado's would be starting the season with a no-pointer. An accident immediately after the start of the race saw Lavado crash his YZR250. During the break before the race was restarted, he quickly set up his machine again and made a remarkable comeback to win the race. With this, he showed himself to be a rider of exceptional ability and good fortune.




| Pos. | Cate. | Rider | Constructor | Point |
| --- | --- | --- | --- | --- |
| 1 | 250cc | C. Lavado | Yamaha | 114 |
| 2 | 250cc | A. Pons | Honda | 108 |
| 3 | 250cc | D. Sarron | Honda | 72 |
| 4 | 250cc | A. Mang | Honda | 65 |
| 5 | 250cc | J.F. Balde | Honda | 63 |
| 6 | 250cc | M. Wimmer | Yamaha | 56 |
| 9 | 250cc | T. Taira | Yamaha | 29 |




| Pos. | Constructor | Point |
| --- | --- | --- |
| 1 | Yamaha | 154 |
| 2 | Honda | 123 |
| 3 | Suzuk | 27 |
| 4 | Elf | 18 |
| 5 | Cagiva | 4 |

| Pos. | Constructor | Point |
| --- | --- | --- |
| 1 | Honda | 142 |
| 2 | Yamaha | 135 |
| 3 | Armstrong | 28 |
| 4 | Parisienne | 21 |
| 5 | Garelli | 12 |
| 6 | JJ Kobas | 9 |