1985
View an archive of races Yamaha competed in 1985.
Eddie Lawson and Christian Sarron finish season 2nd and 3rd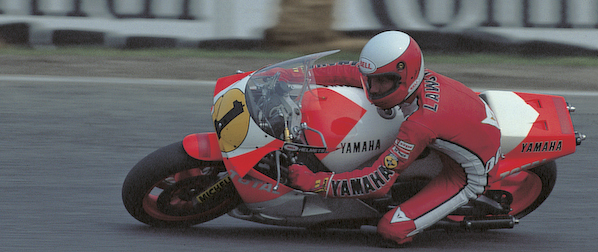 Eddie Lawson ranked 2nd on the season with three wins



Eddie Lawson and Raymond Roche from the Yamaha Marlboro Racing Team, and Christian Sarron from Team Sonauto Cauloises rode the latest YZR500 (0W81) in the 12-round 1985 series. Despite winning three races, Lawson could not match the results of Freddie Spencer (Honda) and had to settle for 2nd in the season ranking. Thus, he was unable to win a second straight title.

In the opening round in Kyalami, the defending champion Lawson won a close battle with Spencer to begin the season on a high note. This year's series saw three different winners in the first three rounds, with Spencer winning the second round in Spain and Sarron winning the third round in West Germany. Lawson and Spencer were tied in points after the two races, but Spencer came out on top after finishing 2nd in the third round while Lawson finished 4th.

Close battles continued in the following three races. The highlight of the Lawson-Spencer wars took place in the fifth round in Austria, where the race was split into two heats because of a race suspension due to rain. The 16-lap first heat was won by Spencer with a 2.18-sec. margin and Lawson won the 14-lap second heat by 2.15 seconds. The added time gave the win to Spencer by 3/10ths of a second. Lawson too 2nd in the fourth and fifth rounds and won the sixth round. However, Lawson could not catch Spencer in the points tally. Spencer made consecutive wins from the eighth round in Belgium onwards. Meanwhile, Lawson only managed a 2nd, 4th and two more 2nd places in the four rounds beginning from Belgium. Spencer's title was decided before the end of the season after he won the eleventh round in Sweden. Lawson took his third win of the season in the final round in San Marino. He finished 2nd in the season ranking after gaining points in 11 races of the 12-round season.


YZR250 introduced late in the series, Lavado wins the final round
The majority of the GP250cc riders were on Yamaha's TZ250 production racer, but from this year Honda began participating in this class. Freddie Spencer and Anton Mang became the main rivals for the TZ riders. The movers and shakers on the TZ250's included the star Venezuelan rider Carlos Lavado, who won the 250cc title in 1983, and Martin Wimmer from West Germany. Lavado came 3rd in the championship after winning two races and Wimmer came 4th with a single win. Spencer took the championship and achieved a double title with the 500cc class win. Yamaha lost yet another chance of claiming their fourth consecutive manufacturer's title.




| Pos. | Cate. | Rider | Constructor | Point |
| --- | --- | --- | --- | --- |
| 1 | 500cc | F. Spencer | Honda | 141 |
| 2 | 500cc | E. Lawson | Yamaha | 133 |
| 3 | 500cc | C. Sarron | Yamaha | 80 |
| 4 | 500cc | W. Gardner | Honda | 73 |
| 5 | 500cc | R. Haslam | Honda | 73 |
| 6 | 500cc | R. Mamola | Honda | 72 |
| 10 | 500cc | R. Roche | Yamaha | 50 |

| Pos. | Cate. | Rider | Constructor | Point |
| --- | --- | --- | --- | --- |
| 1 | 250cc | F. Spencer | Honda | 127 |
| 2 | 250cc | A. Mang | Honda | 124 |
| 3 | 250cc | C. Lavado | Yamaha | 94 |
| 4 | 250cc | M. Wimmer | Yamaha | 69 |
| 5 | 250cc | F. Ricci | Honda | 50 |
| 6 | 250cc | L. Reggiani | Aprilia | 44 |




| Pos. | Constructor | Point |
| --- | --- | --- |
| 1 | Honda | 168 |
| 2 | Yamaha | 144 |
| 3 | Suzuki | 26 |
| 4 | Chevallier | 3 |

| Pos. | Constructor | Point |
| --- | --- | --- |
| 1 | Honda | 169 |
| 2 | Yamaha | 135 |
| 3 | Aprilia | 44 |
| 4 | Real | 31 |
| 5 | Romer Juchem | 30 |
| 6 | JJ Kobas | 30 |