Overview of Operations: Motorcycles - Annual Report 2016
Evolution of Yamaha Motor's industrial-use unmmaned helicopters

Overview of Operations
Motorcycles
Creating unique, new products through Yamaha Monozukuri
Katsuaki Watanabe
Director and Managing Executive Officer
Chief General Manager of Motorcycle Business Operations
Net sales and operating income
(Billion \)(Billion \)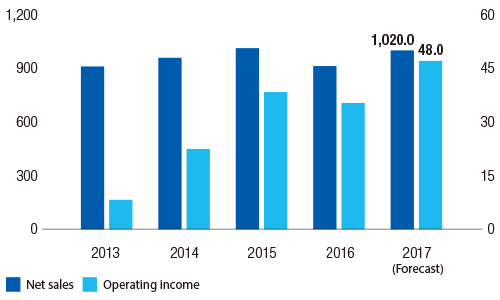 Operating environment and areas of focus under the Medium-Term Management Plan
The motorcycle business's geographic focus is on the ASEAN, India, Brazil/China, and developed markets. The economic situation and motorcycle demand in each of these markets are changing rapidly, and we seek to be the first to recognize these market changes by responding quickly and developing products that address them.
Under the Medium-Term Management Plan, we are pursuing highly efficient product development and cost reductions, as we work to create a business structure that maintains stable earnings. In terms of product development, we are developing platform models that consolidate the number of engines and bodies while, at the same time, expanding the model lineup with unique, new products that are "fast," "reasonably priced," and "stylish" in order to meet customers' increasingly diverse needs. In terms of cost reductions, in addition to savings by promoting platform models, we are pursuing to reduce costs even further in the areas of procurement, manufacturing, and logistics.
| | 2016 Result | 2017 Forecast |
| --- | --- | --- |
| Net sales | \930.1 billion | \1,020.0 billion |
| Operating income | \36.0 billion | \48.0 billion |
FY2016 worldwide demand
Note: Yamaha Motor surveys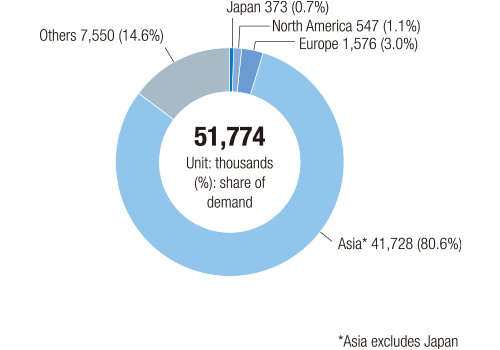 FY2016 Yamaha Motor unit sales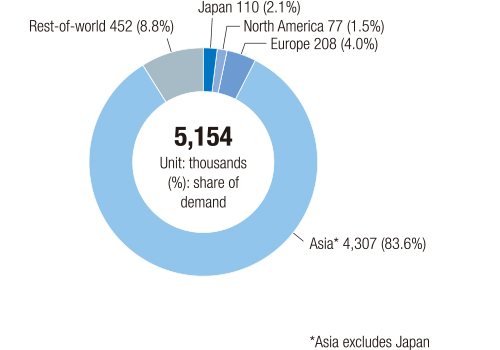 Appraisal of 2016 results
In 2016, unit sales rose in markets including India, Vietnam, and the Philippines, were flat in developed markets, and declined in Indonesia, China, and Brazil. Net sales declined \102.4 billion (9.9%) from the previous year, to \930.1 billion, as a result of the impact of the exchange rate. Although operating income grew in emerging markets due to increased sales of higher-priced products and cost reductions, the impact of the exchange rate in developed markets resulted in an overall decline in operating income, by \3.2 billion (8.1%), to \36.0 billion.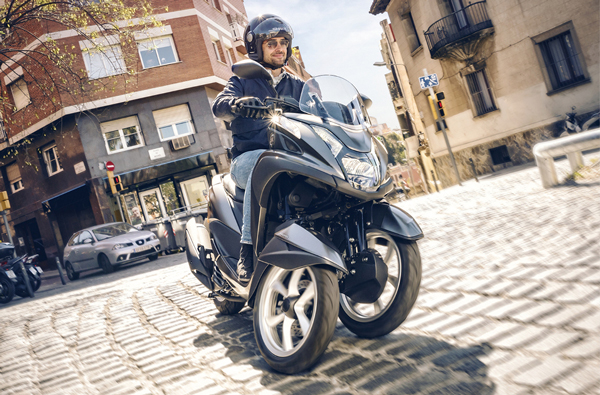 For long-term growth
During 2017, we will proactively work to increase sales in the growing Indian market and to increase profitability in the ASEAN market even further. In the developed markets of Europe, North America, and Japan, we will introduce attractive products and promote the strength of the Yamaha brand, while maintaining stable profitability.
We have always offered unique, new products that incorporate Yamaha's distinctive originality, technology, and design. Going forward, we will build on this by pursuing innovation through the development of new foundational technologies in areas including robotics and the "Internet of Things," for even greater long-term growth.