Special Feature 1 - Annual Report 2016
Yamaha Motor's social contributions to Africa

Challenge and Dedication for Prosperity
Businesses creating
social value in Africa
Africa's population is expected to grow sharply, from the current 1.2 billion people to 2.3 billion in 2050. Yamaha Motor first entered Africa in the 1970s, and along with cultivating markets for our products and services, our businesses have sought to contribute to the development of the countries in which they operate by developing "businesses that create social value." Today, through partnering with dealerships, we sell and service products, including motorcycles, outboard motors, boats, generators, and small-scale water purification systems, in 52 countries throughout the continent.
Pursuing the unique style of Yamaha when cultivating markets in Africa
Yamaha Motor has built strong relationships of trust by always developing businesses that are closely tied to local communities and customers. This is also the case for our development of "businesses that create social value" in Africa. The fishery projects in which we have been involved since the 1970s have promoted the dissemination of Japanese-style fishery in Africa, and led to the development of local fishery industries.
For Yamaha products such as outboard motors, boats, and motorcycles, maintenance is essential if the products are to be used safely and for a long time. This is why we dispatch service staff from Japan to train local maintenance staff. The service staff also teaches service technologies to the mechanics at the dealerships in each country. In addition, we have established a supply network for parts required for after-sale maintenance, which enables us to provide services to customers quickly. These efforts not only help us gain the trust of customers, but they also create local employment. As people's lives change and areas develop, motorcycles, marine products and other Yamaha products will enrich people's lives even further. In this way, "businesses that create social value" are sowing seeds for the future.
Participation in the Sixth Tokyo International Conference on African Development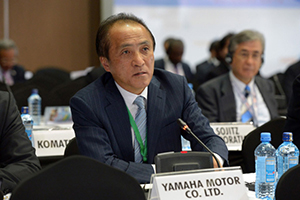 Yamaha Motor participated in the Sixth Tokyo International Conference on African Development (TICAD VI)*, held in Nairobi, Kenya, on August 27?28, 2016.
Yamaha Motor President Hiroyuki Yanagi attended a session on the sub-theme "Promoting Structural Economic Transformation through Economic Diversification and Industrialization," and gave a speech on how Yamaha's efforts since the 1970s to develop Africa's fishery industry have contributed to diversification through sales of outboard motors, the dissemination of maintenance technologies, and human resources development.
Yamaha Motor also featured a booth at the Japan Fair, held in conjunction with TICAD and hosted by the Ministry of Economy, Trade and Industry and the Japan External Trade Organization (JETRO). The booth was an exhibit on "Improvement of health issues (sanitation, water supply, infectious disease prevention, medical treatment, etc.)," and showcased the Yamaha Clean Water Supply System (small-scale water purification system) and the use of motorcycles in transporting vaccines, as a PR activity for interested parties from various countries in Africa.
*The Tokyo International Conference on African Development (TICAD), held since 1993, is an international forum on themes related to development in Africa and is hosted by the Government of Japan together with the United Nations, the United Nations Development Programme (UNDP), the African Union Commission (AUC), and the World Bank.
Outboard motor business through support of fishery industry
Africa's fishery industry has been relying primarily on the use of wooden rowboats. Yamaha Motor contributed to the modernization of the industry by introducing Japanese fishing methods in fishing villages while also promoting the use of outboard motors. Along with contributing to the development of the fishery industry, Yamaha is promoting a shift from wooden boats to FRP boats, in which Yamaha has significant expertise. Compared with wooden boats, FRP boats offer exceptional durability, safety, and economy, while also helping to reduce the environmental issue of deforestation. Because of the cost involved in shipping boats from Japan, we have set up factories and transferred technology in six countries so that FRP boats can be manufactured locally, and currently a total of approximately 80 boats are being manufactured annually in Mauritania, Kenya, and Mozambique. Going forward, we will continue our proactive transfers of technology, and by promoting safe boating and developing human resources for the manufacturing of high-quality boats, we will contribute to the cultivation of engineers and social development.
From rowboats to motorized boats
Motorized boats enable fishermen to make more trips and increase their catches.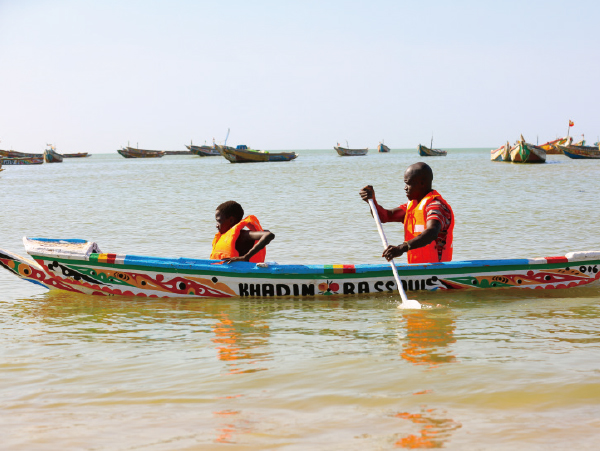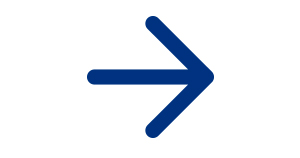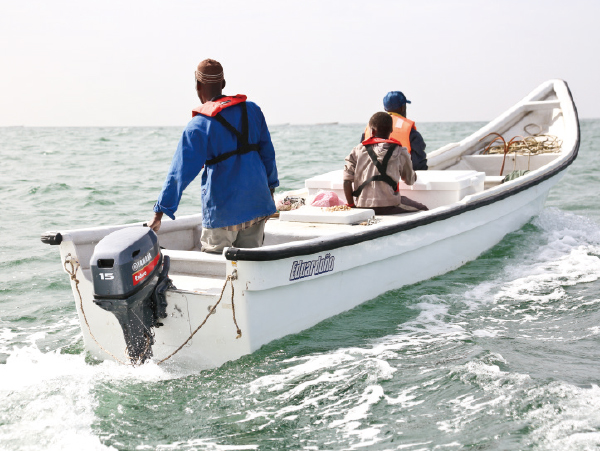 From wooden boats to FRP boats
FRP boats provide greater durability, reduce the cost of rebuilding boats, and contribute to reductions in deforestation.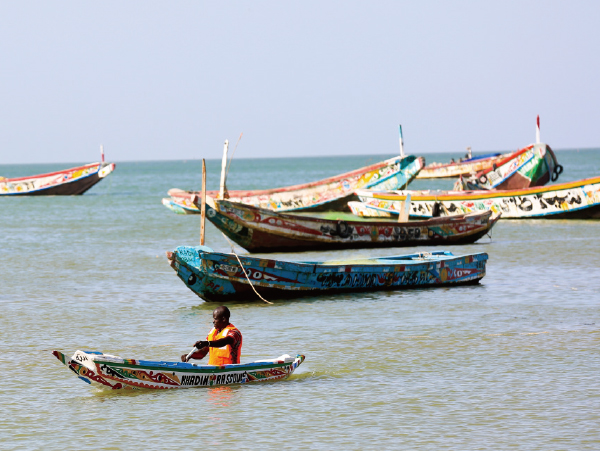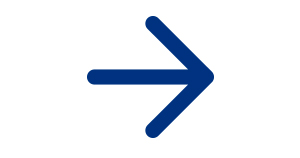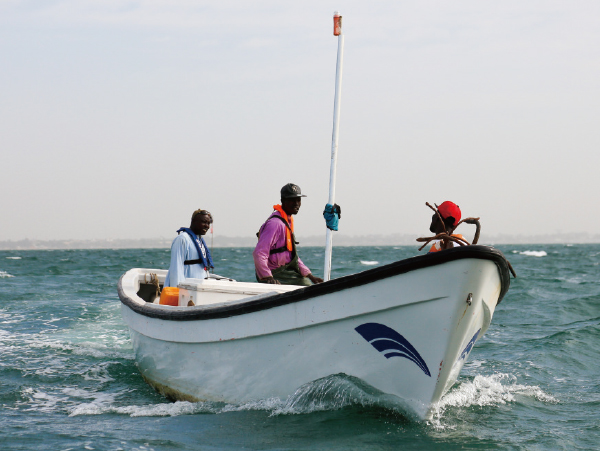 Modernizing fishery in Africa
Contributing to public demand in the motorcycle business
In Africa, many motorcycles are used as taxis and for other commercial uses. Yamaha Motor is actively promoting its brand by supplying motorcycles and providing maintenance services to areas with tremendous public interest including police motorcycles and NGO vehicles that deliver medicines. This has led to strong recognition of the reliability and durability that are representative of the Yamaha brand. We are also holding Yamaha Riding Academy (YRA) courses to educate drivers and promote safe driving, and are training YRA instructors and providing technical support to motorcycle mechanics. We also set up a joint venture in 2015 with the French trading company CFAO, and this venture has begun assembling motorcycles in Nigeria. In addition to contributing to the creation of a prosperous society, we are working to increase the value of the Yamaha brand and bring the world of "creating enjoyment in personal mobility" to Africa.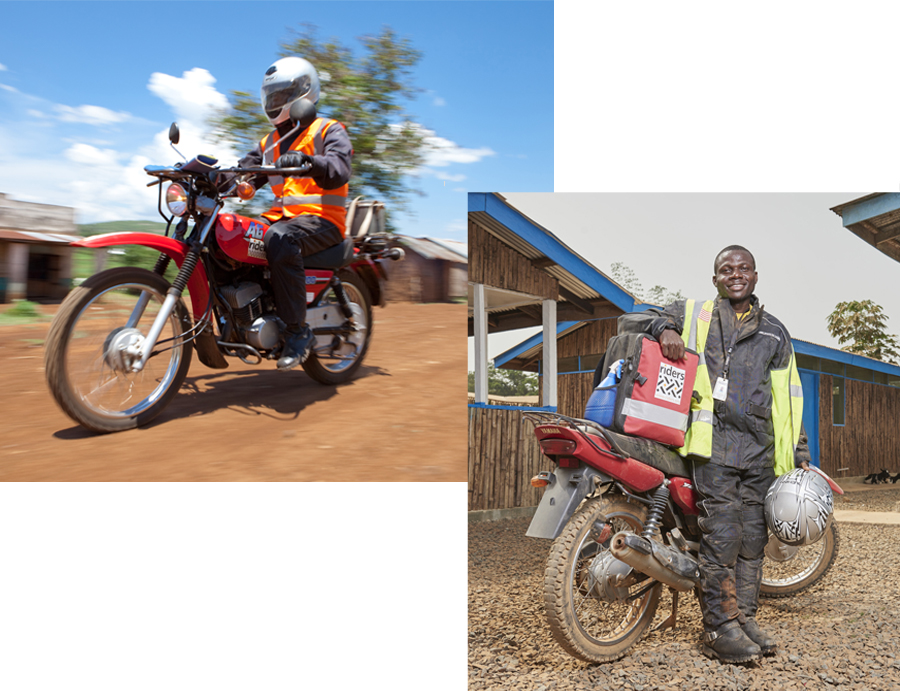 Improving living conditions through Clean Water Supply System
According to the WHO/UNICEF data for 2015, more than 650 million people around the world do not have access to safe drinking water. Yamaha Motor is addressing this issue by promoting the use of our Yamaha Clean Water Supply System (YCW), a small-scale water purification system, and we have installed seven systems in Africa to date. YCW is a slow sand filtration system using natural purification that features a simple structure, ease of maintenance, and almost zero operating costs. The use of clean water for drinking and cooking reduces diseases such as diarrhea and skin ailments, and leads to greater awareness of hygiene among mothers, thereby reducing infant mortality rates. Children are also freed from the arduous task of drawing water, giving them more time to attend school. (Please refer to the related content.)