Approach to CSR
Introducing Yamaha Motor Group's stance on CSR and its philosophy
Since our founding, our "Company Pledge" has called on all employees to contribute to society through our corporate activities.
The Yamaha Motor Group has worked to create diverse value through engineering, manufacturing and marketing based on our Corporate Mission: Offering new excitement and a more fulfilling life for people all over the world. Our three Management Principles — surpassing our customers' expectations, fostering employee self-esteem and fulfilling global social responsibilities — embodies our stance towards our customers, employees, and society. Our Corporate Mission, Management Principles, and Action Guidelines add up to our "Corporate Philosophy."
The Yamaha Motor Group believes the Corporate Social Responsibility (CSR) to be expected of us is a contribution to sustainable development of society through our business activities based on our "Corporate Philosophy." Our Basic Policies of CSR reflect the especially important social responsibility we owe to our stakeholders.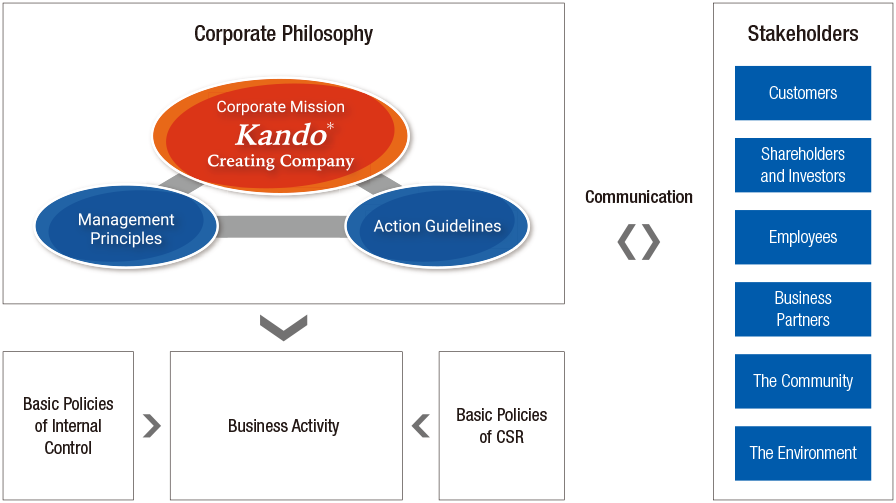 Basic Policies of CSR
The Yamaha Motor Group strives to contribute to the sustainable development of society through our business activities based on our corporate philosophy and to always abide by the letter and spirit of domestic and international laws and regulations. We are dedicated to earning the trust of the global community, and we place great value on communicating with all stakeholders.
We expect all of our business partners to share our principles and to act in accordance.
Customers

We offer new excitement and a more fulfi lling life for people all over the world through high-quality products and services that combine safety and innovation.
We provide practical, helpful information about products and services to customers.
We make every effort to protect the personal information of our customers and others involved in our business.

Shareholders and Investors

We aim to deliver stable, long-term growth to enhance corporate value.
We disclose appropriate corporate operational results and fi nancial status in a timely manner.

Employees

We provide equal employment opportunities to build a diverse and discrimination-free workforce.
We provide fair working conditions while maintaining and improving a safe and healthy working environment.
We maintain respect for human rights and never tolerate child labor or forced labor in any form.
We work toward building success for both our employees and the Company through honest communication and dialogue founded on mutual trust.

Business Partners

We respect our suppliers, dealers, and other business partners and aim to build mutual long-term growth founded on mutual trust.
We maintain an open door to new business partners around the world and choose companies based on comprehensive value, regardless of nationality or size.
We respect the competition laws of each nation and region and maintain fair business practices.

The Community

We honor the culture and customs of every country and community, and we strive as a corporate citizen to act in balance with society.
We work to contribute to the development of sound communities by providing means of mobility, creating employment opportunities, and fulfi lling our tax obligations.
We promote social action programs including personal mental and physical development, environmental preservation and safety activities, as well as supporting private initiatives undertaken by employees.
We maintain honest and fair relationships with government agencies and public authorities.

The Environment

We develop environmental technologies to create products that balance economic needs with environmental well-being.
We aim to minimize the environmental impacts of our operations and make effi cient use of limited natural resources.
We form wide-ranging partnerships with communities around the world to perform environmental conservation activities.