18
1977-1978

Developing the Passol, a Ladies' Bike

Market expectations for expansion in motorcycle demand among women provided the backdrop for the creation of the Passol. The plan for the product was to not rely on existing technologies, but to analyze actual customer needs using a market-driven approach. What emerged from this plan was a new "step-through" design, which made it easy for even women wearing skirts to ride. Prioritizing design, the area around the engine and drive mechanism was covered to prevent clothing from getting dirty. The moped evoked a sense of cleanliness and an easy, intimate feel.
The Passol was easy to ride thanks to bicycle-style handbrakes for the front and rear wheels and an automatic transmission. It also featured a kick starter that would start the engine the first try, as well as cast wheels. The seat height was a low 680 millimeters, the moped's total length was 1,515 millimeters, and it weighed only 45 kilograms. Being compact and lightweight made it easy for women to handle. The Passol was also economical, traveling 75 kilometers on one liter of fuel, and would help establish the "soft bike" as a new genre of motorcycles.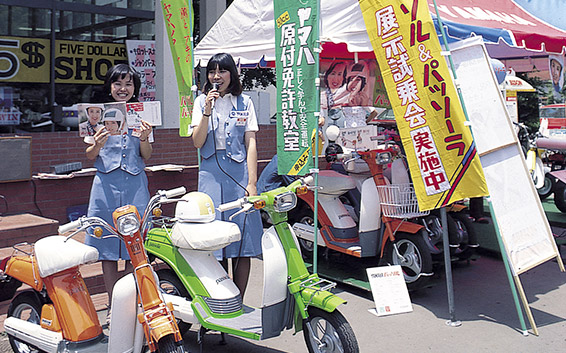 Yamaha succeeded in commercializing the Passol precisely because it had the technical development capability to create a product plan that prioritized design. The company developed a small forced-air engine and a single-speed automatic transmission compatible with the Passol's compact design. It also developed a pipe frame structure, cast wheels, plastic covers, and other features that met strength standards. The cooperation of the technical departments, which worked resolutely on developing new technologies, made it possible to establish this new category of scooter.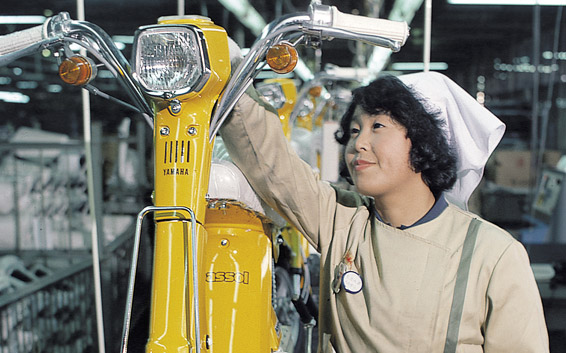 Equipped with these numerous features, the Passol went on sale in March 1977. Actress Kaoru Yachigusa was employed as the face of the Passol as Yamaha launched a large-scale promotional campaign, including television commercials, with the catch phrase "I like it because it's gentle (easy)." The company aggressively engaged in sales promotions, holding exhibits and test riding events at places frequented by large numbers of people, such as supermarkets and department stores. At the same time, the company also held Yamaha Moped License Schools. These activities resulted in Yamaha increasing its share of the market for family-oriented motorcycles.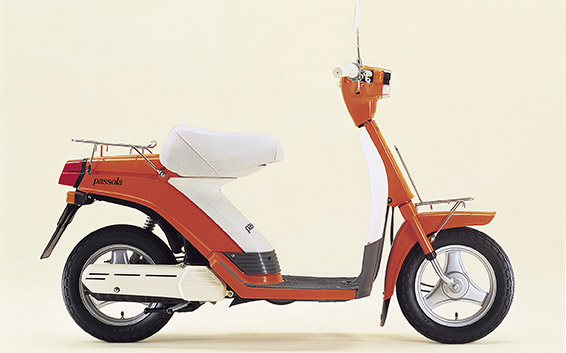 .