17
1968-1973

Motorcycle Safety Promotion Activities

As Yamaha was promoting activities to popularize marine sports during the latter half of the 1960s, it was also developing educational programs for motorsports on a nationwide scale.
Car and motorcycle ownership was increasing rapidly at the time, making people's lives more convenient, but at the same time, leading to an increase in traffic accidents. In 1970, Japanese owned a total of 8.85 million motorcycles and mopeds, a more than tenfold increase over the 15 years since 1955. These circumstances brought about heightened public concern over traffic safety measures.
The aim of these activities was to raise safety awareness by teaching the proper way to ride a motorcycle and to expand the circle of motorcycle enthusiasts by introducing people to the joy of motorsports. The initial program consisted of Yamaha safe-riding classes and the Yamaha Trail School, both of which were started in April 1968.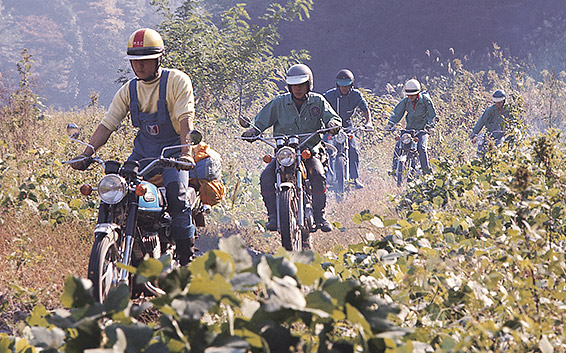 When the company began selling the DT1 trail bike in 1968, the popularity of off-road sports increased immediately. Top riders served as instructors at the Yamaha Trail School, which worked for the penetration of this new type of motorsports through basic training in riding rough ground. The school also provided courses on inspections and maintenance. In September 1970, Yamaha set up 35 Yamaha Trail Land sites throughout Japan where people could experience the fun of off-road riding. These proved immensely popular among younger riders.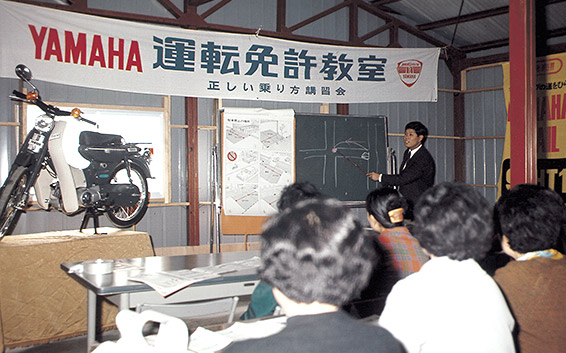 In May 1969, Yamaha also established the Yamaha Moped License Schools to encourage people to obtain Class 1 moped licenses. The schools were modeled on the Yamaha Music Studios set up by Nippon Gakki (present day Yamaha Corporation). Based on the idea of taking the essence of the music classes to create motorcycle schools, the Moped License Schools were developed nationwide. They attracted over 160,000 students in their first year.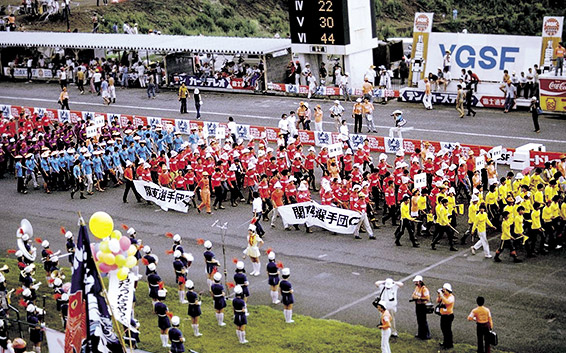 The company also actively developed events targeted at motorcycle fans. One such event was the 1st Yamaha Grand Sports Festival (YGSF) held at the Fuji Speedway on August 5–6, 1972. It was a major event in which all motorcycle enthusiasts could participate and ended up drawing a total of 80 thousand people. 1,500 riders participated in motocross, kart, and road races. 380 buses, 3,800 cars, and 5,000 motorcycles crowded the event venue. The 2nd YGSF was held the following year in August 1973. It was even larger in scale, attracting some 95 thousand people over two days.
.